Top Salesforce Apps for Nonprofits Building Their Toolkits


Salesforce is a popular CRM solution that has been adapted to fit the needs of many industries, including the nonprofit sector. Though useful for nonprofits, sometimes it may take extra effort to configure the platform the way your organization needs it.
That's where Salesforce apps for nonprofits come into play. The Salesforce Nonprofit Success Pack (NPSP) is an incredibly useful tool for nonprofits; however, your nonprofit will likely outgrow its basic functions in time. For that reason, exploring various Salesforce apps, as well as useful integrations between tools, can help you build out the features you need.
The Salesforce AppExchange offers a wide range of tools and solutions, and it can be challenging to sift through the options and decide what's best for your organization. That's why we've compiled a list of some of the best Salesforce apps for nonprofits, as well as some helpful integrations, below:
Read along from the top to sort out your options, or use the navigation above to jump around to what interests you most. Let's get started!
---

360MatchPro
Overview of This Salesforce App for Nonprofits
360MatchPro by Double the Donation is a matching gift automation platform designed to help large nonprofits and universities maximize their corporate matching gift revenue. For organizations that accrue more than $25,000 annually in matching gifts, 360MatchPro can help automate the entire match process, starting from the time a donation is made.
How It Works
Here's how 360MatchPro works:
Once your supporter makes a donation, the platform uses the information they provide during the donation process, such as an email domain or employer details, to determine their eligibility for a match.
Depending on the supporter's eligibility, 360MatchPro triggers an email advising the donor on next steps to take to submit a match request. This means each donor will receive the information they need to submit a match request, including guidelines and instructions for their specific employer.
The 360MatchPro platform will track each step along the way, from the emails that are triggered out, to the status of the match, through to the employer submitting a matching donation.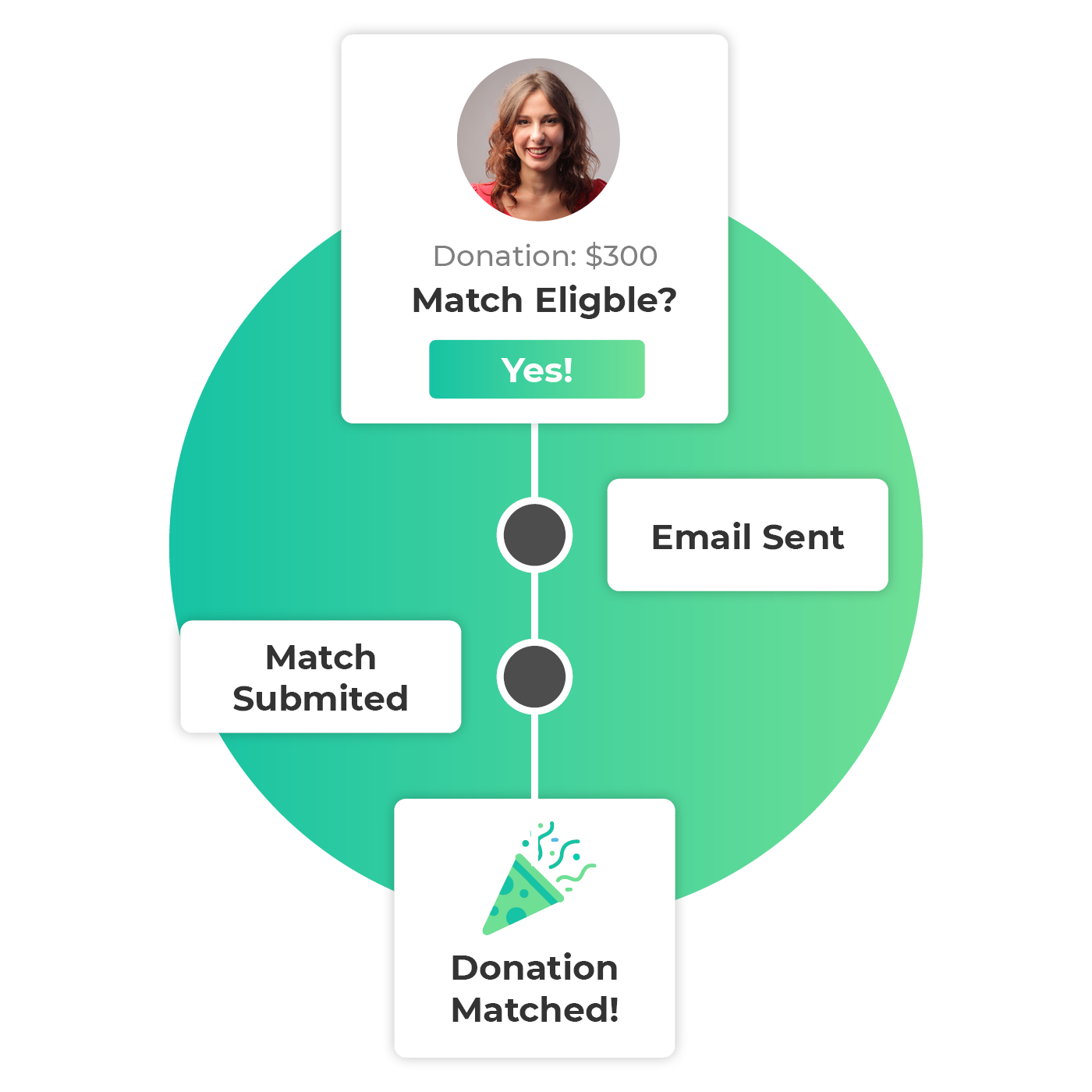 Benefits of This Salesforce App
Benefits of using 360MatchPro include:
Identifying more matching gift revenue opportunities. By collecting matching gift eligibility from email domains, within donation forms, on confirmation screens, and by email, you'll identify more matching gift opportunities and maximize your revenue.
Driving more matches to completion. Direct donors to the necessary matching gift forms immediately after the donation is made. Then, provide the right information to the right donor at the right time with customized emails based on their eligibility. From there, you'll drive more completed submissions than ever before.
Focusing on top opportunities. Rather than spending time pursuing small dollar-value matching gifts, 360MatchPro will automate this process so you can focus on your highest-value opportunities, letting your team personalize the follow-up emails to these valuable donations.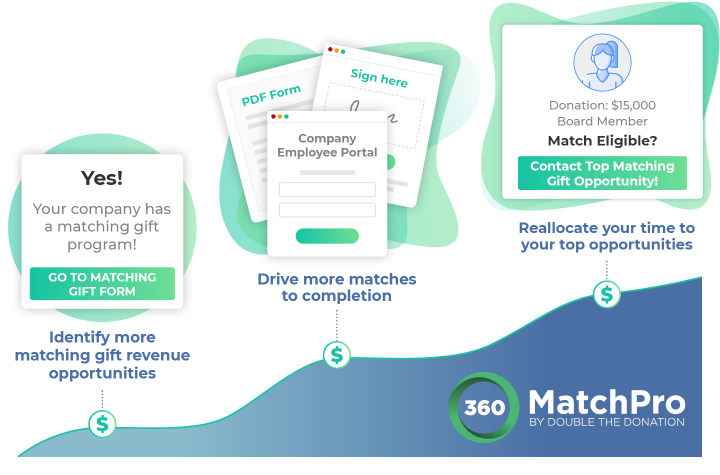 By using the 360MatchPro Salesforce app, your organization will gain an entire matching gift team in the form of an automation platform, giving your nonprofit more time to focus on its mission and building relationships with constituents.
Why This Salesforce App Stands Out
360MatchPro by Double the Donation offers an intuitive interface that makes it easy for large nonprofits to identify additional opportunities for matching gift revenue, and then take measures to secure it.
In addition, you can customize your automated email outreach to feature your nonprofit's brand, as well as personalize the content and adjust the timing of sent communications. This helps maintain consistency with your organization's branding and instill trust in your donors.
Reviews from the Salesforce AppExchange
We've been using Double the Donation and 360MatchPro for several years. Great service, and fantastic functionality. Highly recommend. A no-brainer for nonprofits.
– Samuel Caplan, Community Review
360MatchPro was simple to set up and integrate with Salesforce, has a straightforward dashboard, and has made it easy for us to connect with donors to increase donation matches. Great for a small shop without a large enough staff to devote time to all the follow-ups!
– Dan Getman, Community Review
---

DonorSearch
Overview of This Salesforce App for Nonprofits
DonorSearch offers your nonprofit access to the largest charitable database, which allows you to conduct prospect research for major giving and marketing campaigns. Using both philanthropic and wealth indicators, DonorSearch can help your team learn more about who among your supporters is most likely to become a major donor.
The information from this Salesforce app will automatically flow into the CRM platform, which means you can leverage your prospect research data from DonorSearch and your donor data from your CRM.
Why This Salesforce App Stands Out
DonorSearch stands out because it leverages both wealth indicators and philanthropic indicators to help you accurately determine a donor's giving potential. By tracking giving patterns and screening donor records, you can maximize your fundraising potential.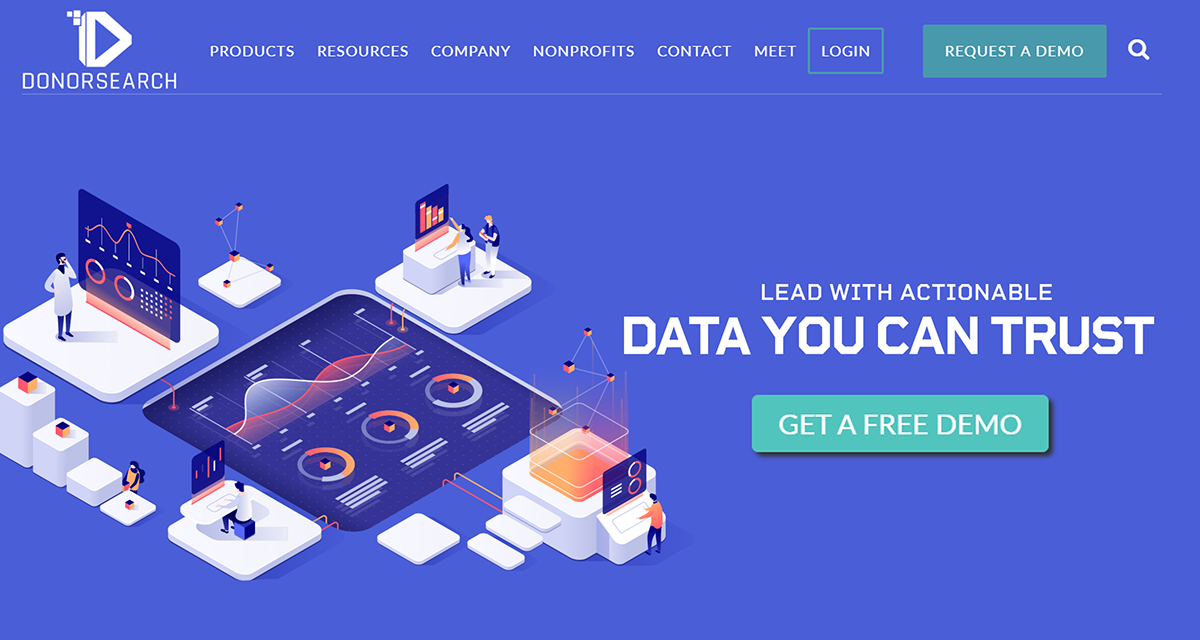 ---

Salsa Engage
Overview of This Salesforce App for Nonprofits
Salsa Engage is an online marketing, fundraising, and advocacy software solution for nonprofits. By leveraging its marketing tools and peer-to-peer fundraising platform, your organization can personalize outreach to your supporters and get them directly involved in your fundraising campaigns.
Using its integration with Salesforce, your data will sync between the two platforms as frequently as every 5 minutes. In addition, its setup is user friendly, which means you won't need a substantial amount of time or staff investment to configure it.
Why This Salesforce App Stands Out
Salsa Engage is incredibly user friendly and easy to navigate. For example, because Salsa Engage integrates with Salesforce's Duplicate Matching rule system, you can identify duplicates in your database, with an option to merge or review them first.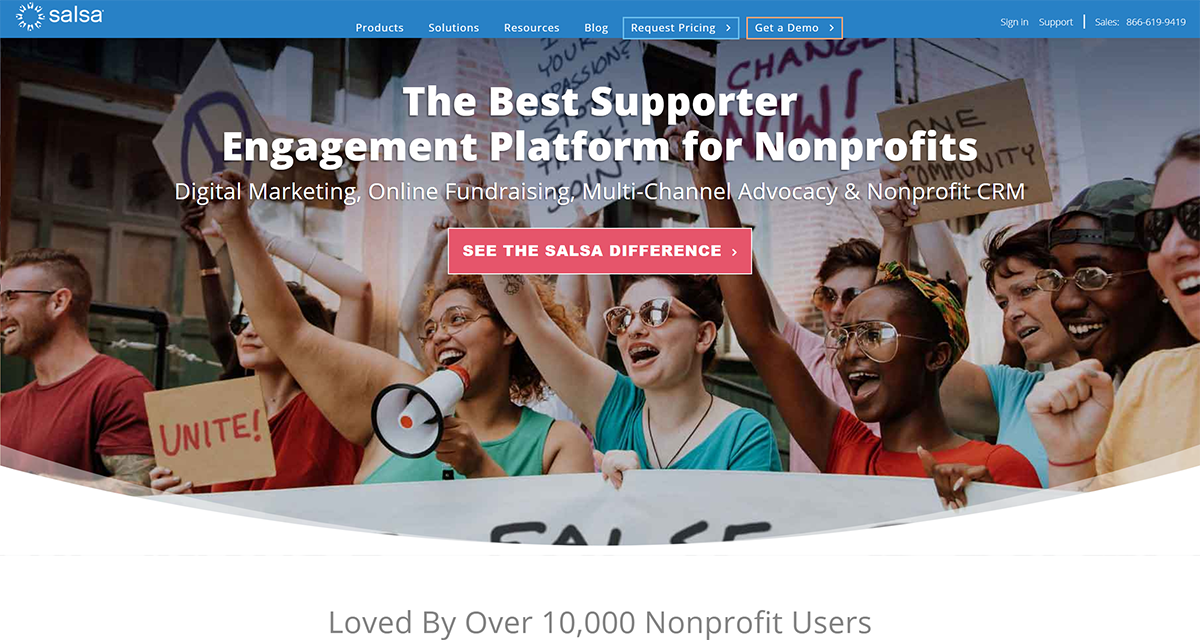 Learn more about Salsa Engage!
---

OneCause
Overview of This Salesforce App for Nonprofits
OneCause is a fundraising platform that offers a robust suite of event management solutions, notably a mobile bidding platform. This Salesforce app allows you to immediately sync your CRM contacts in your OneCause fundraising processes.
As you plan a fundraising event using the OneCause and Salesforce integration, you can streamline the registration and online ticketing process while leveraging important donor data.
Why This Salesforce App Stands Out
OneCause offers standout mobile bidding and auction software, which allows your supporters to place bids via their mobile devices. OneCause also offers other fundraising solutions, such as peer-to-peer fundraising and text-to-give to help you raise even more.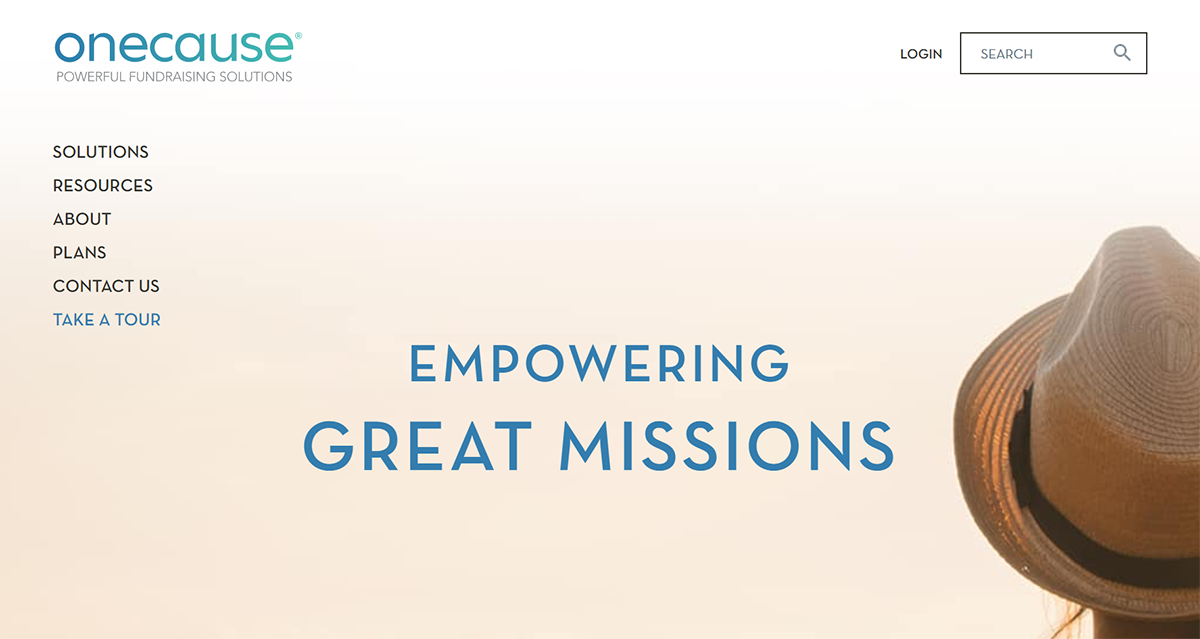 ---

Brickwork by iATS Payments
Overview of This Salesforce App for Nonprofits
Brickwork by iATS Payments is a nonprofit payment processing app that can help you easily process and manage your donations. This integrated payment processor helps ensure that your donors' financial information remains safe and secure.
Another advantage of this Salesforce app is that you won't have to leverage third-party payment processors (which can be unappealing to some donors) or manage as many mail, phone, and in-person donations.
Why This Salesforce App Stands Out
Brickwork by iATS is specifically geared toward nonprofits, which means the platform will address many of your organization's specific needs. Because the payment processor will be integrated with your CRM and other fundraising tools, you'll be able to seamlessly capture donor data and streamline the entire donation process.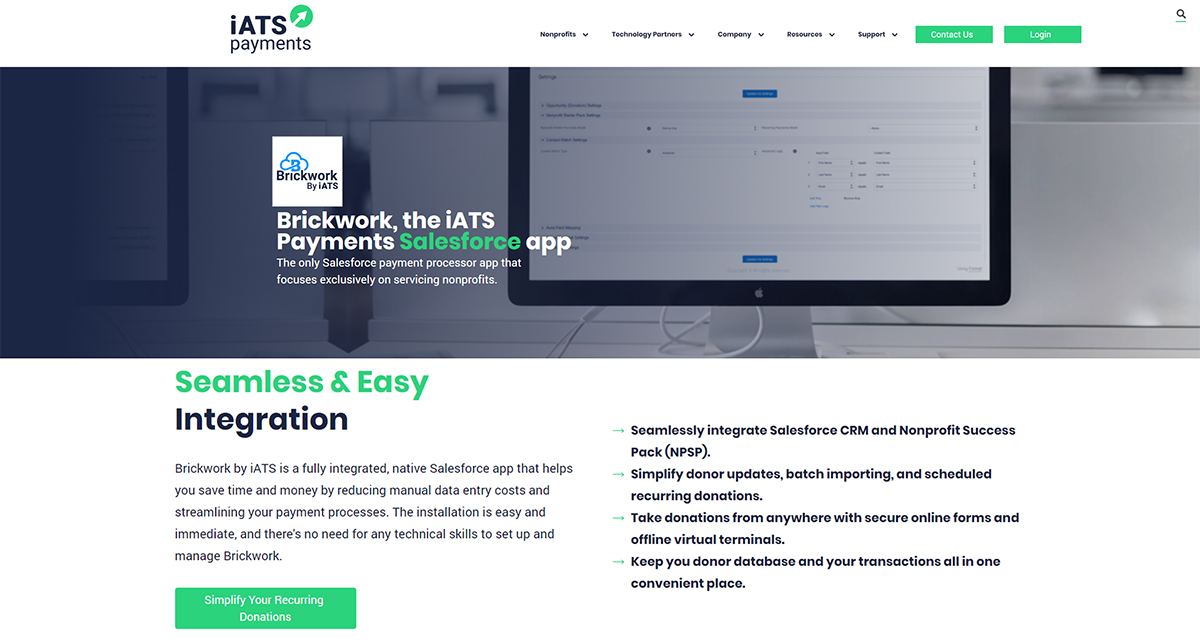 Learn more about Brickwork by iATS Payments!
---

Soapbox Engage
Overview of This Salesforce App for Nonprofits
Soapbox Engage offers online engagement tools that can help your organization maximize its impact. Accept donations, streamline event registration and ticketing, create surveys or volunteer applications, and sell merchandise, subscriptions, and more in an online shop.
Soapbox Engage's extensive tools integrate in real time with Salesforce, which reduces overhead and streamlines your fundraising efforts.
Why This Salesforce App Stands Out
Soapbox Engage is incredibly scalable. If your nonprofit is just starting out, you can leverage basic tools from Soapbox Engage. However, as you grow, you can add other Soapbox Engage apps to your Salesforce toolkit, each of which will be seamlessly integrated.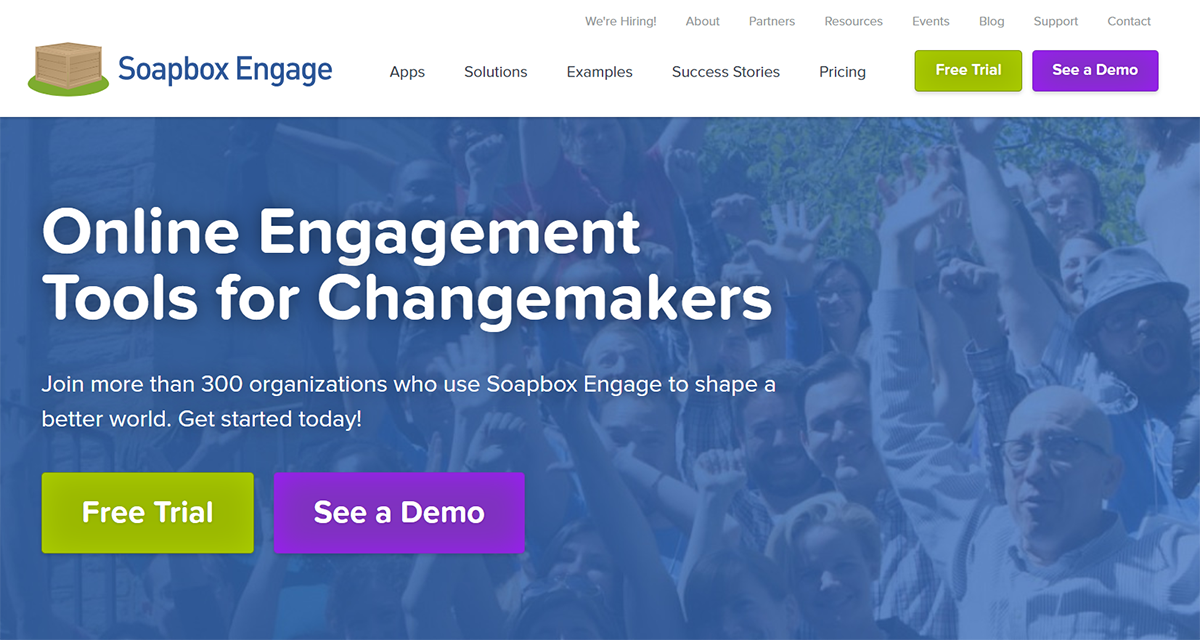 Learn more about Soapbox Engage!
---

Omatic Software
Overview of This Salesforce App for Nonprofits
Omatic Software is an integration software company geared toward nonprofits. They help nonprofits streamline their data processes with personalized messaging, high-quality data, and consistent communication.
Omatic Cloud specifically helps your Salesforce system work with the rest of your organization's software. It does this by ensuring all of the data coming in from different systems is organized and labeled, which helps automate the seamless transfer of data from one solution to another.
Why This Salesforce App Stands Out
Omatic Cloud helps ensure all of your information is easily accessible on the platforms you need. The software helps you automate data transfers between different software, run multiple solutions on different platforms at once, and more!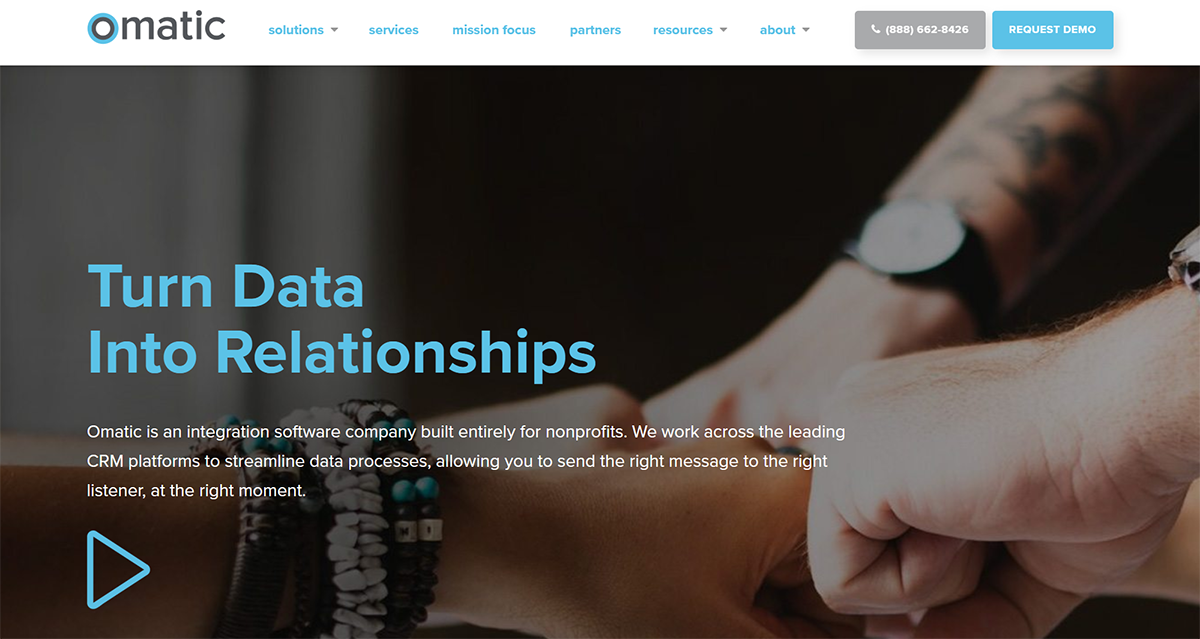 Learn more about. Omatic Software!
---

Fonteva
Overview of This Salesforce App for Nonprofits
Fonteva is specifically designed for associations and other member-based organizations. The platform offers solutions for membership, events, associations, and more. 
If you're using Salesforce, Fonteva Membership can help you develop relationships with your constituents and measure their engagement with your programs. Within this Salesforce app platform, you can view member engagement scores, manage chapters, communities, and groups, and create custom reports.
Why This Salesforce App Stands Out
Fonteva is 100% native to the Salesforce platform, which means it was built to run on Salesforce and doesn't require extra integrations or configurations. Fonteva Membership will work with your CRM so you can leverage data and engagement levels as needed.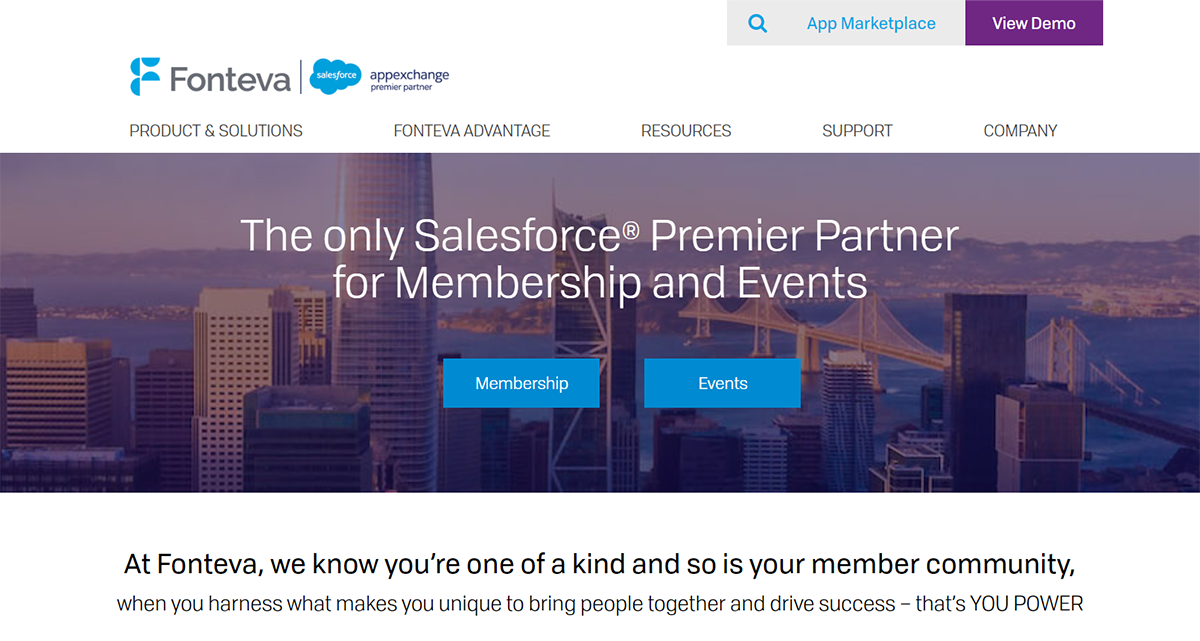 ---

Classy
Overview of This Salesforce App for Nonprofits
Classy is a fundraising solution geared toward nonprofits. Its peer-to-peer fundraising software is intuitive, and this Salesforce app helps nonprofits run other fundraising campaigns, as well, such as online gifts, crowdfunding, and events.
All of the data you collect through these various avenues flow seamlessly into your Salesforce CRM, providing you with important data your organization can leverage.
Why This Salesforce App Stands Out
Classy can be completely customized to match your organization's branding. Configure your fundraising pages to feature your colors, images, and logo so your supporters recognize your branding. Even more, peer-to-peer fundraising participants can also customize their own campaign pages so they can tell their story in addition to yours.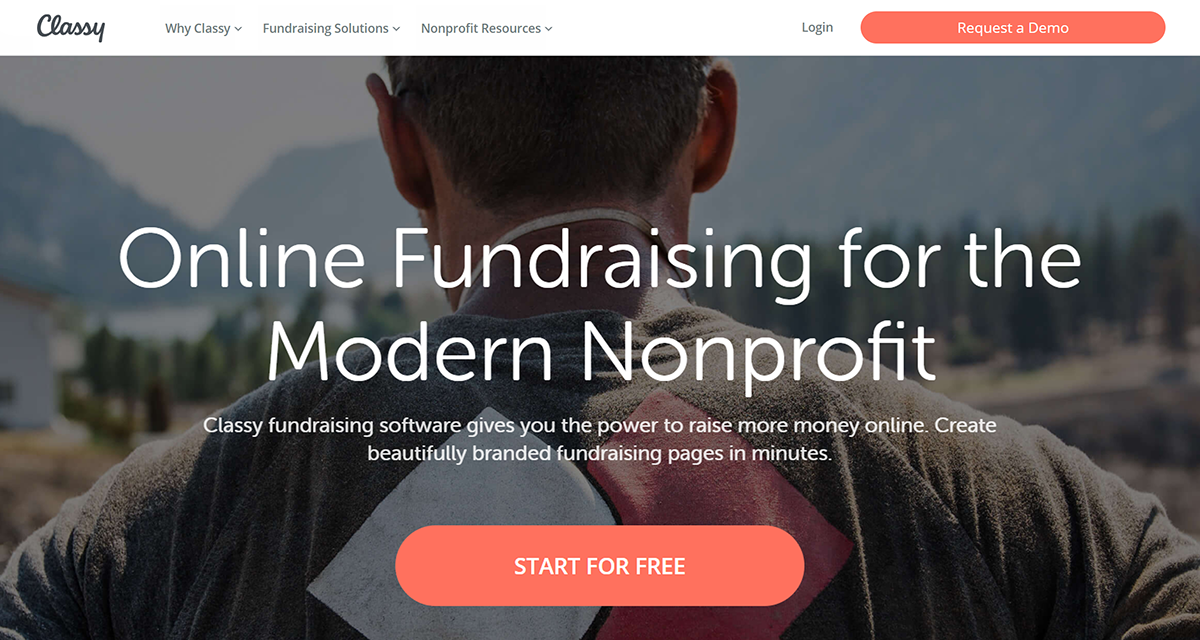 ---

iDonate
Overview of This Salesforce App for Nonprofits
iDonate is an online fundraising platform that offers solutions such as donation forms, peer-to-peer fundraising, event software, and text giving. Between iDonate and Salesforce, you can get the most holistic view of your donors possible.
Using this Salesforce app, you can identify recurring donors and create targeted giving campaigns, effectively segment donors into groups, and allow donors to give through their preferred channel.
Why This Salesforce App Stands Out
iDonate helps your organization leverage the Salesforce platform and automation tools so you can ask the right donors for the right amounts, successfully segment your supporters into groups, and deliver unique giving experiences to the donors in your CRM.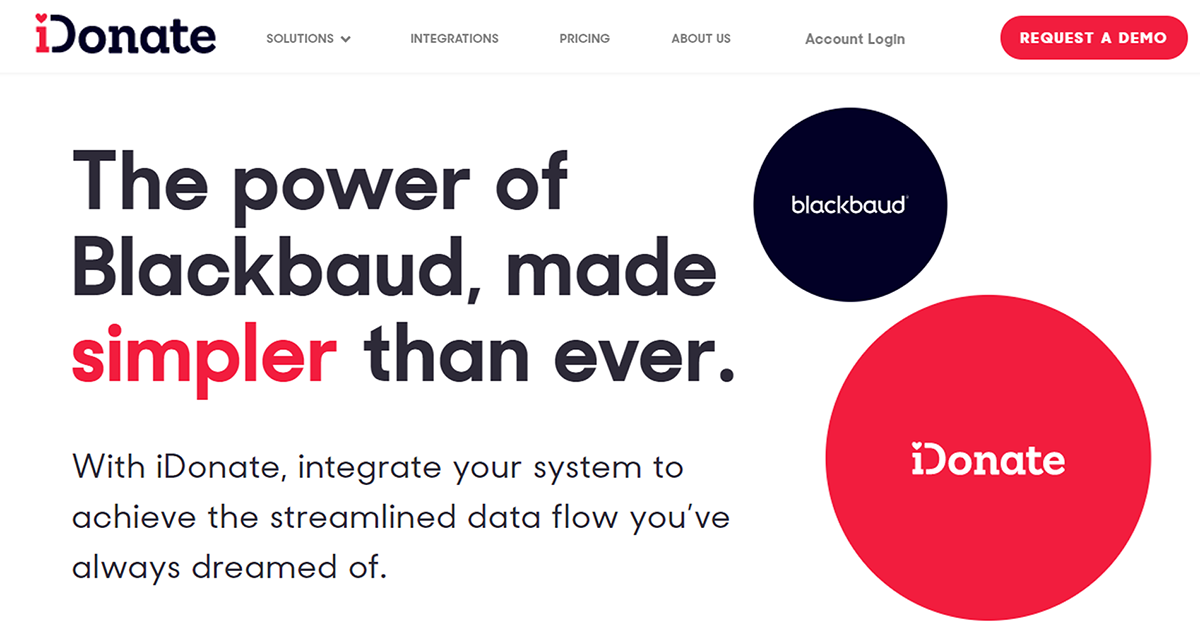 ---

Blackbaud Luminate CRM
Overview of This Salesforce App for Nonprofits
Blackbaud Luminate CRM offers a comprehensive view of your organization's constituent relationships and provides your team with important analytics. Using this Salesforce app, you can effectively manage your supporters, segment them as donors, volunteers, etc., and identify existing donors who have a higher capacity to give.
Luminate CRM extends the Salesforce platform by combining the flexibility of Salesforce with user-friendly tools specifically designed for nonprofits.
Why This Salesforce App Stands Out
Luminate CRM allows you to expand your use of the platform to meet your organization's needs, while consolidating your constituent data and business processes into one solution.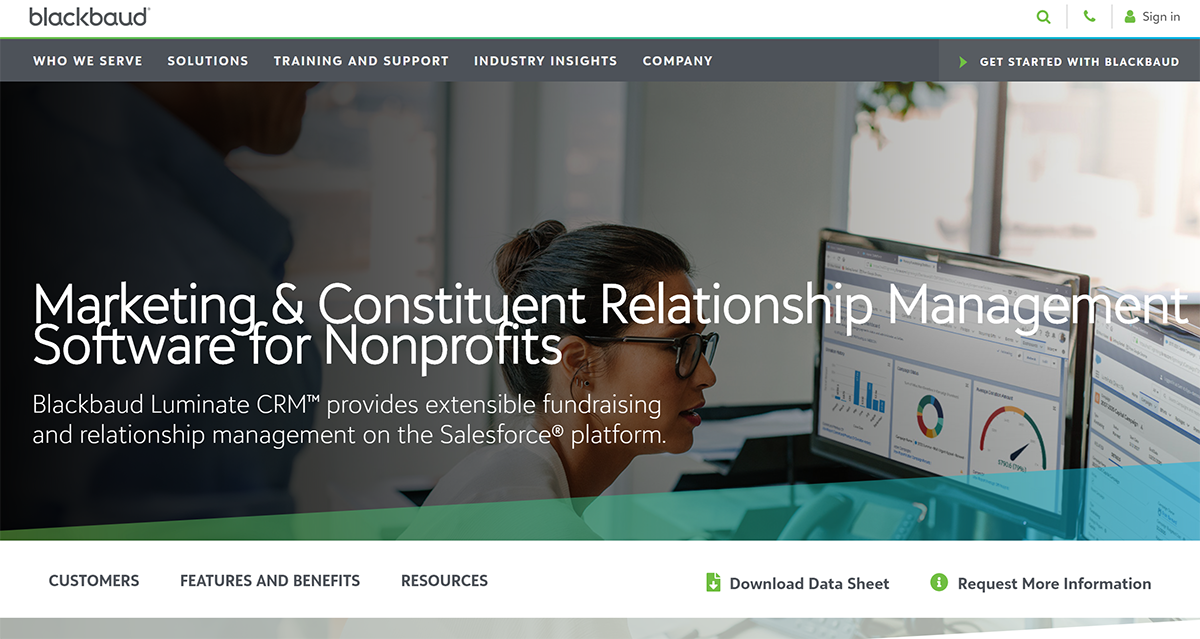 Learn more about Blackbaud Luminate CRM!
---

Funraise
Overview of This Salesforce App for Nonprofits
Funraise is an online fundraising solution that offers donation forms, a mobile app, peer-to-peer fundraising, donor communications, and more. This Salesforce app allows you to use the Salesforce Nonprofit Success Pack and create reports in Salesforce to view your fundraising data. You can also send donor and campaign information to Salesforce, such as demographics, contact information, donation data, and campaign data.
Whether you're just starting out with Salesforce or you've been using it for years, the Funraise Connect Salesforce App has been designed using Salesforce best practices so your data remains clean.
Why This Salesforce App Stands Out
Funraise finds important data about your donors, such as new donations, wealth scores, and even social media handles, and sends this information directly to your Salesforce database in real time. This way, your team can get valuable insights and spend more time building relationships, rather than sifting through analytics.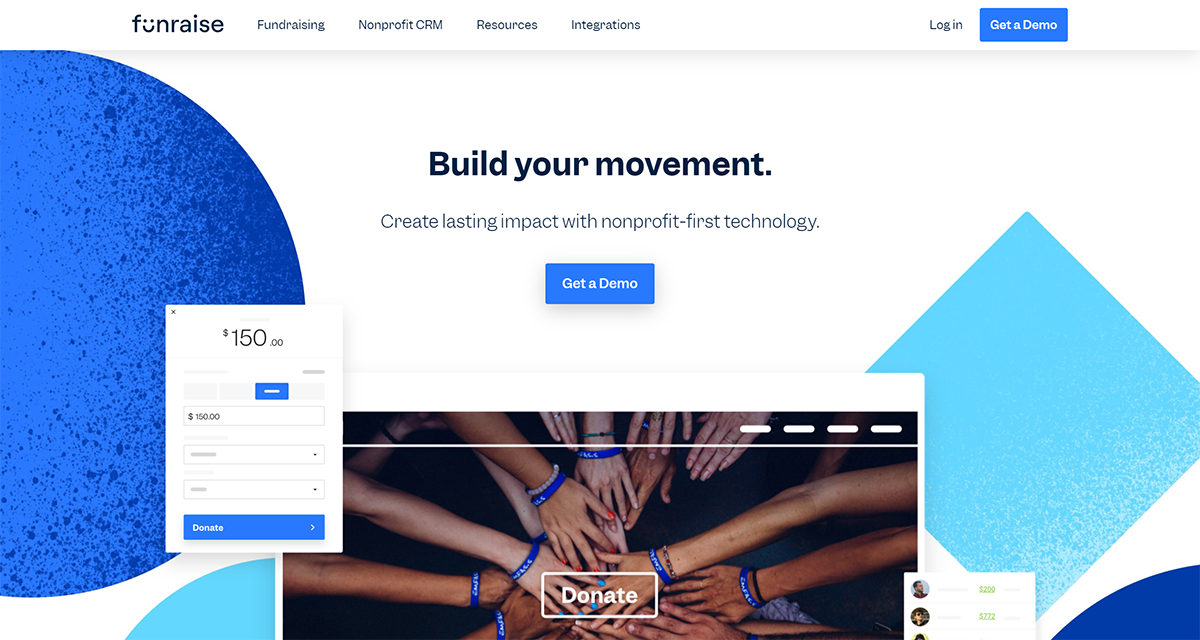 ---

Donorbox
Overview of This Salesforce App for Nonprofits
Though it's not specifically on the Salesforce AppExchange, Donorbox is a top integration choice with Salesforce. Donorbox is a fundraising tool that allows nonprofits to customize their donation pages and give donors the option to set up recurring donations and cover any payment processing fees.
Donorbox makes it easy for your donor to give the way they want to, with several methods of giving available through Apple Pay, Google Pay, PayPal, and ACH bank transfers.
Why This Salesforce App Stands Out
Donorbox integrates with a variety of tools, including other top nonprofit software solutions. Even more, Donorbox integrates with the Salesforce Nonprofit Success Pack, which allows you to easily analyze your donor data and build strong relationships with your constituents.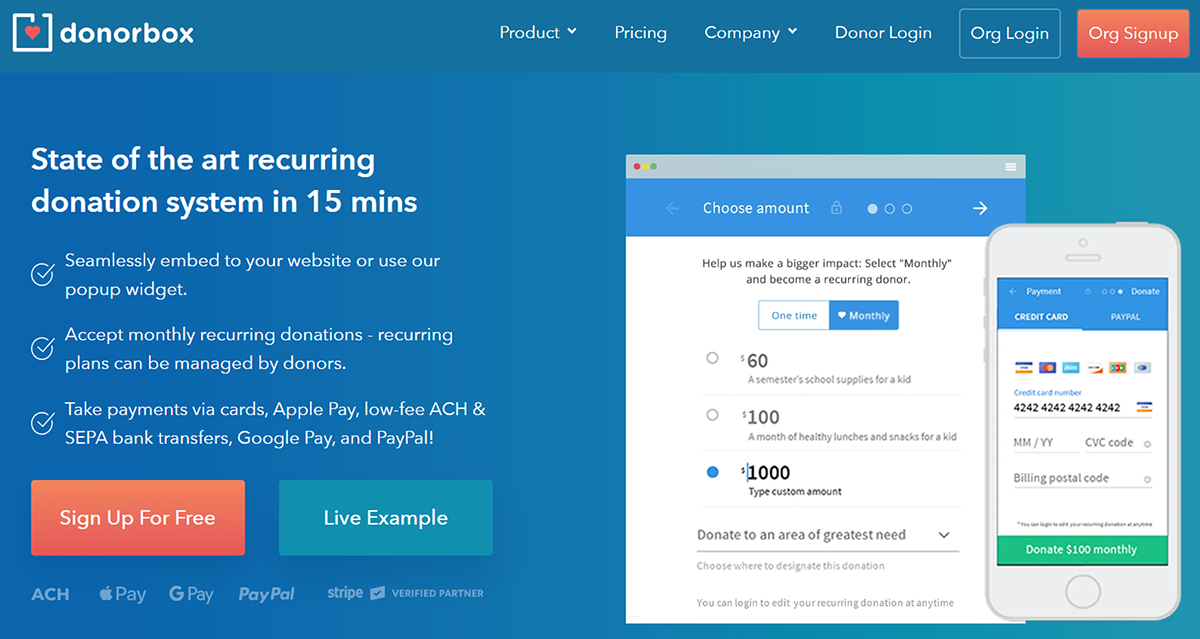 ---

GiveGab
Overview of This Salesforce App for Nonprofits
GiveGab is an online giving platform designed specifically for nonprofits that need to raise funds and seamlessly manage their supporter engagement. GiveGab Enterprise Sync for Salesforce allows your organization to easily leverage your data and spend more time engaging with supporters.
Whether you're managing event registration or a peer-to-peer fundraising campaign, your data from GiveGab Enterprise will integrate into your Salesforce workflows.
Why This Salesforce App Stands Out
GiveGab is not a one-size-fits-all solution. Whether you're using the Salesforce Nonprofit Success Pack or other packages, you have the flexibility to connect whichever way you want. You can also use Salesforce dashboards to gain helpful insights about your supporters and segment them into effective groups.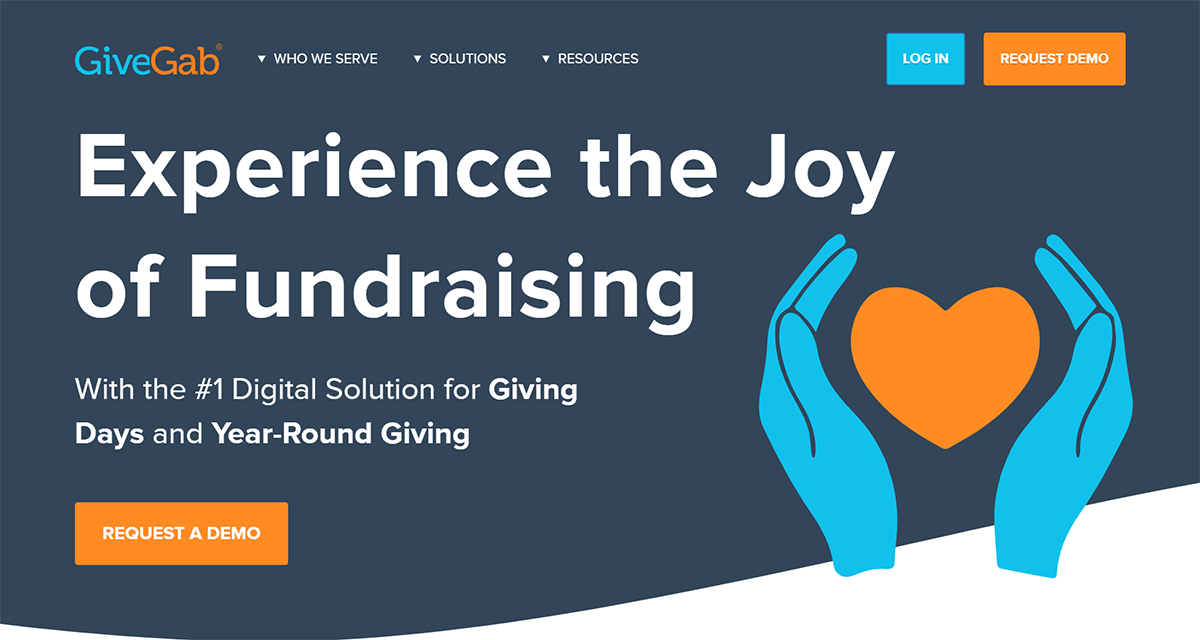 ---

DocuSign
Overview of This Salesforce App for Nonprofits
As a nonprofit, it's important to be able to easily manage your contracts and other documents. DocuSign's software allows you to easily send the right documents to the right audience. By digitizing your document management process, you'll reduce the risk of human error, save time, and increase your team's productivity.
DocuSign makes organizing documents easier for your nonprofit, as it keeps your most important files together.
Why This Salesforce App Stands Out
With DocuSign integrated into your Salesforce CRM, you can generate documents using data in your CRM, automate the document review processes, and locate documents from any device. Automate your document processes to save your time team and find the correct forms right at your fingertips.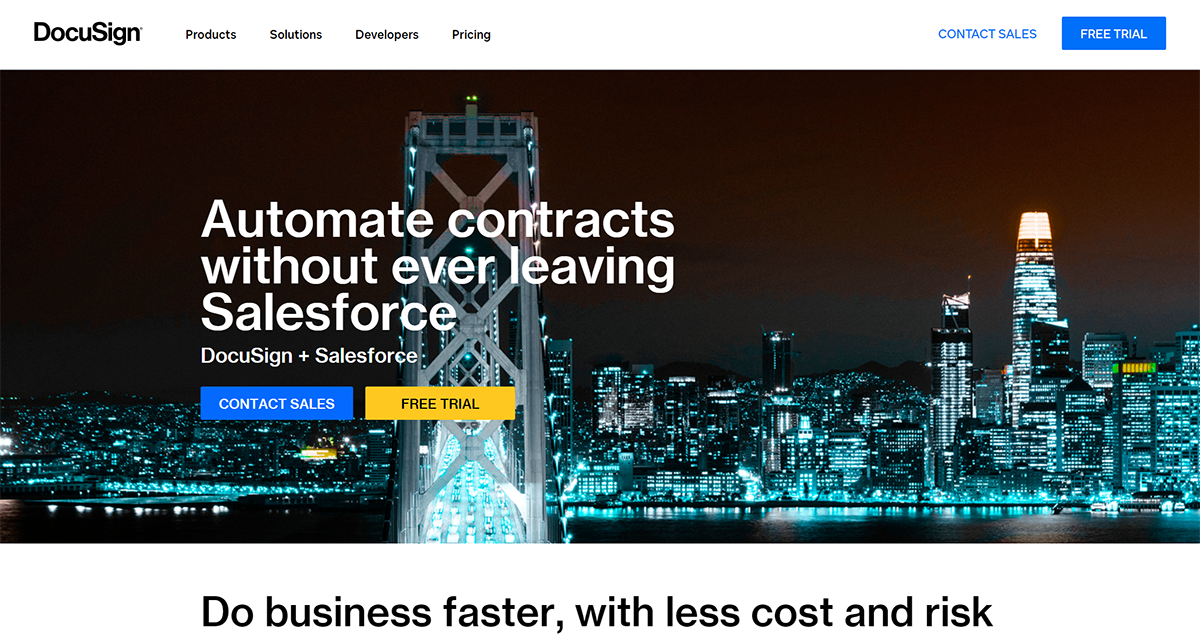 ---

Mailchimp
Overview of This Salesforce App for Nonprofits
Mailchimp is a marketing platform that allows organizations to perform effective outreach to their supporters. Once you've connected this Salesforce app for your CRM, you can use the available data to personalize your communications.
Auto-populate information in your emails, including supporter names, and segment your supporters so they only receive communication that is relevant or engaging to them.
Why This Salesforce App Stands Out
Mailchimp offers excellent reporting tools that are built in to offer insights into your marketing efforts. Analyze your engagement levels, as well as revenue reports, so you can learn more about your constituents and boost your campaign efforts.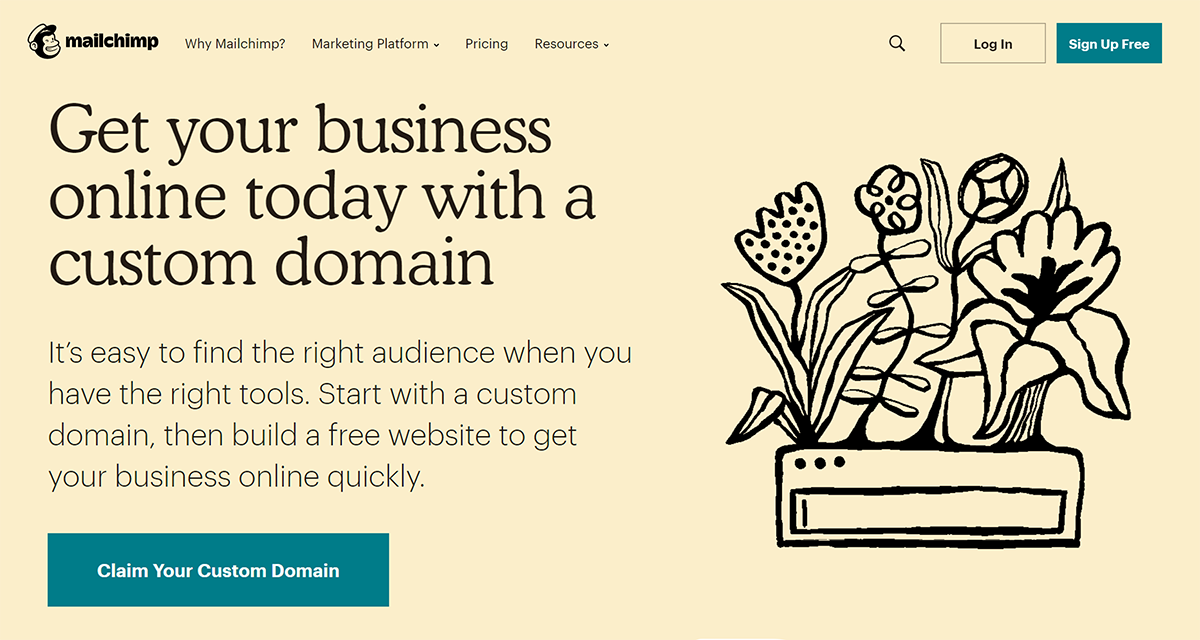 ---
Additional Salesforce App Resources

https://360matchpro.com/wp-content/uploads/2020/07/Top-Salesforce-Apps-for-Nonprofits-feature.png
700
1810
Adam Weinger
https://360matchpro.com/wp-content/uploads/2021/05/360-matchpro-logo-e1621968689624.png
Adam Weinger
2020-07-16 13:29:45
2022-09-24 07:33:25
Top Salesforce Apps for Nonprofits Building Their Toolkits