Workplace Giving Software: A Guide to Increase Engagement

Modern companies understand that, to stay competitive in their industries, they must demonstrate more than just an interest in profits. Whether you're looking to recruit top talent for your teams, engage your current employees, or appeal to more customers, establishing workplace giving programs is one effective way to boost your results.
First, however, you'll need to develop programs that employees know about and want to participate in. With workplace giving software, your company can oversee all aspects of its philanthropic initiatives with ease—from approving matching gift requests to generating real-time reports.
In this guide, we'll discuss the ins and outs of workplace giving software, along with how your company can leverage this powerful technology to level up your programs. Here's what we'll cover:
According to Double the Donation, giving has increased by more than 15% for six out of ten companies in recent years. As workplace giving becomes more of a priority, it's time to learn how you can accomplish more with less using workplace giving software.

Workplace Giving Software: FAQs
To choose the best workplace giving software solution for your company, it's important to understand the basic purpose and benefits of this technology. Let's build that foundation by walking through some frequently asked questions:
What is workplace giving?
Workplace giving refers to a company's efforts to promote social change by creating opportunities for employees to contribute money and time to nonprofit organizations.
Common workplace giving programs include matching gifts and volunteer grants. Through these programs, employees will either make a gift or volunteer a certain number of hours with a nonprofit. In response, the company will make a contribution of its own to the nonprofit, the amount depending on pre-established program guidelines.
Your stakeholders care about your impact on society. In fact, 66% of U.K. employees and 76% of U.S. employees indicate that they want to work for a company that is striving to make a positive difference in the world. Through workplace giving, your company can demonstrate its commitment to social good.
What is workplace giving software?
Workplace giving software allows companies to manage all their workplace giving initiatives in one place to boost employee participation and maximize their impact.
By investing in a workplace giving platform, your company can save time and energy when it comes to setting up programs, tracking engagement, and measuring results. These tools make it easy to prioritize corporate philanthropy without pulling significant attention and resources away from your other goals.
How do companies benefit from workplace giving solutions?
Workplace giving can have a massive impact on your company's long-term success. Some of the primary benefits that you can expect upon adopting a workplace giving solution include: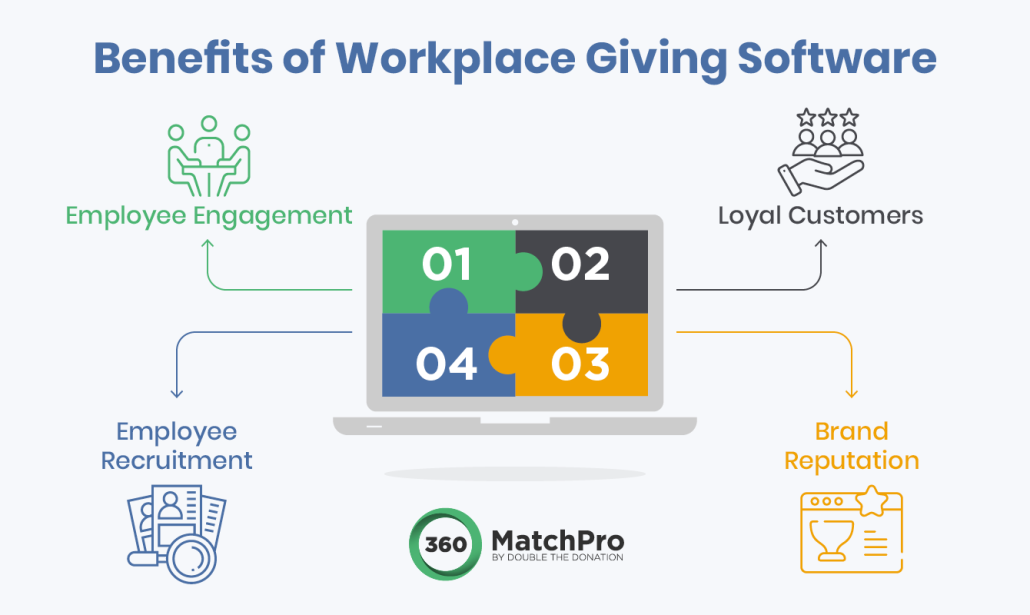 Increased employee engagement. A workplace giving platform reduces obstacles or deterrents when it comes to participating in your programs. This means that more employees can learn about your guidelines, submit match requests, and keep track of their involvement. As more employees engage in your workplace giving programs, you'll be able to provide even more support to the causes they care about.
More loyal customers. 84% of consumers agree that the more a business involves consumers and employees in charitable giving, the more trust they have in that business. With workplace giving software, your company can better attract and retain more socially conscious customers by proving just how dedicated it is to making a difference in the community.
Improved brand reputation. With the tracking and reporting tools in your workplace giving platform, your company can effortlessly share the success of its programs with employees and customers. This transparency can instill greater trust in stakeholders and improve your company's overall image in the eyes of its community.
Better employee recruitment. A strong workplace culture requires more than just enticing benefits and a recognition program. Offering workplace giving opportunities, supported by user-friendly software, can be an excellent way to catch the attention of new talent looking for professionally and socially fulfilling roles.
Additionally, the benefits of leveraging workplace giving software extend to nonprofits and the communities they serve as well. After all, every employee who takes part in one of your philanthropic opportunities contributes critical funds or other resources to power nonprofit missions.

6 Essential Workplace Giving Software Features
As with any type of software on the market, there are many options at your company's disposal when it comes to workplace giving tools, each with its own strengths and specialties. While the ideal workplace giving solution will differ depending on your specific goals and resources, keep an eye out for these key features in your search: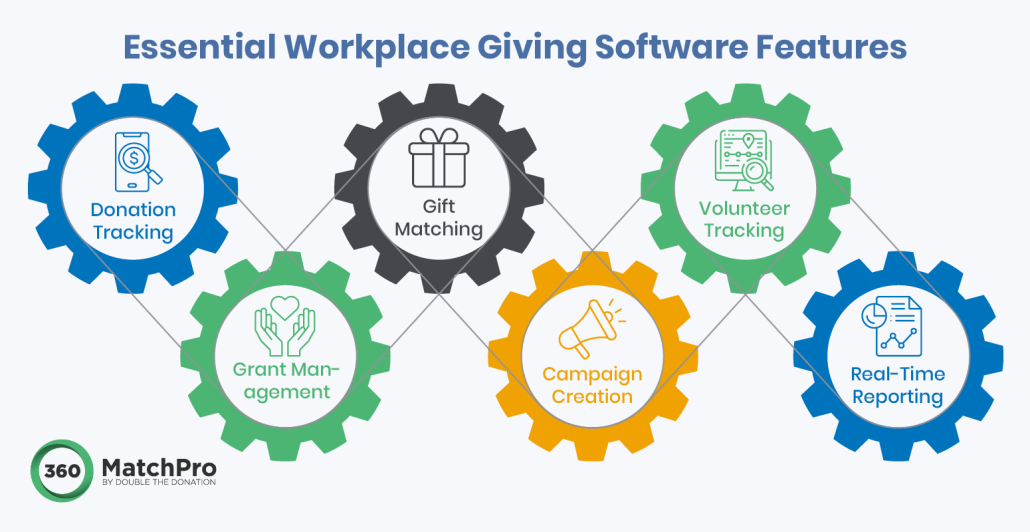 1. Donation Tracking
Your company should be able to monitor and collect information on employee donations using its workplace giving software. Some solutions even enable employees to make a gift directly on the platform.
To maximize engagement, be sure to offer flexible giving options, so employees can contribute however they would like—including debit card, credit card, and PayPal. Note, however, that 96% of employees prefer that their company matches donations they make directly to a nonprofit, rather than only those made through its corporate social responsibility (CSR) platform.
2. Gift Matching
Matching gift programs are popular among employees because they essentially allow them to double the impact of their donations. From company to company, these programs will differ based on guidelines including the minimum gift amount to be eligible, the match ratio, and the maximum match amount.
Workplace giving solutions eliminate the need to manually approve match requests based on your company's specific criteria. All you need to do is input your guidelines and the platform will automatically push eligible match requests forward. If your company has limitations on the types of nonprofits or causes that qualify for matching gifts, you can also provide a dedicated database for employees to search through.
Furthermore, some workplace giving platforms offer an auto-submission functionality that revolutionizes the matching gift process for employees. Neither your company nor nonprofits need to worry about an employee forgetting to submit a matching gift request. With auto-submission, they can simply provide an email address upon donating and the software will take care of the request and approval process from there.
3. Volunteer Tracking
85% of the top matching gift companies also offer volunteer grant programs for their employees. A comprehensive workplace giving solution should empower your company to share volunteer opportunities with employees, create its own corporate service events, and track logged volunteer hours.
Like with matching gifts, workplace giving software can automate the approval process for volunteer grants as well.
4. Grant Management
Corporate grants are another meaningful way for companies to give back to their communities. If your company offers grants to nonprofits, you can employ workplace giving software to streamline the entire grant management process.
As applications come in, you can set clear criteria for approval, appoint who will review each proposal, and conveniently award the grant to the designated recipient.
5. Campaign Creation
At times, your company may decide to create a workplace giving campaign to support a specific cause or address a certain event, such as a natural disaster in your community. Look for a workplace giving solution that empowers you to set campaign goals, build a timeline, and create campaign materials to inform employees on how they can get involved.
6. Real-Time Reporting
To ensure the long-term success of your company's workplace giving programs, it's essential to continually measure employee engagement and impact. Your workplace giving solution should have real-time reporting capabilities that allow you to track donations made by employees, monitor participation rates, and generate reports that make it easy to communicate the results of your program.
How to Choose a Workplace Giving Platform
Whether your company has just launched a matching gift program or is looking to get more employees involved in its existing corporate philanthropy initiatives, finding the right workplace giving software can be a real game-changer. However, since no two companies have the same priorities, resources, and programs, you'll need to conduct thorough research to identify the best options for your company.
Use these tips to guide your efforts: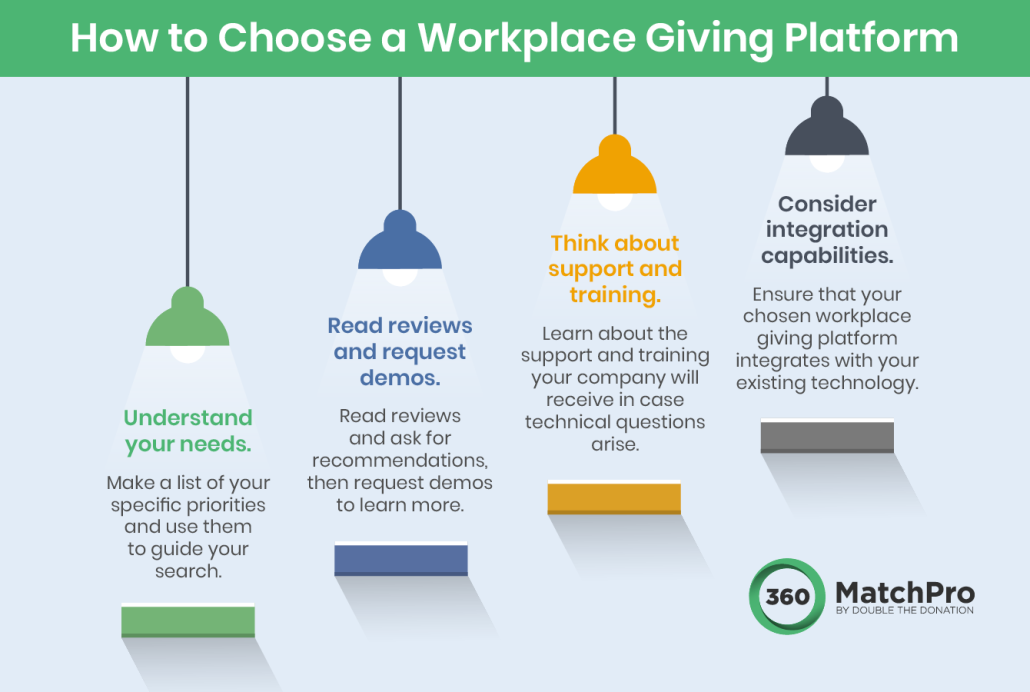 Understand your needs. Make a list of your company's workplace giving priorities and use them to guide your search. For instance, you'll likely want to ensure that your workplace giving software options are user-friendly so that administrators and employees can navigate its features without difficulty. Furthermore, you may want to consider scalability, should your workplace giving programs expand in the future.
Read reviews and request demos. Harness the power of the internet to delve deeper into potential workplace giving platforms for your company. Read reviews or ask for recommendations from other trusted associates within your industry. Then, once you've narrowed down your list, request demos to get a better idea of how each solution functions. Some providers may even offer trial periods for your company to enroll in.
Think about support and training. Before making your selection, gauge the level of support and training your company will receive when implementing the workplace giving software. A vendor that offers an exceptional level of support may come in handy should any technical questions or issues arise.
Consider integration capabilities. Check to make sure that your chosen workplace giving platform integrates with your existing technology. For instance, payroll integrations can allow employees to automatically deduct a portion of their paycheck as a contribution to a nonprofit of their choice. At the same time, an auto-submission integration is vital for elevating your matching gift program participation.
Ideally, your company should aim to choose a long-term workplace giving software solution to support its initiatives. This prevents the need to conduct more research, switch platforms, and re-train staff down the line. So, take your time and look into innovative features such as auto-submission before making your final decision.
Check out Double the Donatin's brief video to get a better idea of how auto-submission works:
As the video makes clear, keeping up with the latest matching gift technology has significant benefits for both nonprofits and businesses. Keep them in mind as you identify the best workplace giving option for your company.

Workplace Giving Trends to Consider
Once your company has equipped itself with all the tools it needs for its workplace giving programs, it's important to maintain an improvement mindset to ensure success in the long run. Keep an eye on how workplace giving is evolving to stay current on the latest best practices.
According to Double the Donation, here are some of the latest workplace giving trends to consider: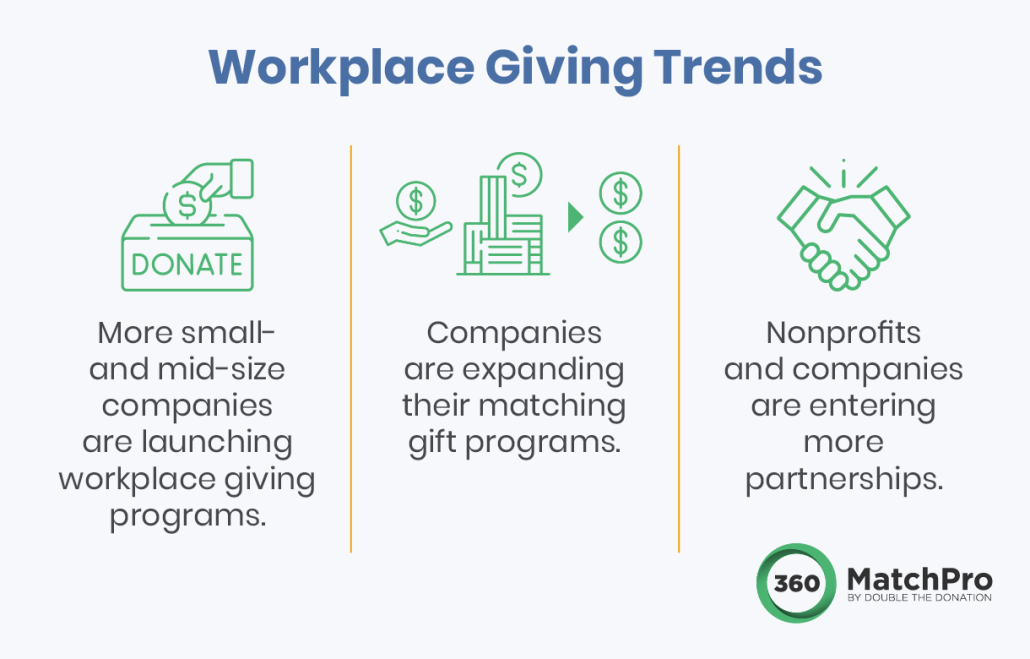 More small- and mid-size companies are launching workplace giving programs. Workplace giving software, especially platforms designed for smaller teams and budgets, empowers more companies to offer giving opportunities to their employees. This means that more companies than ever before can experience the benefits of this type of corporate philanthropy.
Companies are expanding their matching gift programs. Companies with existing matching gift programs are updating their guidelines for more impact and participation. In fact, the higher the maximum donation amount is for matching gifts, the more employees will engage. For example, maximums set at $1,000 result in a 12% engagement rate, while any maximum beyond $10,000 sees an engagement rate of up to 40%.
Nonprofits and companies are entering more partnerships. To secure more funds for important causes and generate a greater impact on society, nonprofits and companies are working together more closely when it comes to workplace giving. Integrations such as auto-submission allow both parties to make it easier than ever for employees to participate in matching gifts and amplify the impact of their donations.
It's clear that workplace giving is becoming more of a priority for companies of all shapes and sizes. With the right software solution, your company can engage more employees and make much a larger difference in its community.
Making the Most of Your Workplace Giving Software
Workplace giving software can unlock new potential for your company when it comes to improving employee engagement, attracting new customers, and leaving a lasting impact on the world. As you research options, take the time to survey your employees to factor in their priorities and interests as well. This ensures that you land on an option that empowers everyone to make the most of your workplace giving programs.
Ready to boost your company's impact? Check out these additional resources on workplace giving: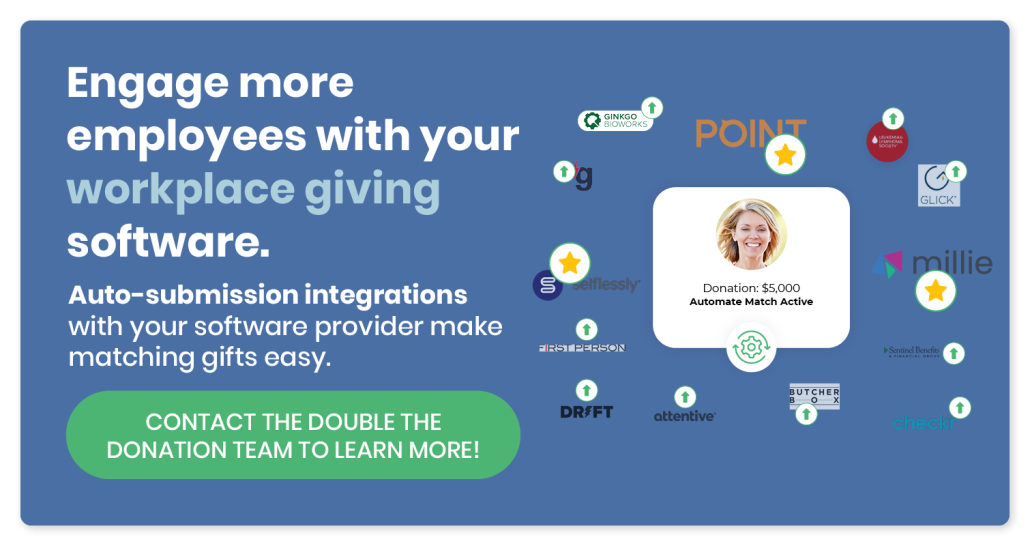 https://360matchpro.com/wp-content/uploads/2023/10/Workplace-Giving-Software_Feature.png
580
1510
360MatchPro
https://360matchpro.com/wp-content/uploads/2021/05/360-matchpro-logo-e1621968689624.png
360MatchPro
2023-10-19 06:55:45
2023-11-08 16:50:21
Workplace Giving Software: A Guide to Increase Engagement