Corporate giving is a type of philanthropy in which corporations give to nonprofit causes, through both monetary and non-monetary contributions. However, many organizations don't spend a lot of time pursuing this fundraising channel.
That's why it's important to understand the impact that corporate giving and philanthropy can have on nonprofits. Whether a company matches its employees' donations to a cause or provides a monetary grant for hours their employees volunteer, their support can make a huge difference.
We've compiled some of the top corporate giving statistics to help put this impact in perspective. When organizations actively form relationships with corporations and promote corporate philanthropy opportunities among their donors, their fundraising revenue can skyrocket. 
Here are some key statistics below: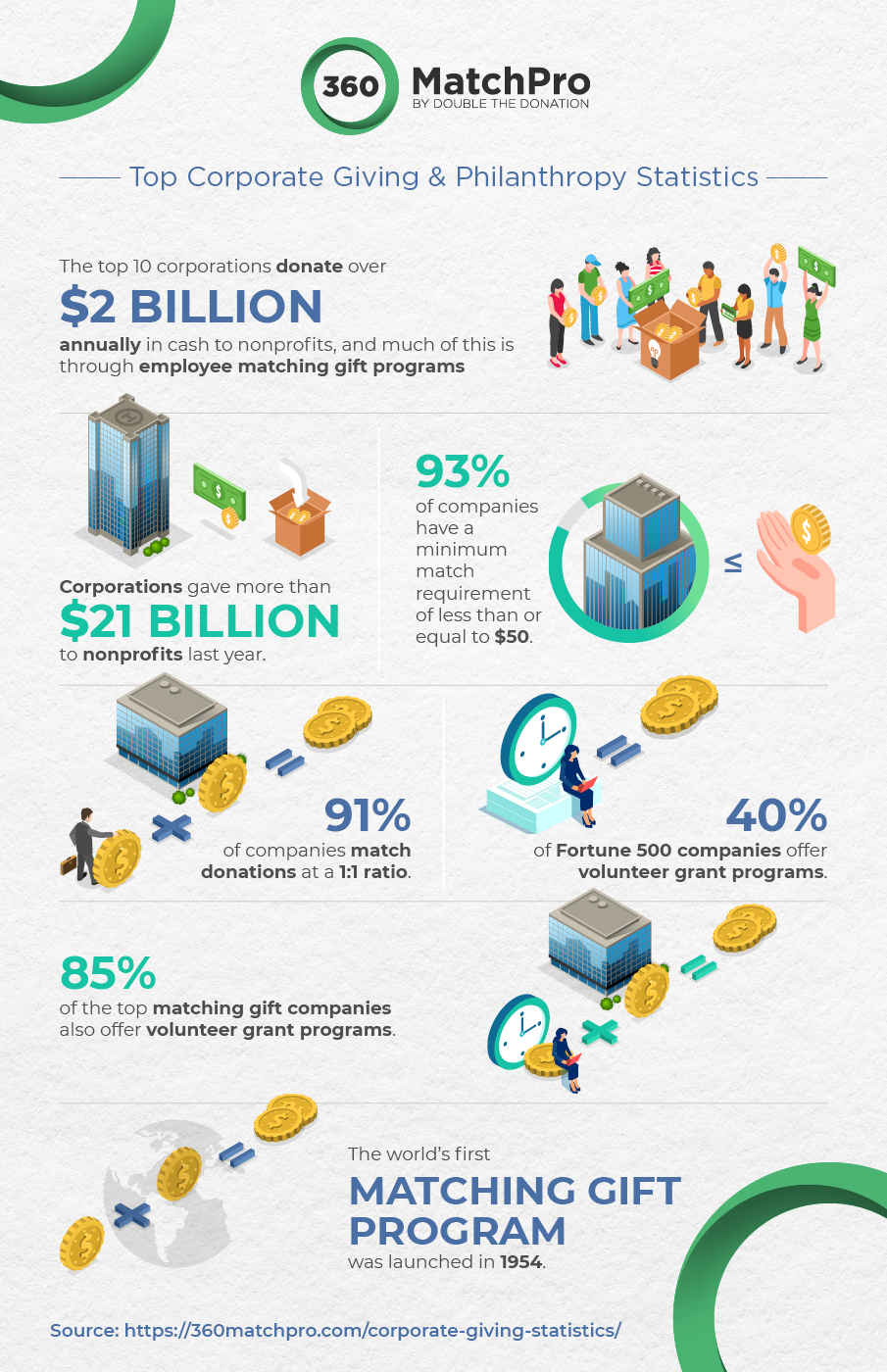 Data Source
We collected most of these statistics from the tens of millions of transactions that flow through Double the Donation's systems each year, as well as from recent corporate philanthropy and fundraising reports.
Corporate Giving Statistic #1:
The top 10 corporations donate over $2 billion annually in cash to nonprofits, and much of this is through employee matching gift programs.
Source: Double the Donation Data
Employee matching gift programs are commonly underutilized due to a lack of awareness on the part of the donor (employee) and the nonprofits to which they give. Many donors don't know their gifts are eligible for a match from their employer, and nonprofits don't know whether their donors work for companies with matching gift programs. 
That said, the top 10 corporations still donate more than $2 billion to nonprofits each year, which means this number could grow if more awareness is raised.
Tip: Consider investing in matching gift software to encourage donors to look up their matching gift eligibility as they donate!
Corporate Giving Statistic #2:
Corporations gave more than $21 billion to nonprofits last year.
Source: Giving USA
This is an increase of 13.4% over the previous year, which indicates that corporate philanthropy is still on the rise.
There are many forms of corporate philanthropy, including matching gifts, volunteer grants, fundraising matches, corporate sponsorships, automatic payroll deductions, and more. All of these programs combine to generate a significant amount of revenue that goes toward helping nonprofits and their causes.
Corporate Giving Statistic #3:
93% of companies have a minimum match requirement of less than or equal to $50.
Source: Double the Donation Data
Because a majority of companies have a minimum match amount of less than $50, more donations across the board are eligible for a matching gift (that is, if the donor works for a company that offers a matching program). Many companies require a minimum closer to $25, which means even smaller-size donations can be match eligible across a variety of company programs.
Corporate Giving Statistic #4:
51% of Russell 1000 companies publicly disclose they offer matching gift programs.
The 1,000 largest publicly held U.S. companies are referred to as the Russell 1000. Of these 1,000 companies, around 51% report offering matching gift programs to employees⁠—with additional ones being offered and not publicly disclosed yet.
Not to mention, over the last three years, the percentage of Russell 1000 companies disclosing their matching gift programs grew by 11.8%. At the same time, there's also been a dramatic increase (of more than 48%) in the number of companies with unrestricted versus restricted programs (e.g. only matching donations to higher education.) Those offering "restricted" matching programs have decreased by 33% to merely 13.6%.
Corporate Giving Statistic #5:
91% of companies match donations at a 1:1 ratio.
Source: Double the Donation Data
A 1:1 ratio means a donation is matched dollar for dollar. Meanwhile, 4% of companies match at a lower rate, such as .5:1, while 5% match at a higher rate, such as 2:1 or 3:1. That means donations could be tripled, or even quadrupled!
Corporate Giving Statistic #6:
40% of Fortune 500 companies offer volunteer grant programs.
Source: Double the Donation Data
Like matching gift programs, volunteer grant programs are often overlooked by nonprofits and their volunteers. But many companies award monetary grants to organizations where their employees regularly volunteer. In fact, 40% of Fortune 500 companies offer these programs, along with many other corporations.
That's why raising awareness around these programs is so important. The chances that some of your volunteers are eligible for a volunteer grant is high. 
Tip: Matching gift software can also provide helpful information about corporate volunteer grants. Consider making this investment so you can identify which of your volunteers are eligible and easily help them find the information they need to submit a grant request.
Corporate Giving Statistic #7:
80% of companies with volunteer grant programs provide between $8-$15 per hour volunteered.
Source: Double the Donation Data
The numbers add up. More than three-quarters of companies that offer volunteer grant programs will pay between $8 and $15 to a nonprofit for every hour one of their employees volunteers with the organization.
However, it's important to understand the other guidelines and thresholds that must be met to receive a volunteer grant, too. Sometimes there's a minimum amount of hours required before the organization can receive a grant in the first place. Make sure your volunteers understand their employer's guidelines so they can meet the threshold and submit all of the necessary information.
Corporate Giving Statistic #8:
85% of the top matching gift companies also offer volunteer grant programs.
Source: Double the Donation Data
Matching gift programs and volunteer grant programs are two of the most common forms of corporate philanthropy. In fact, 85% of the top matching gift companies also offer volunteer grants.
These programs also take a few other forms. For example, fundraising matches are another type of matching gift program, but these are tied to a fundraising event. Essentially, a participant's employer will match the money they raise through sponsorships or other donations, such as for a walk or bikeathon.
Corporate Giving Statistic #9:
Higher matching gift caps yield higher employee engagement.
Source: Double the Donation Data
The higher the maximum donation amounts for matching gifts, the more employees will engage with the matching gift program. For example, maximums that are set at $1,000 see a 12% employee engagement rate, while maximums between $1,001 and $10,000 have an 18% engagement rate. Finally, any maximum beyond $10,000 sees an engagement rate up to 40%. 
Corporate Giving Statistic #10:
96% of employees strongly prefer that their company matches donations made directly to a nonprofit, rather than only matching donations through a workplace giving platform.
Source: Double the Donation Data
Companies offering matching gift programs have the choice to match gifts made directly to an organization (through their website, campaign page, direct mail, etc.) or solely to match donations processed through their CSR platform. From an employee perspective, nearly all donors have a strong or very strong preference for more options⁠—i.e., directly to the nonprofit and through the workplace giving software⁠—over fewer options. Research shows that companies that offer multiple ways to participate in matching gifts see significantly higher levels of employee participation!
Corporate Giving Statistic #11:
Last year, General Electric matched almost $18 million in donations from employees to a wide range of nonprofit organizations and educational institutions.
Source: The GE Foundation
Companies like General Electric have made a huge impact through their corporate giving programs. The amount of gifts GE matched in a single year goes to show how important matching gift programs are for nonprofits, and how essential it is to identify donors who may work for companies like them.
Corporate Giving Statistic #12:
Microsoft is one of the largest contributors of matching gift and volunteer grant funds.
Source: Microsoft Corporate Responsibility
65% of Microsoft employees take part in their annual giving campaign. In addition, last year, Microsoft employees donated $170 million to nonprofits, which included the company match. Through their volunteer grant program, Microsoft employees contributed more than 790,000 hours to volunteering with nonprofits and requested grants for those hours.
Corporate Giving Statistic #13:
The world's first matching gift program was launched in 1954.
Source: The GE Foundation
General Electric launched the world's first matching gift program in 1954, originally geared toward universities. However, they then expanded it to encompass nearly all 501(c)(3) nonprofit organizations.
Additional Corporate Giving & Philanthropy Resources
Hopefully, these corporate philanthropy statistics have put things in perspective for your organization! When you understand the importance and impact of corporate giving programs, your team will dig deeper into leveraging these channels so you can raise even more.
If you're looking for additional information about corporate philanthropy, check out these resources below:

https://360matchpro.com/wp-content/uploads/2020/11/Corporate-Giving-Statistics-Feature.jpg
345
905
Adam Weinger
https://360matchpro.com/wp-content/uploads/2021/05/360-matchpro-logo-e1621968689624.png
Adam Weinger
2020-11-30 14:04:33
2022-05-05 12:39:54
13 Essential Corporate Giving & Philanthropy Statistics