Top 16 Corporate Giving & Philanthropy Statistics [2023]

Corporate giving is a type of philanthropy in which corporations give to nonprofit causes, through both monetary and non-monetary contributions. However, many organizations don't spend a lot of time pursuing this fundraising channel.
That's why it's important to understand the impact that corporate philanthropy and workplace giving can have on nonprofits. Whether a company matches its employees' donations to a cause or provides a monetary grant for the hours their employees volunteer, their support can make a huge difference.
We've compiled some of the top corporate giving statistics to help put this impact in perspective. When organizations actively form relationships with corporations and promote corporate philanthropy opportunities among their donors, their fundraising revenue can skyrocket.

Here are some key statistics below:
Data Source
We collected most of these statistics from the tens of millions of transactions that flow through Double the Donation's systems each year, as well as from recent corporate philanthropy and fundraising reports.
1. The top 10 corporations donate over $2 billion annually in cash to nonprofits, and much of this is through employee matching gift programs.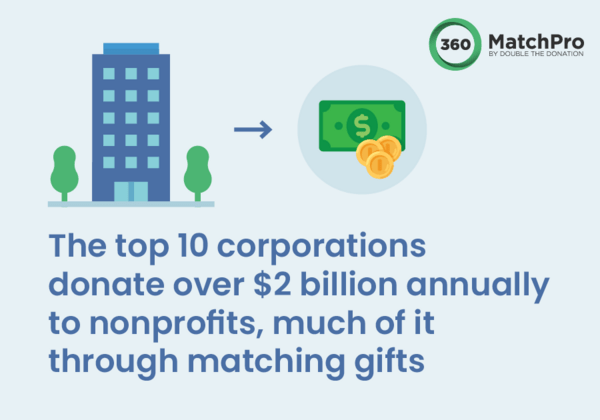 Source: Double the Donation Data
Donors and nonprofits commonly underutilize employee matching gift programs due to a lack of awareness of these opportunities. Many donors don't know their gifts are eligible for a match from their employer, and nonprofits don't know whether their donors work for companies with matching gift programs. 
That said, the top 10 corporations still donate more than $2 billion to nonprofits each year, which means this number could grow with more matching gift awareness.
Tip: Consider investing in matching gift software to encourage donors to look up their matching gift eligibility as they donate!
2. Corporations gave more than $21 billion to nonprofits in 2022.
Source: Giving USA
This statistic represents an increase in giving of 13.4% over the previous year, which indicates that corporate philanthropy is still on the rise.
There are many forms of corporate philanthropy companies can leverage, including: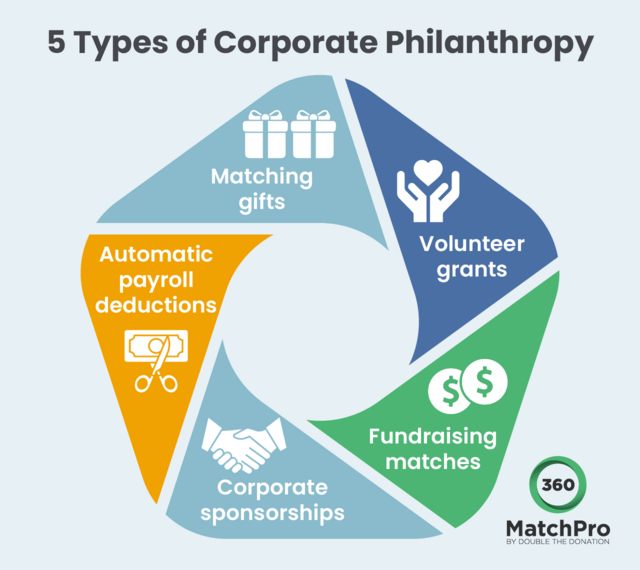 Matching gifts. Many companies will match the donations their employees contribute to nonprofits, typically at a 1:1 ratio.
Volunteer grants. While matching gifts match employee donations, volunteer grants provide funds to nonprofits based on the number of hours employees volunteer.
Fundraising matches. Businesses that offer fundraising matches will match the funds employees raise for different events and initiatives such as walkathons and runs.

Corporate sponsorships. When a company provides monetary support for a nonprofit event or project, that's considered a corporate sponsorship. In return, nonprofits typically feature their corporate sponsors in event materials to bring them positive publicity.

Automatic payroll deductions. One of the easiest ways to get employees involved in corporate giving is through automatic payroll deductions. Employees can simply choose how much they'd like to give and which organization they'd like to support on a recurring basis.
Together, all of these programs generate a significant amount of revenue that goes toward helping nonprofits and their causes.
3. 93% of companies have a minimum match requirement of less than or equal to $50.
Source: Double the Donation Data
Because most companies have a minimum match amount of less than $50, more donations across the board are eligible for a matching gift. Many companies require a minimum closer to $25, which means even smaller donations can be match-eligible across a variety of company programs.
Of course, donors must work for a company that offers a matching program and fill out a matching gift request for nonprofits to reap the benefits of low minimum match requirements.
4. 51% of Russell 1000 companies publicly disclose they offer matching gift programs.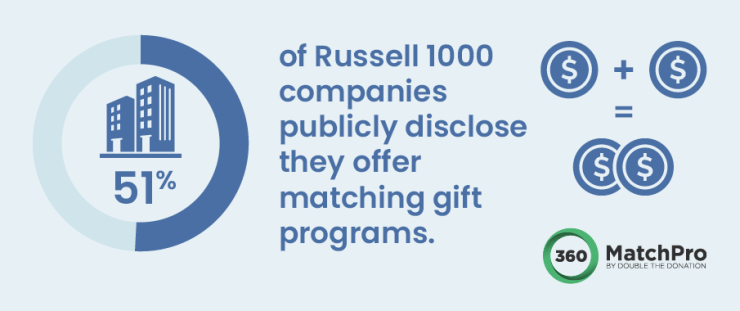 The 1,000 largest publicly held U.S. companies are referred to as the Russell 1000. Of these 1,000 companies, around 51% report offering matching gift programs to employees⁠—with additional ones being offered and not publicly disclosed yet.
Over the last three years, the percentage of Russell 1000 companies disclosing their matching gift programs grew by 11.8%. At the same time, there's also been a dramatic increase (of more than 48%) in the number of companies with unrestricted versus restricted programs (e.g. only matching donations to higher education). Those offering "restricted" matching programs have decreased by 33% to merely 13.6%. As a result, more nonprofits can earn additional donation revenue from matching gift programs.
5. 91% of companies match donations at a 1:1 ratio.
Source: Double the Donation Data
A 1:1 ratio means a donation is matched dollar for dollar. For example, a $50 employee donation would result in a $50 corporate donation. Meanwhile, 4% of companies match at a lower rate, such as 0.5:1, while 5% match at a higher rate, such as 2:1 or 3:1. That means donations could be tripled, or even quadrupled!
Companies typically outline their donation match rates in their corporate giving policies so employees and nonprofits know exactly how their matching gift programs work.
6. 78% of donors are unaware of whether their company offers a matching gift program and the program specifics.
Source: Double the Donation Data
Despite so many companies offering generous matching gift programs, the majority of donors still don't know whether their employers have programs of their own. As a result, about $4-$7 billion in matching gift funds go unclaimed each year.
If donors are unaware of matching gift opportunities, how can they maximize their contributions? While businesses have a responsibility to promote their own programs, nonprofits can also take an active role in spreading awareness.
Dedicated matching gift software with a database tool can help donors determine their eligibility by directly searching for their employer. When you embed this tool on your donation page, donors can learn about and pursue matching gift opportunities right after donating. Check out this video to see exactly how matching gift software works:
To simplify the process, leverage a platform with auto-submission. 360MatchPro's auto-submission feature allows donors to automatically submit matching gift requests to their employers by simply inputting their corporate email address.
7. Mentioning matching gifts in fundraising appeals results in a 71% increase in response rate and a 51% increase in average donation amount.
Source: Tech Soup
Not only can learning about matching gifts help donors leverage more of these opportunities, but it can also inspire people to give. More people will be inclined to donate when they hear about matching gift opportunities in fundraising appeals, knowing that their donations will have a bigger impact.
Furthermore, when donors are eligible for matching gifts and are informed of these opportunities, they contribute larger gifts to their favorite nonprofits. Why? Because the more they donate, the more these organizations will get in matching gift revenue.
If you're stuck on how to successfully incorporate matching gifts into your fundraising appeals and marketing strategies, check out Double the Donation's Matching Gift Academy for helpful matching gift marketing tips.
8. 40% of Fortune 500 companies offer volunteer grant programs.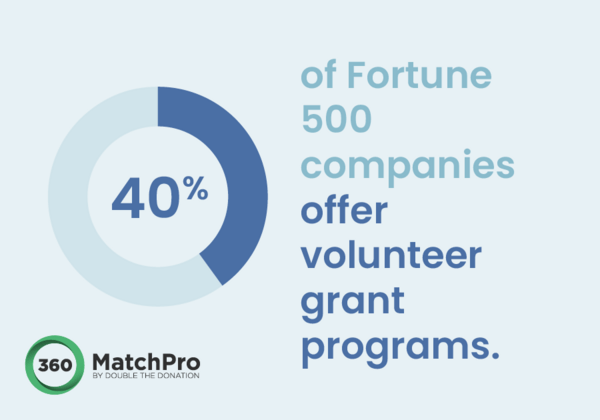 Source: Double the Donation Data
Just as many people overlook matching gift programs, many nonprofits and volunteers don't take full advantage of volunteer grant programs. However, many companies award monetary grants to organizations where their employees regularly volunteer. In fact, 40% of Fortune 500 companies offer these programs, along with many other corporations.
That's why raising awareness around these programs is so important. The chances that some of your volunteers are eligible for a volunteer grant are high, but they must know to check their eligibility and fill out a volunteer grant request to begin the process.

Tip: Matching gift software can also provide helpful information about corporate volunteer grants. Consider investing in this type of tool so you can identify which of your volunteers are eligible and help them find the information they need to submit a grant request.
9. 80% of companies with volunteer grant programs provide between $8-$15 per hour volunteered.
Source: Double the Donation Data
More than three-quarters of companies that offer volunteer grant programs will pay between $8 and $15 to a nonprofit for every hour one of their employees volunteers with the organization.
However, it's important to understand the other guidelines and thresholds surrounding volunteer grants, too. Sometimes there's a minimum amount of hours required before the organization can receive a grant in the first place. Make sure your volunteers understand their employer's guidelines so they can meet the threshold and submit all of the necessary information.
10. 85% of the top matching gift companies also offer volunteer grant programs.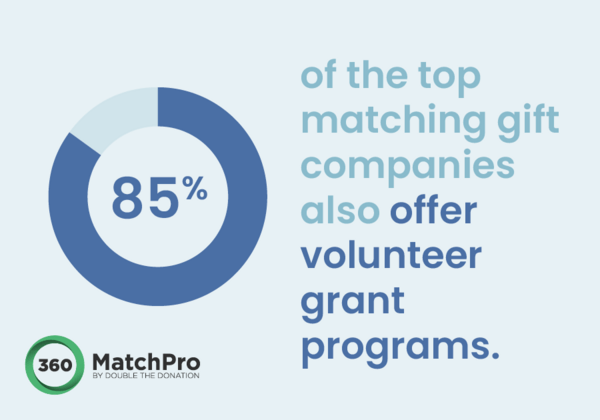 Source: Double the Donation Data
Matching gift programs and volunteer grant programs are two of the most common forms of corporate philanthropy. In fact, 85% of the top matching gift companies also offer volunteer grants.
These programs also take a few other forms. For example, fundraising matches are another type of matching gift program, but these are tied to a fundraising event. Essentially, a participant's employer will match the money they raise through sponsorships or other donations, such as for a walk or bikeathon.
11. Higher matching gift caps yield higher employee engagement.
Source: Double the Donation Data
The higher the maximum donation amounts for matching gifts, the more employees will engage with the matching gift program. For example, maximums that are set at $1,000 see a 12% employee engagement rate, while maximums between $1,001 and $10,000 have an 18% engagement rate. Finally, any maximum beyond $10,000 sees an engagement rate of up to 40%. 
Companies trying to increase engagement with their corporate giving programs should experiment with raising their maximum donation amounts for matching gifts. While smaller businesses may not be able to afford this change, corporations can significantly enhance employee engagement and provide more support to nonprofits by adjusting their matching gift policies.
12. 96% of employees strongly prefer that their company matches donations made directly to a nonprofit, rather than only matching donations through a workplace giving platform.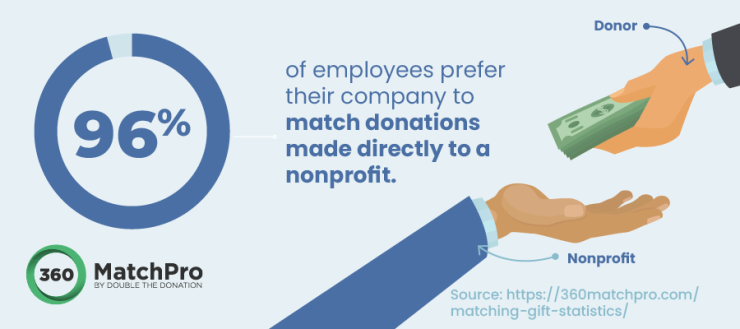 Source: Double the Donation Data
Companies offering matching gift programs can match gifts made directly to an organization or solely match donations processed through their CSR platform. Nearly all donors have a strong or very strong preference for more giving options.
Donors want the flexibility to have their donations matched whether they're made directly to the nonprofit or through workplace giving software⁠. Research shows that companies that offer multiple ways to participate in matching gifts see significantly higher levels of employee participation!
13. In 2022, General Electric matched almost $18 million in donations from employees to a wide range of nonprofit organizations and educational institutions.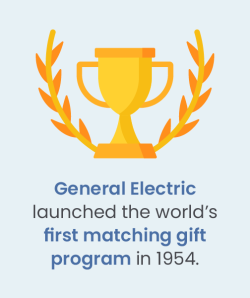 Source: The GE Foundation
Companies like General Electric have made a huge impact through their corporate giving programs. The amount of gifts GE matched in a single year goes to show how important matching gift programs are for nonprofits and how essential it is to identify donors who work for companies like them.
The company also launched the world's first-ever matching gift program in 1954, originally geared toward universities. However, they then expanded it to encompass nearly all 501(c)(3) nonprofit organizations. And they've continued to pave the way for companies of all shapes, sizes, and sectors to join suit in matching employee gifts!

14. Microsoft is one of the largest contributors of matching gift and volunteer grant funds.
Source: Microsoft Corporate Responsibility
Additionally, they boast the highest program participation rate, with 65% of Microsoft employees partaking in their annual giving campaign. In 2022, Microsoft employees donated $170 million to nonprofits, which included the company's matches. Through their volunteer grant program, Microsoft employees volunteered more than 790,000 hours with nonprofits and requested grants for those hours.
15. 100% of the leading P2P-based nonprofits incorporate matching gifts in their overall fundraising strategies.
Source: Top Nonprofits' Matching Gift Research Report
Though the extent of their promotional strategies varies, it's inspiring to note that each of the organizations that made the P2P Top 30 list in 2022 offered some sort of matching gift marketing.
Key components of a multi-channel matching gift plan, according to the study, included a dedicated matching gift web page on the organization's site or event page, mentions within the online donation form and confirmation screens, and post-donation outreach!
16. 94% of major US corporations plan to heighten or maintain their charitable giving in the next few years.
Source: Survey by The Conference Board ESG Center
Corporate giving isn't going anywhere. Nonprofits will be happy to hear that the majority of major U.S. corporations are maintaining or expanding their corporate giving programs over the next couple of years. As a result, there will be increasingly more opportunities for charitable organizations to partner with companies and benefit from their philanthropic initiatives.
Being proactive about corporate giving is key. Nonprofits should do their research on the top corporate giving companies and keep track of relevant opportunities they can engage in or apply for.
Additional Corporate Giving & Philanthropy Resources
Hopefully, these corporate philanthropy statistics have put things in perspective for your organization! When you understand the importance and impact of corporate giving programs, your team can dig deeper into leveraging these channels so you can raise even more.
If you're looking for additional information about corporate philanthropy, check out these resources below:

https://360matchpro.com/wp-content/uploads/2023/07/Corporate-Giving-Statistics_Feature.png
690
1820
Adam Weinger
https://360matchpro.com/wp-content/uploads/2021/05/360-matchpro-logo-e1621968689624.png
Adam Weinger
2023-07-16 14:04:33
2023-10-30 08:01:51
Top 16 Corporate Giving & Philanthropy Statistics [2023]