Canada Matching Gifts: Choosing the Right Company Database


If you're searching for information on Canada matching gifts, this is a great place to start! As a nonprofit in the Canadian market, it can be a challenge to secure corporate matching gifts from your donors' employers. It requires having access to the names of companies that match donations in Canada, as well as a simple way to inform your donors of their eligibility.
That's why choosing the right matching gift company database is more important than ever.
A comprehensive matching gift database holds information about thousands of companies that offer corporate matching gift programs, and this should expand into the Canadian market. After all, Canadian organizations and donors are supporting important missions, and matching donations can get them even closer to their goals.
In this article, we will cover:
Read with us from the top or jump to the sections that interest you most. Let's get started!

What are Matching Gifts?
Matching gifts are a type of corporate philanthropy in which companies match donations their employees make to eligible nonprofits. Many companies match at a 1:1 ratio, but others will match at a 2:1, or even 3:1 ratio!
Here's how the process works:
A supporter makes a donation to a nonprofit.

The supporter uses a company search tool, which pulls from a matching gift database, to look up their eligibility for a match.

The supporter reviews the guidelines from the database and submits their match request to their company.

The company reviews the request and confirms the donation with the nonprofit.

The company matches the donation.
With a matching gift database, it's easy for supporters to determine their employer's matching gift information and submit the request. It even increases your organization's chances that a donor will submit a match request at all.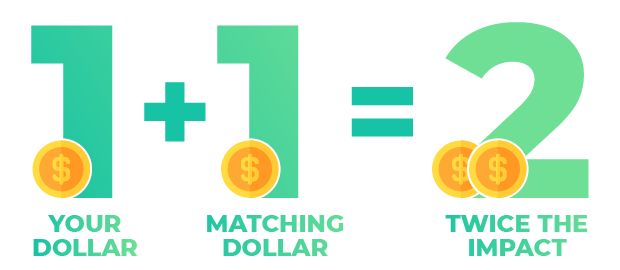 Why are Matching Gifts Often Overlooked?
While it might seem so simple to secure corporate matching gifts, they are often an overlooked source of revenue for organizations. This is because many nonprofits don't have the time, staff, or resources to dedicate to matching gifts, as other tasks are often more pressing. This results in many donors being unaware that their employers even offer a matching gift program.
For both small and large organizations alike, it can be a challenge to find a dedicated matching gift team to secure corporate funding when there are other things your team needs to get done.
This makes leveraging a matching gift database even more important.
Why are Matching Gifts Valuable?
Matching gifts are valuable because they are essentially free money for your organization. Your nonprofit receives two donations for the work of soliciting one, and donors will know their donation went twice as far.
With the right matching gift company database, you can secure matching gifts from your supporters' employers without too much added effort from your team.


Examples of Canada Matching Gift Companies 
Now that you have an overview of matching gifts and why they're important, let's take a look at some of the most prominent Canada matching gift companies. These companies, among many others, will match Canadian donations to nonprofits.
Gildan Activewear
Gildan Activewear is a Canadian manufacturer of branded clothing. This company matches a maximum of $2,500 per employee at a 1:1 ratio. Full- and part-time employees are eligible for matching donations, though retired employees are not.
Learn more about Gildan Activewear's matching gift program.
Royal Bank of Canada
The Royal Bank of Canada (RBC) is a Canadian multinational financial services company, and also the largest bank in Canada by market capitalization. The Royal Bank of Canada will match between $100 and $5,000 per employee at a 1:1 ratio, and all current and retired employees are eligible.
Learn more about the Royal Bank of Canada's matching gift program.
Deluxe Canada
Deluxe Canada's goal is to help businesses, enterprises, and financial institutions deepen their customer relationships through technology-enabled solutions. Each year, Deluxe Canada will match a maximum of $3,000 at up to a 2:1 ratio. Retired employees are not eligible for a gift match, though full- and part-time employees are.
Learn more about Deluxe Canada's matching gift program.
Sun Life Financial
Sun Life Financial, Inc. is a Canadian financial services company and one of the largest life insurance companies in the world. This Canada matching gift company will match a maximum of $500 at a 1:1 ratio for active full- and part-time employees.
Learn more about Sun Life Financial's matching gift program.
The Home Depot
The Home Depot is a large home improvement retailer with a generous matching gift program. The company matches up to $3,000 per employee per calendar year to most eligible nonprofit organizations across the U.S. and Canada.
Learn more about The Home Depot's matching gift program.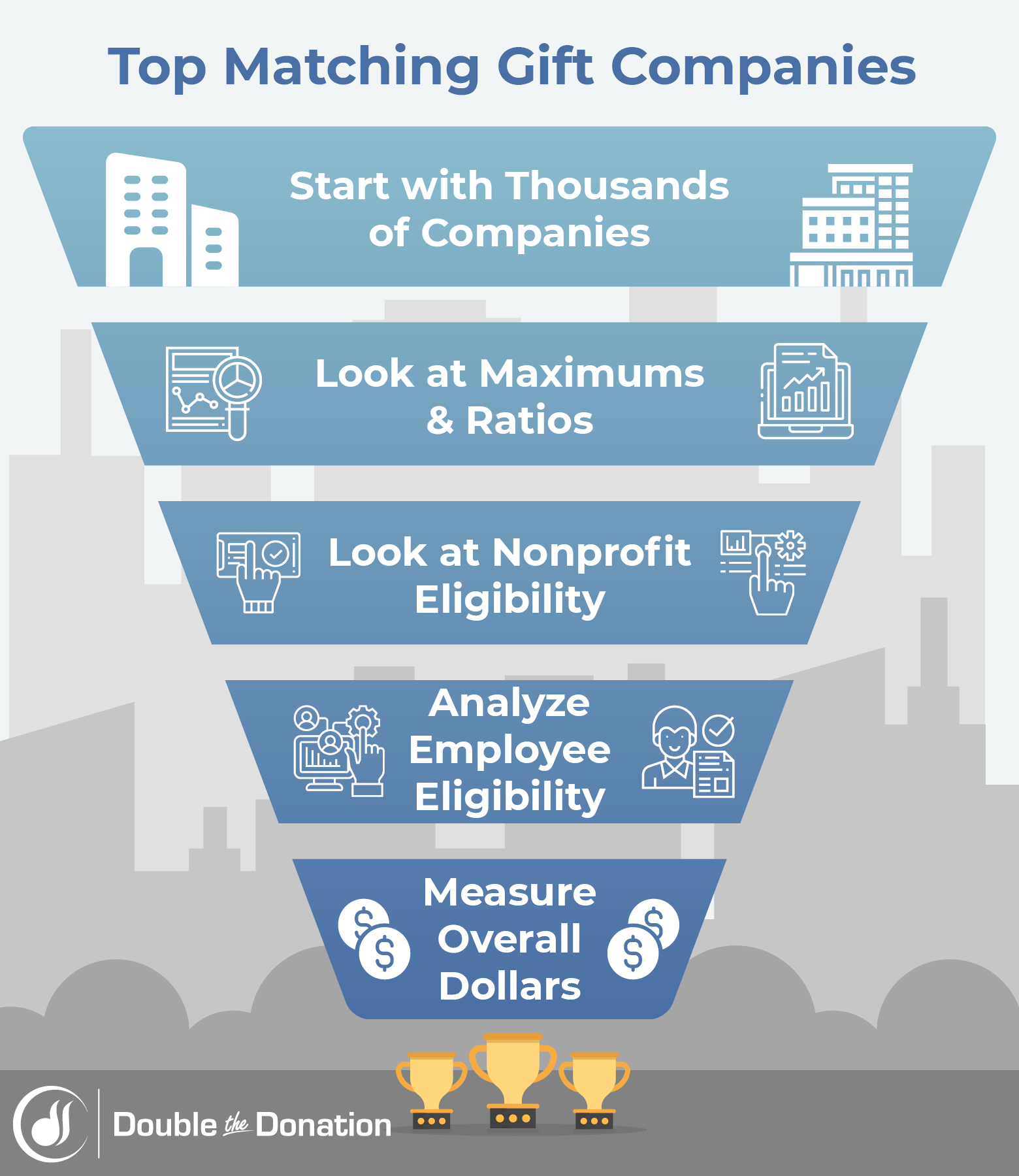 Learn more about top Canada matching gift companies!
Top Canada Matching Gift Company Databases: Double the Donation & 360MatchPro
Now that you've seen a few examples of Canada matching gift companies and the impact matching gifts have on organizations, let's turn to matching gift databases.
If you're looking for a matching gift company database that has the most coverage of the Canadian market, we suggest Double the Donation's 360MatchPro.
360MatchPro
For organizations and universities aiming to significantly increase their matching gift revenue, 360MatchPro by Double the Donation is a great option. This is a matching gifts automation platform that streamlines your matching gift outreach and essentially serves as your own matching gift team.
Here's how 360MatchPro works:
Once a supporter has made a donation, the platform automatically scans the information they provide, such as an email domain or employer details, to

determine their eligibility for a matching gift.

Depending on the supporter's eligibility, 360MatchPro

triggers an email outlining the next steps they can take to submit a match request.

This includes guidelines and instructions for their specific employer and information about how to look up their eligibility if this is still undetermined.

From start to finish,

360MatchPro tracks each step,

giving your team plenty of information to leverage and the ability to track the status of the match.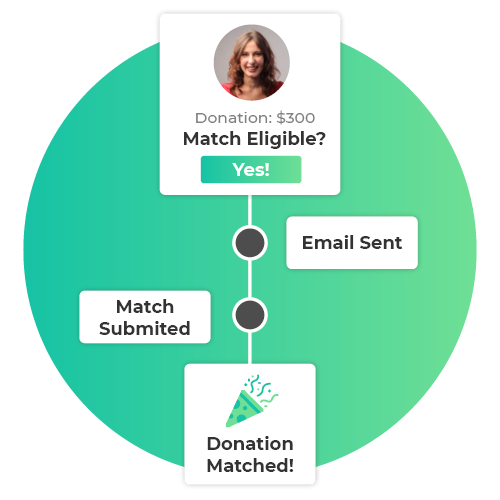 Using 360MatchPro for your large organization comes with a lot of benefits. You'll grow your revenue by immediately (and automatically) presenting your donors with matching gift opportunities. Doing this can result in more matches driven to completion and more time to focus on what's most important: your mission.

Coverage of Canada Matching Gift Companies
Finding a matching gift database that covers most Canada matching gift companies can be a challenge. Based on recent analysis, Double the Donation is Canada's most accurate and up-to-date source of matching gift information, complete with customized program information, guidelines, and submission forms.
Canada Matching Gift Statistics
Our analysis included the following:
Approximately

93-99% of individuals in Canada who work for a matching gift company will find their employer

in Double the Donation's database.

Double the Donation's database covers approximately

$99,000 of $102,000 in matching gifts

received by a global organization's market in Canada.

We also analyzed the number of employees making payments to a Canadian affiliate of a large global organization.

Companies in Double the Donation's database employed 483,760 people,

while companies not in the database employed 4,124 people.
Conclusion: Using Double the Donation's database is a surefire way to provide your donors in Canada with the information they need about their employers' matching gift programs.
How 360MatchPro Can Grow Your Nonprofit's Revenue
360MatchPro by Double the Donation takes your opportunities for revenue to the next level. Using an automation platform like 360MatchPro can help you bring in significantly more matching gift revenue without added pressure on your team.
The benefits are clear:
More opportunities for matching gift revenue. 360MatchPro determines matching gift eligibility using email domains, within donation forms, on confirmation screens, and by email, which means you'll identify more matching gift opportunities and maximize your revenue.
More matches driven to completion. By automatically following up with donors and directing them to the necessary matching gift forms following the donation, you'll drive more completed match submissions than ever before.
More time for top opportunities. Instead of spending most of your time pursuing small dollar-value matching gifts, 360MatchPro will automate this process. That way, your team can focus on your highest-value opportunities, allowing you to personalize the follow-up emails for these valuable donations.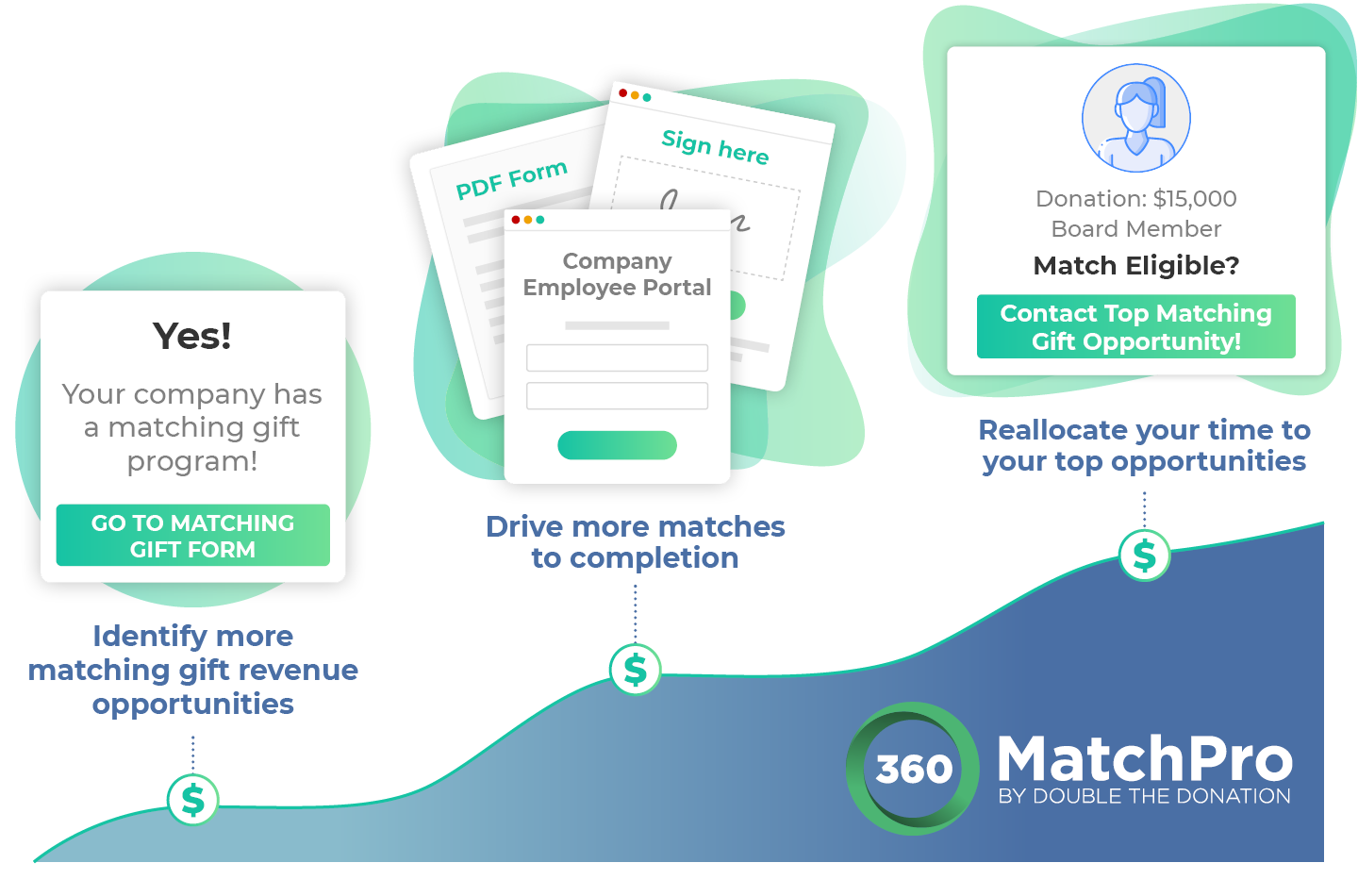 Conclusion: 360MatchPro can help increase your revenue via automated email outreach, and its tracking capabilities can help your team leverage the right data and identify even more matching gift opportunities.
Learn more about how 360MatchPro works!
Integrate 360MatchPro with Your Online Donation Tools, Peer-to-Peer Fundraising Platform, and CRM
If you're a nonprofit using an online donation tool, peer-to-peer fundraising platform, or CRM, you have the option to integrate 360MatchPro and start growing your matching gift revenue. 
360MatchPro has 50+ integrations with many of the leading platforms. These include:
CRMs

such as Blackbaud (Raiser's Edge NXT) and Salesforce 

Peer-to-peer fundraising platforms

such as Classy, DonorDrive, and Raisin

Donation tools

such as Luminate, Convio, Funraise, and iModules
The integrations are simple to use and can have your organization collecting more in matching gifts in no time!
Here's an example of how it works with Raisin, the leading Canadian fundraising platform:
Activate 360MatchPro within the Raisin platform to begin the matching gift experience. If you already have an account with 360MatchPro, all you need to do is enter your API keys within Raisin to activate the integration.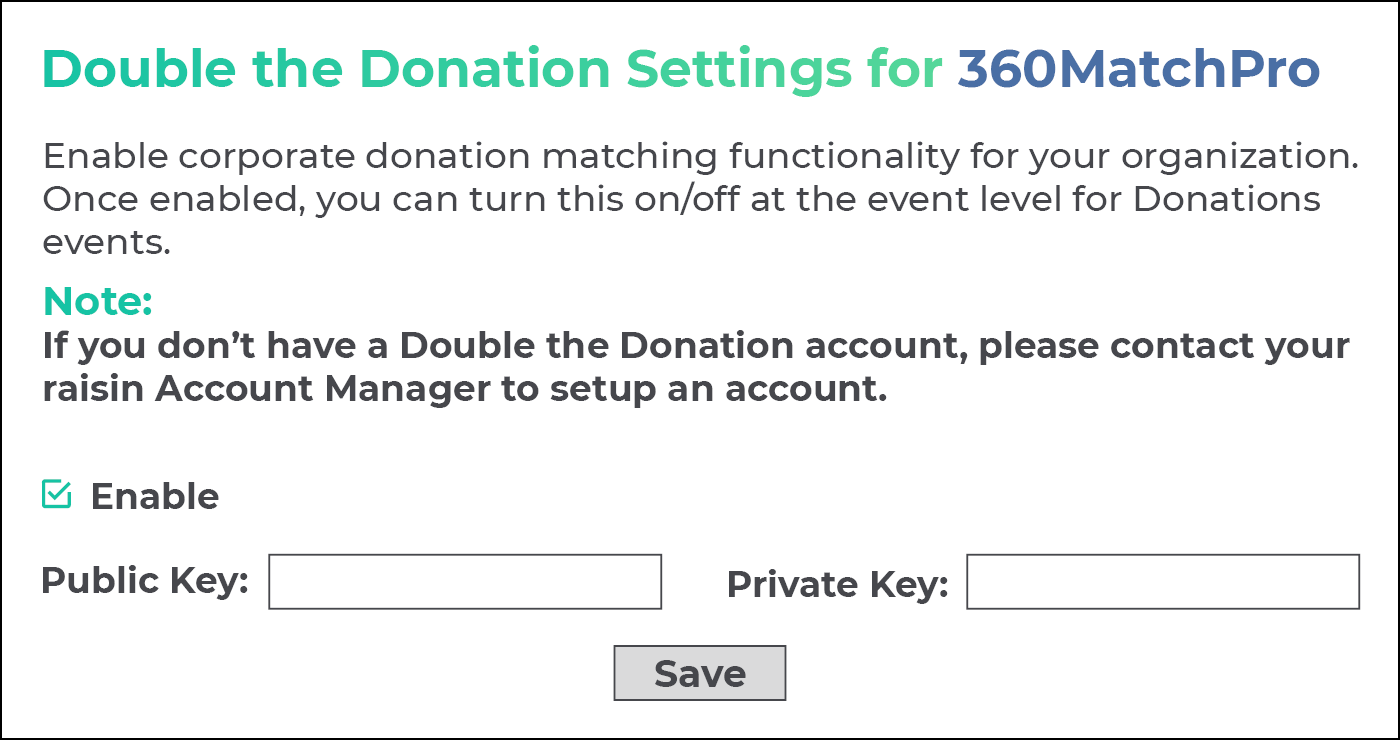 Next, decide which donation forms you want to feature the 360MatchPro search tool. You can either integrate 360MatchPro across all live events on the donations module, or activate individual events. Donors can then search for their company's name, and receive a message like this one:

View more 360MatchPro partners and integrations!

Customize the Experience to Feature Canada Results
360MatchPro by Double the Donation is designed to accommodate nonprofits that fundraise in one or multiple geographic markets. This means you can customize the search results and how the software works for your nonprofit by adjusting the geographic regions that apply to your organization.
Add additional regions based on where a large number of your donors are located. When you select these regions, 360MatchPro will then tailor the matching gift search results presented to your donors based on what you selected:

Consider your nonprofit's tax status and where your donors are located when choosing your geographic region(s). For example, if your tax status is exclusively based in Canada and you primarily have Canadian donors, it's recommended that you only select Canada.
Double the Donation's matching gift database categorizes which geographic region a company's matching gift program applies to. There can be one or multiple unique variations for a company, depending on how the company structures their program.
All of this ensures the matching gift database meets your organization's needs and is tailored to your specific region!
---
Choosing the right matching gift company database to bring in Canada matching gifts doesn't have to be a challenge. Use a platform like Double the Donation to ensure you have the best coverage of companies, and you'll be on your way to securing more revenue.
Additional Canada Matching Gift Resources

https://360matchpro.com/wp-content/uploads/2020/08/Canada-Matching-Gifts-Feature-600x221-2.png
221
600
Adam Weinger
https://360matchpro.com/wp-content/uploads/2021/05/360-matchpro-logo-e1621968689624.png
Adam Weinger
2020-08-03 15:57:35
2023-10-18 17:30:34
Canada Matching Gifts: Choosing the Right Company Database