A Smart Guide to Unlocking the Power of CSR Software in 2023

There's a lot to keep track of when it comes to your company's corporate social responsibility (CSR) programs. After all, an effective CSR strategy should cover a wide area of initiatives, from your social and environmental impact to your economic practices. That's where CSR software comes in.
By leveraging a CSR platform, your company can better conduct its programs, engage key stakeholders, and report on its impact. As the social accountability of companies rises to the forefront of employees' and customers' priorities, it's more vital than ever to adopt technology solutions designed to meet your CSR goals.
In this detailed guide, we'll cover all you need to know about CSR software, its benefits, and how to choose the right one for your company in these sections:
Double the Donation notes that 94% of major U.S. corporations plan to heighten or maintain their charitable giving in the next few years. If your company is looking to join the ranks of other socially responsible companies, it's time to start considering the powerful tools at its disposal.


The Basics of CSR Software
Before you begin researching your CSR software options, it's essential to understand the basics of this technology and how it fits into your larger CSR activities. Let's explore some frequently asked questions:
What is CSR?
Corporate social responsibility (CSR), or corporate citizenship, refers to a company's efforts to operate in a way that benefits the social, environmental, and economic aspects of society as a whole. There are many ways that your company can improve its CSR, including:
Cultivating a diverse and inclusive workforce.
Creating workplace giving programs to support nonprofit causes.
Adopting renewable energy sources.
Developing and maintaining transparent financial reporting practices.
Engaging in CSR is not only beneficial to your community, but it can also foster an excellent workplace culture that keeps employees fulfilled and invested in their roles.
What is a CSR platform?
CSR software serves to facilitate a company's various CSR undertakings by providing the tools for managing, refining, and reporting on its programs. These platforms make it easy to ingrain your social, environmental, and philanthropic values into your everyday operations. This way, you can prioritize your societal impact without sacrificing focus on your company's growth and long-term success.
Whether you're starting a matching gift program or need help with conducting your employee wellness program, CSR software can streamline CSR processes for a variety of users, including CSR program managers, human resources teams, and employee participants.
What are other tools that complement CSR software?
While most CSR software solutions are comprehensive and should cover everything you need to run a successful program, some companies may seek out other specialized tools to use alongside their CSR platform. For instance, you might look into:
Grant management software. If grants are a major component of your corporate giving initiatives, then you could invest in dedicated software for managing, awarding, and monitoring grants. With this solution integrated with your CSR software, you'll be able to gauge the impact of your grant funding alongside your other CSR endeavors.
Employee engagement software. By implementing employee engagement tools, you can involve employees more deeply in your company's CSR initiatives. For instance, you could leverage this software to communicate your CSR priorities and survey employees about how they would prefer to participate in your social and environmental efforts.
Sustainability management software. With sustainability management software, your company can keep a closer eye on its energy usage and carbon emissions. This tool allows you to ensure that your company remains compliant with environmental regulations and communicates this effectively to stakeholders.
Note that many CSR platforms may already offer everything you need to manage grants, engage employees, and report on your sustainability, though these may come at an additional cost.
4 Benefits of Using a CSR Platform
When it comes to any new investment for your company, it's important to identify how it'll contribute to your long-term success. These are the benefits you can expect from adopting CSR software: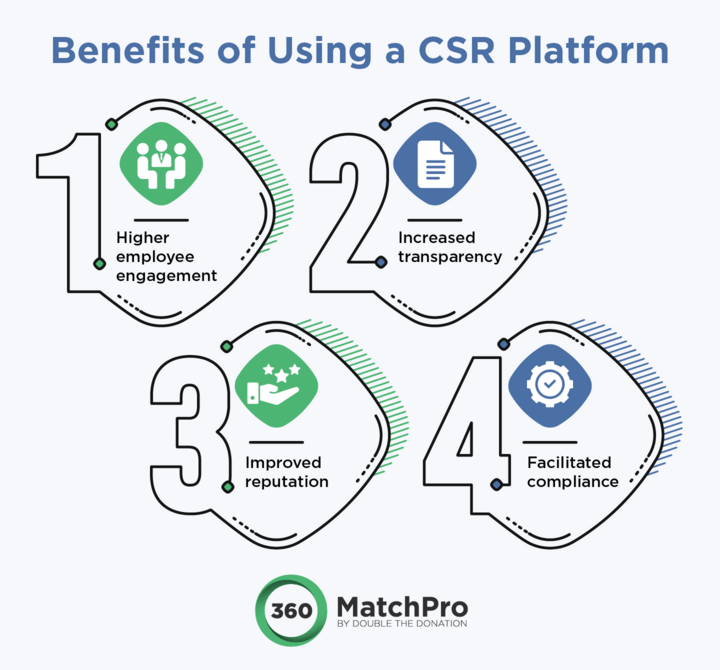 Higher employee engagement. A survey conducted by Paul Polman found that 70% of U.K. employees and 78% of U.S. employees want their company to have a reputation for doing good in society. CSR software empowers businesses to amplify their social impact and cultivate a sense of pride within their teams, leading to higher employee engagement, satisfaction, and retention.
Increased transparency. Equipped with in-depth reporting capabilities, your company can build more trusting relationships with stakeholders by clearly demonstrating the impact of its CSR undertakings.
Improved reputation. Investing in CSR software signals to your employees, customers, and other stakeholders that your business is dedicated to becoming a better corporate citizen and promoting the welfare of society and the environment. This can go a long way toward attracting socially conscious buyers and investors to your company.
Facilitated compliance. In some industries, maintaining compliance with CSR regulations and reporting standards is essential to avoid any legal or financial repercussions. CSR platforms allow companies to streamline the data collection process and generate real-time reports to ensure that they're meeting all the necessary requirements.
In addition to these benefits, leveraging CSR software is vital to improving your CSR results over time. By monitoring the performance of your programs, you can continue refining your strategies to improve decision-making and make a greater difference in your community.

6 CSR Platform Features to Look For
You'll need to conduct thoughtful research to find the best CSR platform for your company. As you consider your options, keep these six key features in mind: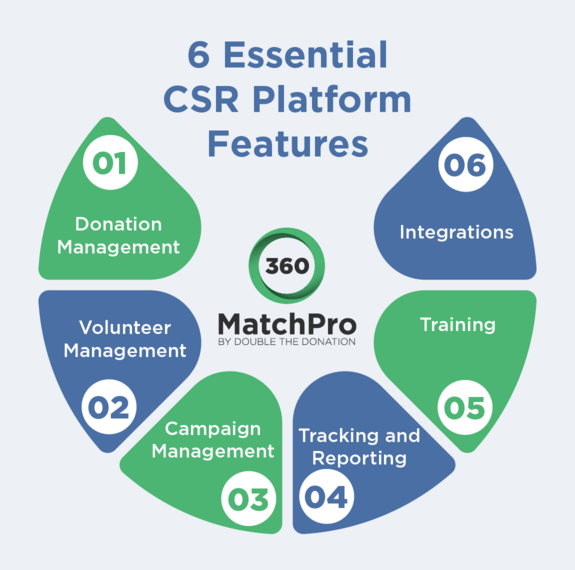 1. Donation Management
Your CSR software solution should facilitate employee giving within your company by allowing you to:
Enable employees to give to nonprofits directly through the CSR platform.
Offer multiple types of payment options to employees.
Set up and manage a matching gift program.
Track past donations to measure participation and impact.
These donation management tools should provide a user-friendly way for employees to give to causes they care about and for your company to make its own contributions.
2. Volunteer Management
Beyond bestowing monetary gifts to nonprofits, businesses can encourage their employees to commit their time and skills by volunteering. Many companies even incentivize volunteering by awarding volunteer grants after their employees devote a certain number of hours to a nonprofit. With your CSR platform's volunteer management feature, you can:
Promote relevant volunteer opportunities to employees.
Keep track of volunteer hours and participation.
Accept and process volunteer grant requests.
Track the impact of employee engagement in volunteering.
Additionally, your company should be able to plan and organize its own volunteer service events on the platform to promote team-building while contributing to the betterment of your community.
3. Campaign Management
You might decide to create a specific campaign as part of your company's CSR strategy. With campaign management capabilities, your CSR software should enable you to:
Plan, set a timeline, and create goals for your campaign.
Promote your campaign to employees.
Report on the success of your campaign.
After each campaign, you should be able to review the results and identify opportunities for improving future campaign outcomes.
4. Tracking and Reporting
Measuring and reporting on data is key to ensuring that your CSR endeavors produce the results you set out to achieve. Your CSR software should have functions for:
Visualizing data with dashboards and charts.
Generating real-time reports for internal and external stakeholders.
Calculating performance compared to industry benchmarks.
These tracking and reporting capabilities will not only enhance your communications with stakeholders, but they will also provide you with insights for refining your CSR programs moving forward.
5. Training
To make a meaningful difference with your company's CSR initiatives, it's essential to get as many people on the same page as possible when it comes to your goals and values.
Look for a CSR platform that allows your company to offer CSR-related training modules and courses for employees. This feature will ensure that everyone is aligned on your sustainable business priorities and charitable giving efforts.
6. Integrations
Integrations are a crucial factor to consider when shopping around for potential CSR software solutions for your business. By finding an option that integrates with your existing technology, you'll be able to seamlessly use all your tools to their fullest potential.
For instance, CSR software with an auto-submission integration can skyrocket your employee matching gift participation by making it easier than ever to submit a matching gift request. When an employee makes a donation to a nonprofit, all they need to do is input their corporate email address, and the software will take care of everything from there.
Check out this brief video overview of the auto-submission feature to see how it works for yourself:
As the video makes clear, there are software solutions out there with cutting-edge features for increasing employee participation and engagement in your CSR programs. Keep these integration capabilities in mind to stay at the forefront of CSR for companies.


How to Choose a CSR Software Solution
In addition to platform features, there are numerous other considerations that your company should take into account when researching CSR software options. As you explore online reviews and ask for recommendations from colleagues, use these questions to guide your decision-making: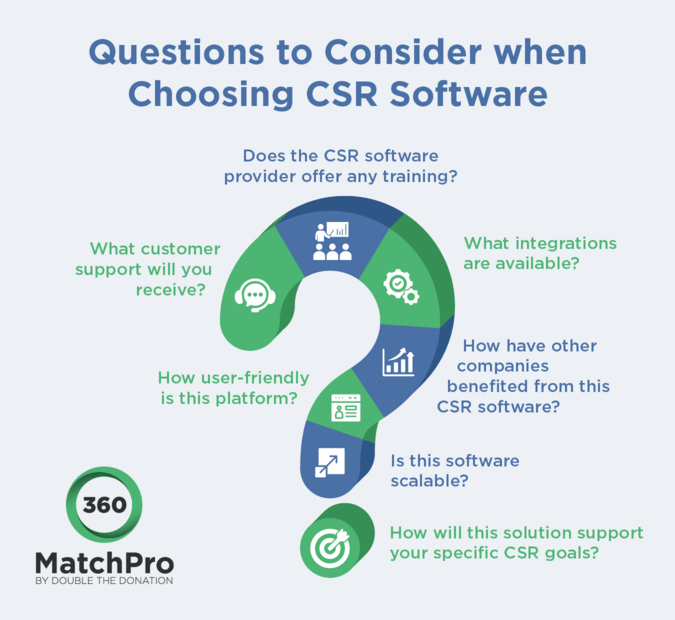 How will this solution support your specific CSR goals?
Is this software scalable?
How user-friendly is this platform?
How have other companies benefited from this CSR software?
What integrations are available?
Does the CSR software provider offer any training?
Once you've narrowed down your list, request demos to get a better understanding of how each platform works. Check to see which providers offer free trials so you can test the solution out firsthand.
How to Boost Employee Engagement with CSR Software
Everyone at your company can benefit from the CSR platform you adopt. The key to generating greater impact lies in finding ways to get them involved. To increase employee engagement in your CSR efforts, follow these tips: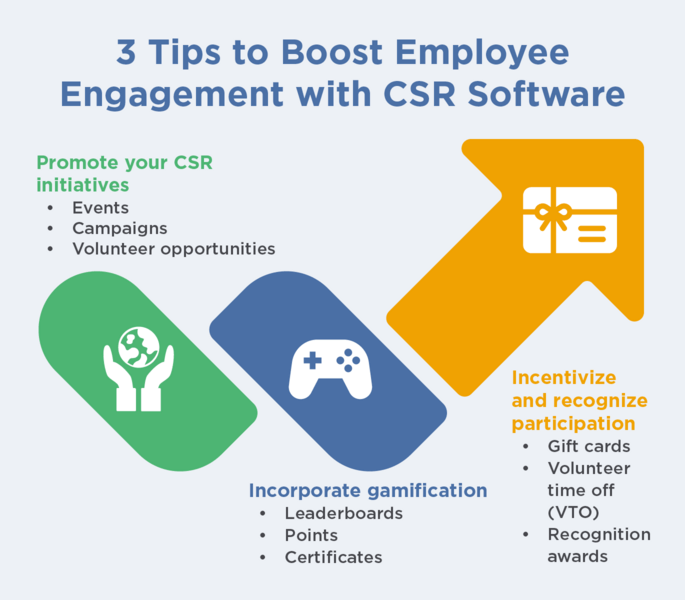 Promote your CSR initiatives. Use your software to actively share information with employees regarding upcoming events, campaigns, and volunteer opportunities. Remember to share the impact that employee participation has on the community and connect your programs with your company's values to inspire more people to join in.
Incorporate gamification. Create CSR-related challenges and goals to encourage employees to get involved. By incorporating leaderboards, points, certificates, and other gaming elements into your CSR strategy, you can make participation much more exciting for employees.
Incentivize and recognize participation. Demonstrate your company's commitment to CSR by rewarding employees for contributing to your efforts. For instance, you may offer gift cards, volunteer time off (VTO), or awards to those who participate in your matching gift program or attend one of your corporate volunteer events.
Only 19% of all companies include more than one paragraph about their matching gift programs in accessible employee-facing materials. Don't miss out on higher employee CSR participation simply because your team doesn't know about the opportunities available to them. By using your CSR platform to promote and maintain engagement, you can help employees find fulfillment within their roles and empower them to make an impact in their community.
Elevating Your Impact with CSR Software
If your company is looking to level up its CSR strategy, CSR software is a vital addition to your toolkit. With powerful features that cover a wide range of initiatives, this technology solution can elevate your employee engagement, improve your reporting, and amplify your impact on society.
For more tips and best practices on how to prioritize CSR for your company, take a look at these additional resources: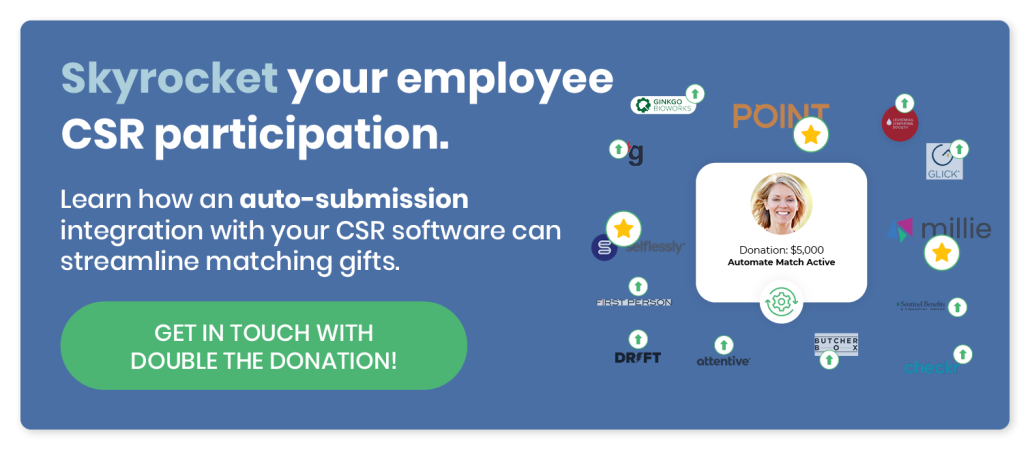 https://360matchpro.com/wp-content/uploads/2023/10/CSR-Software_Feature-Resized-and-Compressed.png
290
755
360MatchPro
https://360matchpro.com/wp-content/uploads/2021/05/360-matchpro-logo-e1621968689624.png
360MatchPro
2023-10-17 12:36:10
2023-11-13 15:23:03
A Smart Guide to Unlocking the Power of CSR Software in 2023