4 Corporate Giving Trends to Know for Success + Key Terms
In the dynamic world of nonprofit fundraising, corporations provide a consistent revenue stream that helps organizations achieve mission-critical revenue. However, external and internal factors impact the effectiveness of corporate giving programs.
Companies and nonprofits can make the most of corporate giving no matter what happens in the economy or society at large by monitoring and acting according to trends. Taking a data-driven approach helps companies maintain a steady stream of revenue despite challenges. We'll go over the following information to contextualize current corporate giving trends:
Essential Corporate Giving Information to Know
Top Corporate Giving Trends
Let's go over how corporate giving can transform corporations and nonprofits and how they can leverage these benefits in the face of external and internal changes.

Essential Corporate Giving Information to Know
Key Corporate Giving Terms
Familiarize yourself with these essential corporate giving terms before we dive into the trends:
Corporate social responsibility (CSR) is the idea that corporations should care about and actively invest in improving social good. This doesn't have to include external gifts to charitable causes. For example, a company that decides to invest in solar energy to power its office embodies CSR. It's the umbrella term under which corporate corporate giving falls.
Corporate giving is when companies gift financial resources to charitable causes.
Matching gifts is a popular corporate giving idea that involves a company matching its employees' gifts to charitable causes. This usually requires each employee to submit a donation receipt to their employer's CSR department.
Volunteer grants is a corporate giving idea that involves a corporation donating to a nonprofit based on the number of hours that their employees volunteer there.
Corporate giving software is a platform that's crucial for facilitating corporate giving management for companies and employees. There are a variety of options on the market with different price points and capabilities so companies of any size or focus can get involved.
It's important to note that while these are the most common phrases and terms you should be aware of, many other corporate giving ideas appeal to different companies.
Benefits of Corporate Giving
No matter if you represent a nonprofit or a corporation, there are significant benefits ripe for you to leverage if you know how to run your program. These are the main advantages to be aware of:
For Nonprofits
Financial support. Fundraising is one of the most essential activities nonprofits take on so they have the money to pursue mission-critical initiatives. Corporate giving provides a valuable revenue stream for nonprofits to leverage to achieve their goals.
Enhanced visibility. Depending on their size and industry, corporations can have an enormous reach to the public. Associating with influential companies gives nonprofits the platform to spread awareness of their cause and secure new supporters.
Capacity building. In-kind and monetary contributions from companies allow nonprofits to scale up their operations in the long term. For instance, a corporate donation of a computer lab could help a nonprofit improve its staff's technological skills and expand its digital capabilities.
For Companies
Positive brand reputation. For business owners, brand identity is everything. Associating a company's brand with one that's committed to social good can generate positive press and can open the door for new partnerships throughout the community.
Employee engagement. According to eCardWidget's guide to employee engagement, a highly engaged employee base can lead to increased retention, productivity, and profitability. Offering corporate giving programs is a major contributor to employee engagement and can boost employee loyalty.
Customer loyalty and sales. With 77% of consumers motivated to patronize companies that engage in socially responsible activities, corporate giving programs can give companies a significant edge over competitors.
These are only a few examples of the benefits nonprofits and businesses can leverage from paying attention to and investing in corporate giving and CSR.
Tips for Managing a Corporate Giving Program
With the right investment and ideas, companies can create corporate giving programs that cultivate their internal and external success while supporting nonprofits. Crowd101's guide to corporate giving programs recommends the following tips for socially-responsible companies:
Start small. Companies should start their corporate giving efforts conservatively by investing in a few sustainable ideas, such as matching gifts and volunteer grants. This allows the company to test out new approaches while mitigating risks until they find the best program fit.
Overexplain program guidelines. A major reason employees overlook matching gifts and other corporate giving ideas is simply a lack of awareness of the programs and their guidelines. Create a detailed employee-facing program involvement guide that simplifies participation for interested employees.
Monitor giving trends. Many external and internal factors can influence the success of your corporate giving program, such as the economy and leadership changes within a company. Stay on top of trends that pertain to your corporate giving program so you can adjust your approach if needed.
Leverage auto-submission. Using a corporate gift platform that integrates with a matching gift auto-submission provider can halve the effort and time it takes for employees to submit matching gift requests. Simplifying the submission process can boost your employee participation rate and remove pressure from your team. This video from Double the Donation explains how auto-submission can increase matching gift revenue:

Managing a corporate giving program takes different skills than just another corporate initiative. Not only do corporate giving managers need to be aware of trends in the corporate space but they also need to be tuned into the nonprofit world. Corporate giving officers should schedule regular meetings to review updates in these areas so everyone remains on the same page.
Top Corporate Giving Trends
These trends showcase the massive role corporate giving plays in both the nonprofit and corporate worlds, and understanding them can help both nonprofits and corporations make the most of corporate giving.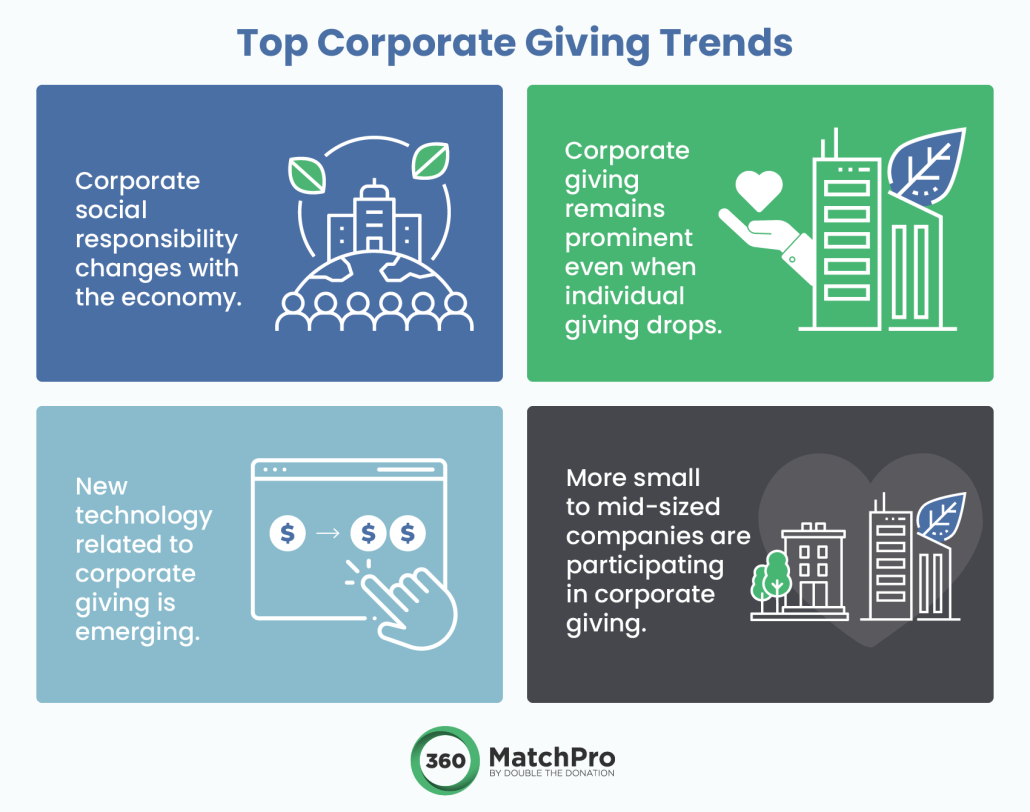 1. Corporate social responsibility changes with the economy.
With the various recessions that have hit the economy in recent years, corporate giving has changed dramatically but continues to make an impact on nonprofits. According to TrueImpact, some companies have preserved their corporate giving programs in the face of economic downturn by:
Pivoting to different types of giving. When financial resources become tight, companies have adapted by focusing on donating volunteer time, pro-bono services, and in-kind resources instead of monetary gifts.
Clarifying cause focuses. If a company has a limited budget during a recession, honing its giving efforts can help conserve funds while still making an impact. For example, focusing on relief efforts during a natural disaster can direct spending to urgent causes while reducing expenditures for the company.
The Takeaway for Nonprofits
During economic uncertainty, nonprofits should remember that monetary donations aren't everything. If companies are only able to provide certain types of support, nonprofits should consider broadening their understanding of the support their organizations need and how to pivot their operations accordingly.
The Takeaway for Corporations
While it's easy for corporations to simply take a blanket approach to corporate giving and match gifts to any cause, they can mitigate economic risks by carefully selecting charitable causes to support. Companies should research different areas that are important to their employees and support them during economic downturns so that they can continue reaping the benefits of corporate giving while preserving profits.
2. In 2022, corporate giving increased despite an overall decline in giving.
Individual charitable giving trends can differ greatly from corporate giving trends. For example, studies show that corporate giving increased by 3.4% in 2022 while individual giving decreased by 6.4%. This is happening because of:
Global economic recovery. Significant economic growth was recorded in 2022 as corporations recovered from the pandemic. This allowed more corporations to donate compared to the years before. Also, the fragile state of the economy meant that nonprofits needed more charitable support from corporations when they recouped.
Increased CSR initiatives. Nonprofits Source's guide to online giving reports that 39% of companies surveyed plan to expand their corporate giving programs. More corporate giving programs mean more money flowing through that channel to nonprofits.
The Takeaway for Nonprofits
Given the increasing amount of companies embracing CSR and launching corporate giving programs, there are nearly endless opportunities to find support from companies. The easiest way to capitalize on this trend is to leverage a corporate giving database that tracks corporate giving policies for companies. This allows nonprofits to streamline researching and stewarding company prospects so they can efficiently build relationships.
The Takeaway for Corporations
Spending money to make money is an important strategy, even when overall giving is declining. Corporate giving providers should leverage the opportunity to fill the gap left by lapsed individual donors giving and make their mark on the nonprofit world even stronger.
3. New technology related to corporate giving is emerging.
Understanding new corporate giving technology helps companies and nonprofits capitalize on new giving prospects and keep their programs organized. The following corporate giving technologies skyrocketed in popularity recently:
Matching gift auto-submission
AI-driven giving and fundraising platforms
Giving cryptocurrency via the Blockchain
The Takeaway for Nonprofits
Nonprofits must stay updated on new opportunities to maximize corporate gifts, and monitoring these new technologies is the best way to do so. By understanding software that impacts corporate giving, nonprofits can take a data-driven approach to cultivating relationships with corporate donors and achieve results much faster. To stay on top of new software advancements, nonprofits should have regular technology debriefings where employees can bring new ideas to the table about emerging platforms and how the nonprofit can leverage them.
The Takeaway for Corporations
Embracing corporate giving software solutions shows companies' commitment to engaging with nonprofits in the long term. For instance, pivoting to a CSR platform that supports auto-submission signals that a company is willing to innovate and make giving easier over time.
4. More small to mid-sized companies are participating in corporate giving.
Companies don't have to be in the Fortune 500 to launch a corporate giving program. In fact, Double the Donation reports that the amount of small to mid-sized companies has grown rapidly due to:
A rise in new ways to give. As new technologies enter the mainstream, such as cryptocurrency, it becomes easier for companies to donate to nonprofits that fit their giving preferences. For instance, a small company that's only able to donate crypto would benefit from a crypto donation platform.
Popularization of corporate giving. As previously mentioned, corporate giving programs are on the rise, meaning that more small to mid-sized companies might feel inspired to join their larger counterparts.
The Takeaway for Nonprofits
This trend is great news for nonprofits because it allows them to target local companies and businesses. With fewer points of contact, partnering with smaller businesses allows nonprofit professionals to build stronger relationships with potential donors.
The Takeaway for Corporations
Small to mid-sized company owners shouldn't count out the prospect of making a difference through corporate giving. Ultimately, as long as executives of small to mid-sized companies properly plan their corporate giving efforts and show a genuine interest in social action, every company can reap the benefits of corporate giving.
Wrapping Up + Additional Resources
There's no doubt that no matter what happens in the world, corporate giving remains a viable donation channel for nonprofits to leverage. As long as companies and nonprofits monitor and act on the aforementioned trends, they can future-proof corporate giving policies and secure their impact on the community.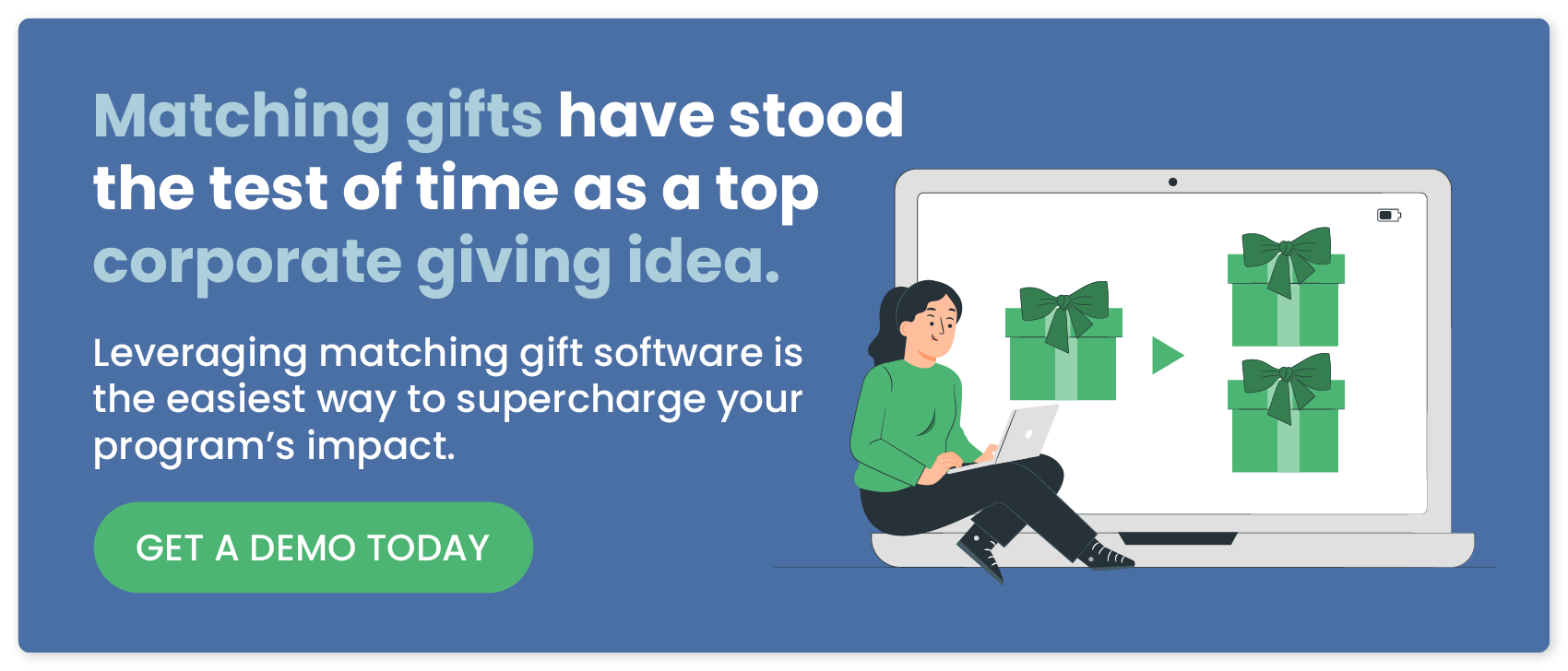 https://360matchpro.com/wp-content/uploads/2023/11/Corporate-giving-trends_feature-1.jpg
700
1600
Adam Weinger
https://360matchpro.com/wp-content/uploads/2021/05/360-matchpro-logo-e1621968689624.png
Adam Weinger
2023-11-08 13:10:54
2023-11-08 13:11:07
4 Corporate Giving Trends to Know for Success + Key Terms