Corporate Citizenship: A Modern Company's Guide to Success
In today's socially conscious world, businesses are placing an increased focus on the concerns that their employees, customers, and stakeholders have about the environment and society as a whole. According to a survey conducted by Paul Polman, 69% of U.K. employees and 66% of U.S. employees feel anxious about the future of the planet and society. Addressing these concerns is a key part of good corporate citizenship.
Whether you're new to the concept or looking to improve your company's citizenship efforts, we'll cover everything you need to know in these sections:
It's no longer enough to boast impressive profits or even enticing employee benefits. To ensure your company's long-term sustainability and growth, you need to demonstrate how you're taking steps to make the world a better place.

Corporate Citizenship: The Basics
Chances are you've come across a few discussions or terms related to corporate citizenship, from environmental, social, and governance (ESG) to corporate philanthropy. Developing a solid corporate citizenship strategy requires an understanding of where these concepts fit into your business and how you can implement meaningful initiatives into your current operations. Let's start with the basics.
Corporate Citizenship Definition
Corporate citizenship refers to a company's impact on the economic, environmental, and social welfare of local and global communities. This concept represents a shift from solely thinking about businesses as money-making entities to viewing them as agents of social good.
There are several undertakings a company can pursue to become a better corporate citizen, including:
Reducing carbon emissions.
Shifting to sustainable packaging.
Practicing ethical sourcing.
Establishing diversity, equity, and inclusion (DEI) measures.
Investing in employee well-being.
Maintaining good governance practices.
While there are countless ways to put corporate citizenship into action at your company, the activities you prioritize will ultimately depend upon your specific goals, resources, and stakeholders.
Why is Corporate Citizenship Important?
Through corporate citizenship, your company can benefit the community beyond just the goods or services you provide. At the same time, these benefits are not one-sided.
By incorporating corporate citizenship into your company's policies and practices, you can: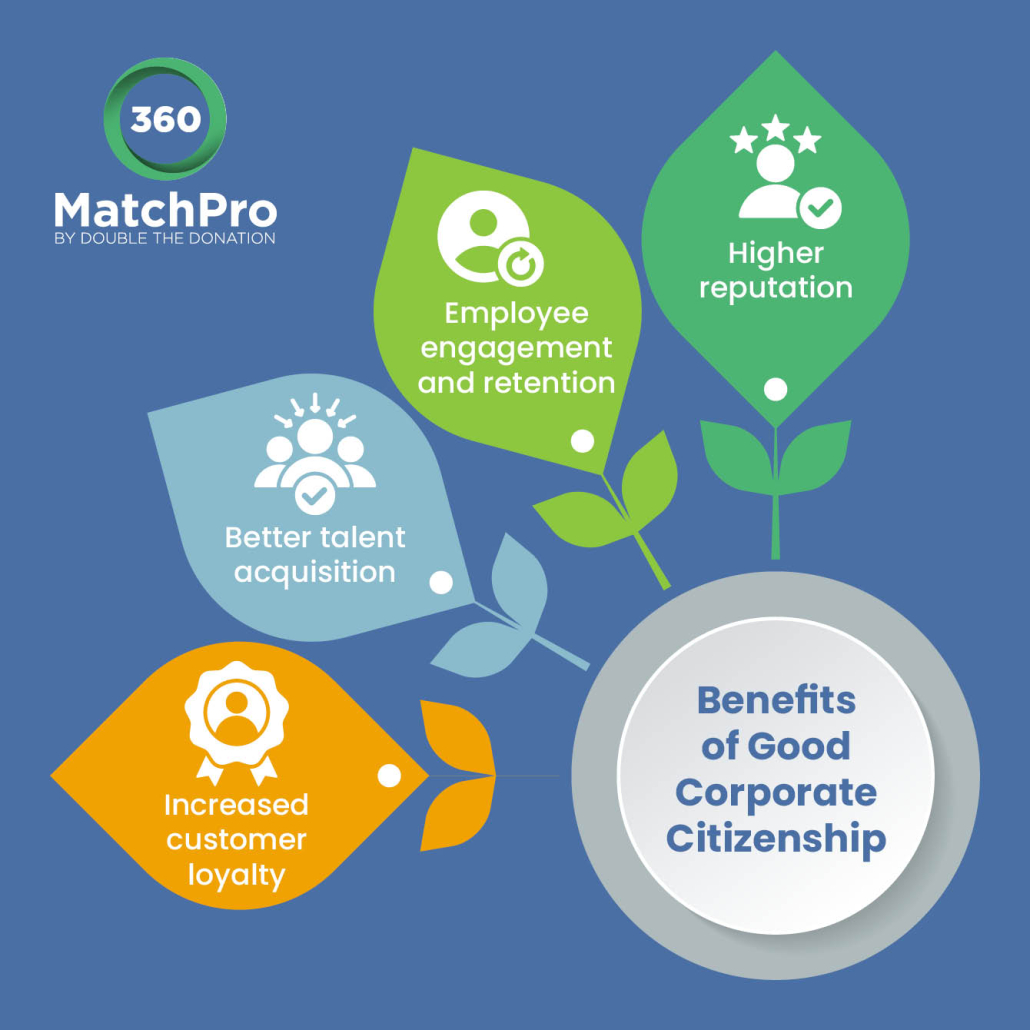 Enhance your reputation. Corporate citizenship activities demonstrate to stakeholders and other community members that your company cares about them beyond the money they bring in. Doing so allows you to pave the way for stronger, lasting relationships and stand out from other businesses in your industry.
Engage and retain employees. Engaged employees are more productive and improvement-driven than employees who are not as invested in their roles. By adopting corporate citizenship initiatives, you can provide them with a sense of purpose and fulfillment at your company. After all, 71% of employees believe it's important to work at a company that gives back through philanthropy.
Attract more top talent. Skilled, motivated employees are essential to your company's long-term success. By instituting and publicizing your corporate philanthropy efforts, you can recruit more socially conscious employees who are more likely to share your goals and values.
Increase customer loyalty. PwC has found that 80% of consumers are more likely to buy from companies that stand up for environmental and governance causes. People want to support businesses that contribute to the welfare of their communities. With good corporate citizenship, you can build more trust with customers and even attract new ones.
Therefore, it's clear that corporate citizenship can have a significant impact on both your company and the world at large, strengthening your position in the industry and building resilience for the future.
Corporate Citizenship vs. Corporate Social Responsibility
While corporate citizenship and corporate social responsibility (CSR) are related concepts that both revolve around a company's commitment to social good, it's important to understand the nuances between the new terms.
CSR more specifically refers to a company's actions to improve the social and environmental well-being of society, whether that's reducing energy consumption in the office or sponsoring nonprofit fundraising events.
In other words, CSR is an element that fits into the overarching concept of corporate citizenship, focusing on corporate volunteering, lowering one's carbon footprint, and engaging with nonprofits. Companies often use CSR to inform stakeholders about their values and goals.
ESG, another component under the umbrella of corporate citizenship, provides a more quantitative measure of sustainability by considering environmental, social, and governance factors. Companies often use ESG as a measure of assessment for investors.
5 Stages of Corporate Citizenship
Corporate citizenship has become an increasing priority among many modern companies. However, becoming a better corporate citizen is more of a journey than a destination. Here are five stages for developing corporate citizenship within your company:
Elementary. At this stage, a company has mostly undefined activities and little to no leadership involvement related to corporate citizenship. Many small businesses are in the elementary stage, where they can comply with relevant laws but are unable to expand their involvement due to a lack of resources.
Engaged. 75% of Americans indicate that it is no longer acceptable for companies just to make money—they must also create a positive impact on society. When companies progress to this second stage, they start going beyond basic compliance and establishing initiatives to make more of a meaningful difference in their communities.
Innovative. At the innovative stage, companies begin crafting more concrete, detailed policies related to corporate citizenship. They're engaging more stakeholders in their social and environmental activities, seeking their input, and launching programs that resonate with their interests.
Integrated. By this fourth stage, companies have formal corporate citizenship initiatives that are seamlessly integrated into their operations, from workplace giving to employee wellness programs. They're beginning to measure and report their impact to employees, customers, and other stakeholders.
Transforming. At this final stage, corporate citizenship has become a top priority in a company's overall strategy, daily operations, and decision-making processes. Customers, employees, and other community members recognize the company as an excellent corporate citizen and a key contributor to social good.
Your company doesn't have to climb all the way up to the final stage to start experiencing the benefits of good corporate citizenship. Even when you've reached the transforming stage, remember that an effective corporate citizenship strategy is a flexible one, adapting to changes in the community and constantly open to improvements.

Best Practices for Effective Corporate Citizenship
Regardless of where your company falls in the five stages of corporate citizenship development, there are a few essential best practices that can elevate your efforts:
1. Examine your company's values.
Corporate citizenship differs from company to company. To maximize your results, you'll need to ensure that your initiatives are aligned with your company's values. Since your core values shape your workplace culture and guide all of your decisions, take the time to examine where corporate citizenship fits in.
Collect input from stakeholders and ask yourself the following questions to inform your corporate citizenship framework:
Which social or environmental issues are most relevant to our company?
What challenges or issues do people in our community face?
Where does corporate citizenship fit into our core values?
How do company leaders embody our core values and corporate citizenship priorities?
How do we communicate our core values to employees?
In addition to keeping your finger on the pulse of stakeholder opinions, consider the latest trends in corporate citizenship and philanthropy to identify necessary innovations to make in your policies or programs.
2. Focus on transparency.
The success of your corporate citizenship strategy depends upon the combined efforts of everyone across your company. Therefore, it's crucial to develop thoughtful measures for communication and transparency.
Beyond securing buy-in and commitment from your board, you should:
Feature your company's citizenship goals and initiatives in your annual reports.
Designate ambassadors within your company to spread the word about your corporate citizenship initiatives.
Conduct focus groups to test how employees respond to your messaging about corporate citizenship and make adjustments as needed.
Offer any necessary training related to new corporate citizenship initiatives so that everyone can participate to the fullest.
84% of consumers and 85% of employees agree that the more a company engages them in its charitable giving decisions, the more trust they have in the company. Transparency ensures that your corporate citizenship efforts do not come across as merely performative, allowing you to instill trust in your stakeholders.
3. Prioritize corporate philanthropy.
For companies, philanthropy is a major way to position themselves as standout corporate citizens in the community. Because of this, these charitable activities are on the rise, with 94% of major U.S. corporations planning to heighten or maintain their charitable giving over the next few years.
Impactful corporate philanthropy involves more than just handing out money to nonprofits, however. Your company should approach these charitable organizations as partners in social good, focusing on those that align with your goals and mission.
Engage your employees more directly in your corporate citizenship goals by creating corporate philanthropy programs such as:
Matching gifts. Through a matching gifts program, employees can amplify the impact of their donations to nonprofits. All they have to do is make a gift to an eligible nonprofit and submit a matching gift request. Once approved, your company will match that gift, typically at a 1:1 ratio, though some matches can go up to 3:1 or 4:1.
Volunteer grants. Similar to matching gifts, corporate volunteer grants allow your employees to secure more financial support for nonprofit causes they care about. Through this type of program, however, your company will award monetary grants to nonprofits after your employees volunteer a certain number of hours with them.
Payroll deductions. Automatic payroll deductions make it easy for employees to give to nonprofits. They can simply opt to deduct a small amount or percentage of their paycheck to go toward a nonprofit of their choice. This option allows them to make recurring donations to charitable organizations with little to no effort on their part.
If you're looking to level up your company's corporate philanthropy results, be sure to leverage workplace giving software that makes participation easy and rewarding for employees. The right solution should empower you to track engagement, enable impact reporting, and integrate with other technology in your toolkit.
For instance, many forward-thinking CSR software providers offer integrations with Double the Donation's matching gift tools, allowing companies to tap into the latest features for boosting employee participation, such as auto-submission. With this functionality, employees won't need to worry about forgetting to fill out a matching gift request or inputting incorrect information. Instead, they can just donate and enter their email address, then the software takes it from there.

4. Celebrate corporate citizenship progress.
As your company continues to incorporate citizenship into its policies and operations, maintain your momentum by taking the time to celebrate achievements. Establish key performance indicators (KPIs) to measure your impact and share it with all of your stakeholders. Doing so demonstrates that your company has the results to back up all of its claims.
Remember to recognize individual contributors toward your goals, such as employees who participated in your philanthropy programs. You can accomplish this in numerous ways, including:
eCards
Appreciation events
Social media shoutouts

By developing a culture of recognition at your company, you'll set your corporate citizenship endeavors up for long-term success, ensuring that everyone understands just how important their contributions are.
Top Corporate Citizenship Examples
Ready to embark on your corporate citizenship journey? Let's explore a few top companies to inspire your efforts and guide your strategy:
Amazon
For the fourth year in a row, Amazon tops the list of Good.Must.Grow.'s Top Twenty Good Company Poll. With affinity groups that promote inclusivity among employees, a Climate Pledge Friendly program that makes it easy for shoppers to find sustainable products, and a program that distributes free groceries to address food insecurity, this result is not surprising.
Amazon's corporate citizenship focuses on five key areas:
Affordable housing
Food and basic needs
Education and skills training
Disaster relief
Product donations
The company practices excellent transparency by sharing all of its progress in a yearly sustainability report, along with other relevant documentation over the last several years.
Google
Google.org is Google's charitable arm that, similar to Amazon, centers its corporate citizenship activities on specific areas where it can generate the largest impact.
Specifically, Google focuses on:
Economic empowerment by providing digital training to job seekers and affordable lending solutions for small business owners.
Technology and innovation to address societal and environmental issues.
Learning by expanding access and addressing barriers to computer science education.
Local nonprofit initiatives in the U.S. to fulfill community needs.
In addition to contributing $200 million every year to nonprofits and social enterprises around the world, the Google.org Fellowship allows employees to volunteer their time and provide pro bono services to charitable entities for up to six months full-time.
Starbucks
Starbucks is another notable corporate citizen due to the company's commitment to transparency and ESG. The Starbucks Foundation, for instance, set a goal to uplift one million women in coffee-, tea-, and cocoa-growing communities by 2030.
On its website, the company shares an extensive list of policies and reports related to its ESG progress, including:
Corporate governance materials
Occupational health and safety standards
Animal welfare-friendly practices
Yearly global social impact reports
Since 2016, Starbucks has partnered with Feeding America and other charitable organizations to support hunger relief efforts within local communities, investing $72.6 million so far. The company has even created a guide for other companies to develop a food donation program of their own, establishing itself as a model of corporate citizenship.
AT&T
As a technology company committed to making an impact on global society, AT&T offers countless resources for customers and other stakeholders to explore its initiatives. In fact, the company website has dedicated pages for each of its priority issues, separated into environmental, social, and governance categories.
On each page, AT&T includes key information such as:
A summary of the issue
The company's goals
Impact and data
Related priority topics
Notably, the company shares a document that charts each of its goals alongside its current progress toward reaching them. This transparency ensures that everyone is aware of just how much time, money, and effort AT&T is investing as an excellent corporate citizen.
Wrapping Up: Becoming a Better Corporate Citizen
An important aspect of becoming a better corporate citizen is striving to find ways to improve your initiatives and create more lasting change. Be open to collecting feedback from stakeholders and the nonprofits you work with to inform your efforts moving forward.
As your company takes its place on the stage of corporate citizenship, you'll engage more employees, build more loyal customer relationships, and play your part in making the world a better place.
For more tips and tricks on how to center corporate citizenship at your company, explore these additional resources: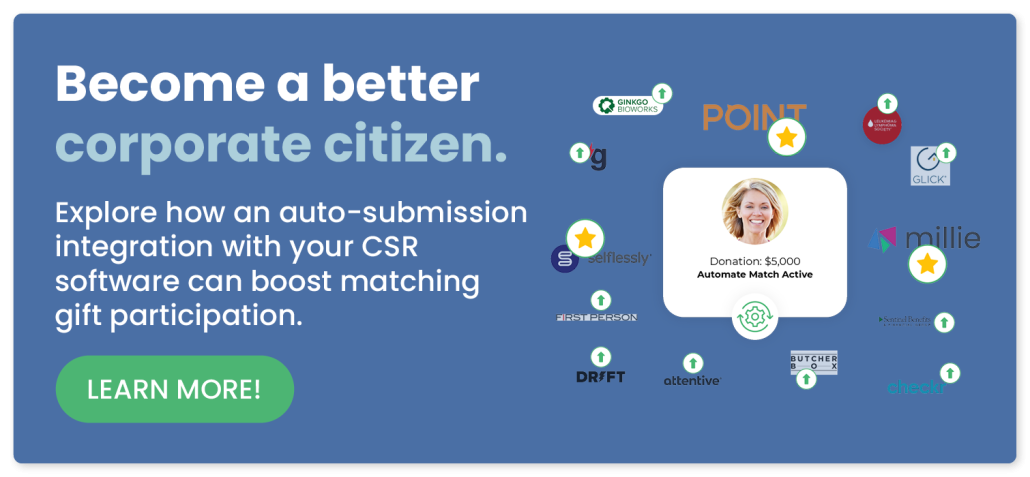 https://360matchpro.com/wp-content/uploads/2023/11/Corporate-Citizenship_Feature.jpg
700
1600
360MatchPro
https://360matchpro.com/wp-content/uploads/2021/05/360-matchpro-logo-e1621968689624.png
360MatchPro
2023-11-13 15:13:49
2023-11-13 15:13:49
Corporate Citizenship: A Modern Company's Guide to Success