CSR Reporting Software: Complete Guide + How to Get Started
If you're a leader at a company, you've probably realized that corporate social responsibility (CSR) is no longer optional in today's world. The challenge, though, is figuring out how to track and share the results of your CSR efforts with your customers and employees.
This is where CSR reporting software comes into play. In this guide, you'll learn all you need to know to make the most of this tool for your business, including:
By effectively using specialized software to standardize and streamline your CSR reporting, you'll be one step closer to building a more ethical, sustainable, and charitable company that has a positive reputation in its community. Let's dive in!

What Is CSR Reporting Software?
CSR reporting software refers to specialized platforms that help your business collect, store, analyze, and communicate data on all of your CSR efforts, whether they're related to environmental protection, philanthropy, or fair labor practices.
CSR reporting solutions fall under the broader category of CSR software, which your company can also use to organize and manage its ongoing programs. Some CSR software tools have reporting capabilities built in, while others separate reporting from ongoing management.
Additionally, the terms CSR reporting software and sustainability reporting software are closely related and sometimes used interchangeably. However, the concept of sustainability reporting is associated more closely with the environmental, social, and governance (ESG) model than with CSR.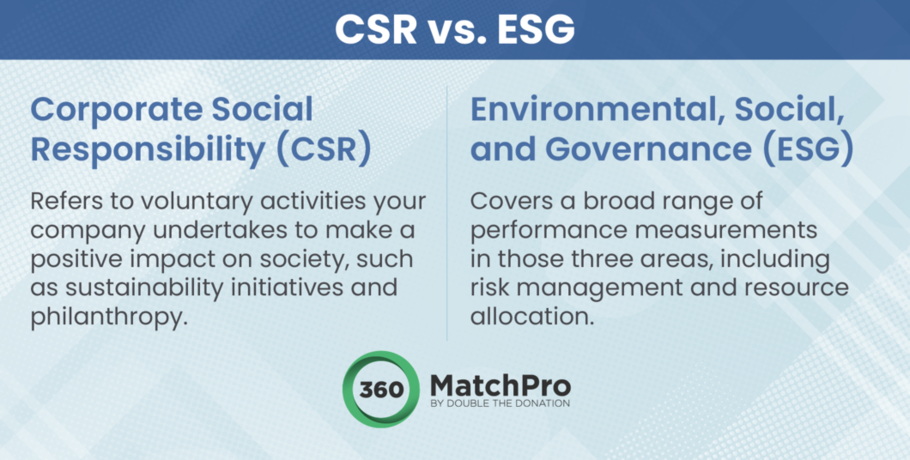 ESG is slightly broader and can be more difficult to track than CSR—CSR refers primarily to voluntary activities that your business undertakes to create a positive social impact, while ESG covers more detailed performance-related factors, such as risk management and the creation of eco-friendly supply chain processes.
Benefits of CSR Management Software
When leveraged effectively, CSR reporting software can provide numerous benefits for your company. Here are just a few of the advantages you can experience: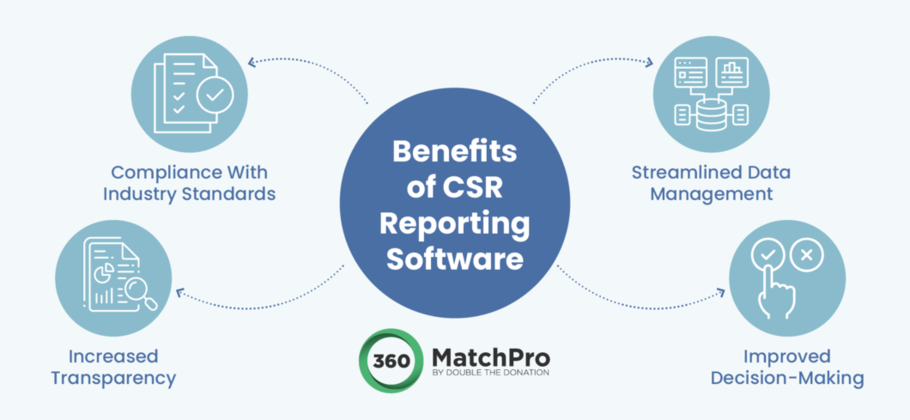 Streamlined data management. Rather than trying to track each of your CSR initiatives separately or manually entering data into spreadsheets, CSR reporting software stores all of your information in one place and can often automate some aspects of data entry.
Improved decision-making. Having organized data on your company's CSR programs allows you to identify what you're doing well and where you can improve your strategy.
Compliance with industry standards. In addition to identifying changes you could make, your CSR reporting tools may help you realize what changes your business needs to make to comply with regulatory requirements and earn CSR certifications.
Increased transparency. When you're able to pull accurate, customized reports on your CSR programs, you can more effectively share that information with customers, employees, and other stakeholders in your business. In doing so, your company will be held accountable for your CSR efforts and can build more trusting relationships with all of these groups.

While these are some of the most common benefits of CSR reporting software, keep in mind that every company is unique. To make the most of this tool, choose and implement a CSR solution that aligns with your business's needs and goals.
Essential CSR Reporting Software Features
As you start the process of choosing a CSR reporting platform, first consider what CSR programs your business already runs and whether you've thought about launching any new initiatives. This way, you'll be able to find a platform that is tailored to those initiatives. And, of course, your final choice will need to align with your budget.
Once you know what you need to use your CSR reporting software for and how much you can spend on it, look for a platform with the following features: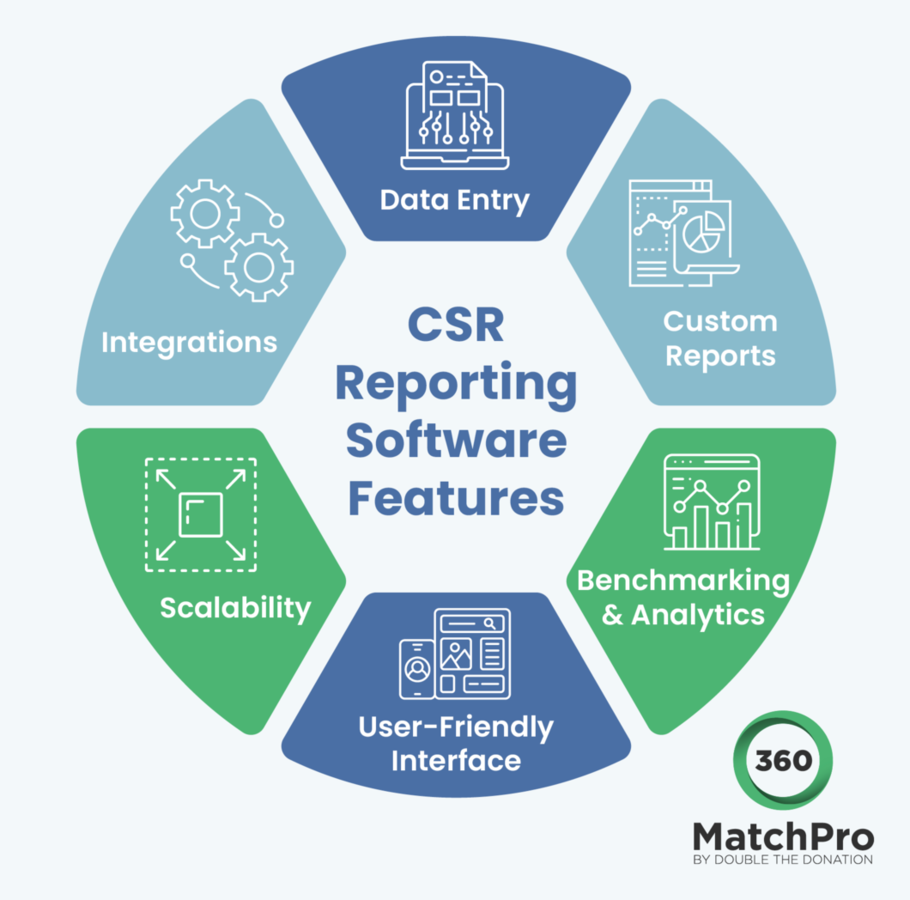 Multiple types of data entry, collection, and storage functionalities for each of your CSR initiatives.
Custom reports so you can visualize and pull data in a variety of formats.
Benchmarking and internal analytics for demonstrating both how your business's CSR results measure up in its industry and how they have changed from year to year.
A user-friendly interface that allows all of your staff members to easily work within the software.
Scalability so that the software's capabilities can expand alongside your CSR initiatives.
Integrations with your business's existing software platforms, such as your customer relationship management (CRM) system and your corporate giving solution.

Remember that if your business runs on an ESG model instead of CSR, you should look for "sustainability reporting software" rather than CSR reporting software as it will encompass a broader range of data entry types and scale with your efforts more effectively.
Ways to Leverage CSR Reporting Software
To some degree, the features included in your CSR reporting software will dictate how you can leverage it at your company. However, you should be able to use these tools for at least four key CSR functions—let's walk through each of those in more detail.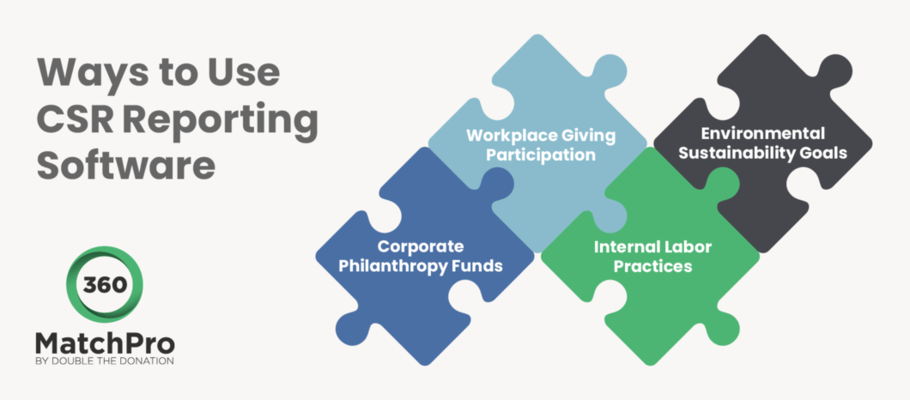 1. Track Corporate Philanthropy Funds
While the terms CSR and corporate philanthropy are sometimes used interchangeably, corporate philanthropy is actually one element of CSR that encompasses the various ways your business supports nonprofit organizations and charitable causes in your community. Your CSR reporting software should store data and allow you to pull reports on the funds your company puts toward the following corporate philanthropy initiatives:
Sponsorships. Businesses frequently sponsor nonprofits to help them with their events and fundraising campaigns. You might give your nonprofit partner financial support, in-kind contributions, or co-marketing opportunities. In exchange, they'll feature your company in their promotional materials to provide you with free publicity.
Volunteer grants. This type of program turns your employees' volunteer time into financial support for nonprofits. When a staff member volunteers a certain number of hours with a nonprofit and submits their hours, your company will make a financial donation to that organization.
Matching gifts. Similar to volunteer grants, you'll match your employees' donations when they contribute to an eligible organization and submit a match request. To streamline the matching gift process for everyone involved, make sure your corporate giving platform integrates with a matching gift solution that offers auto-submission, like 360MatchPro. Check out this video to learn more about auto-submission:
In addition to recording the timing and value of each contribution your business makes to nonprofits, make sure your CSR reporting software allows you to add new programs and accommodates any one-time changes you make to your existing programs to ensure funds are tracked accurately.

2. Monitor Workplace Giving Campaigns
Under your corporate philanthropy initiatives, your business may have some efforts that depend primarily on participation from employees, which are collectively known as workplace giving campaigns. Your CSR reporting software should allow you to record data on initiatives such as:
In-kind donation drives
Team fundraising challenges
Payroll deduction opt-ins
Corporate volunteer days
Participation information is arguably the most important data to collect on your workplace giving campaigns because it allows you to determine how many of your employees are actively involved in your CSR efforts. CSR is important for employee engagement, but employee buy-in is also essential for your CSR activities to succeed.
3. Improve Internal Labor Practices
CSR encompasses more than just your company's philanthropic efforts—it also includes the internal commitments you make to operate your business ethically. A major part of this is meeting (or exceeding!) fair labor standards for your industry, as it not only ensures legal compliance but also boosts your company's reputation and helps you retain employees.
Use the information stored in your CSR reporting software to evaluate how your company is doing in the following areas:
Diversity, equity, and inclusion (DEI) in your workforce. Review demographic information on your employees, as well as staff satisfaction surveys and any incident reports you may have on file, to determine whether your company is a welcoming space for people of all backgrounds and abilities.
Workplace safety. Satisfaction surveys and incident reports are also essential for gaining insight into whether employees feel that your company is a safe place to work and if your safety practices are in line with legal requirements.
Employee wellness. Your CSR reporting software can help you track a variety of practices put in place to promote staff well-being, from whether employees are using their paid time off to how many team members take advantage of dedicated wellness programs like discounted gym memberships.
If your CSR reporting solution has benchmarking features, evaluating labor practices is one of the most effective ways to use them. That way, you can see how your workplace standards measure up to similar companies and ensure you're doing at least as much—if not more than—your competitors to promote fair labor practices.
4. Analyze Environmental Sustainability
Evaluating your business's efforts to protect the environment as you develop and sell your products or services lies at the intersection of CSR and sustainability reporting. However, many CSR reporting solutions will allow you to collect and store environmental data points alongside your other CSR information.
The environmental data you'll find most useful to track will depend on your company's main sustainability focus areas. For example, you may be trying to:
Lower the amount of greenhouse gas emissions created by the production of goods.
Make your facilities more energy efficient.
Manage waste more effectively through reducing, reusing, and recycling items.
Set concrete, measurable goals for each of your focus areas and use your CSR reporting software to monitor your progress toward those goals. For instance, if your main objective is to reduce emissions, you might set a goal to release 50% less carbon dioxide into the atmosphere over the next 10 years. Then, you can review your company's emissions data each year to see whether it's trending downward at the correct rate.
CSR Reporting Software: The Bottom Line
No matter what your company's unique CSR goals and challenges may look like, investing in the right tools is critical for your efforts to succeed. Do your research online and make sure to watch a demo of each potential platform so you get a better idea of whether it would work for your business before you commit to purchasing a CSR reporting software solution.
For more information on how to improve your company's CSR efforts, check out the following resources:
https://360matchpro.com/wp-content/uploads/2023/10/csr-reporting-software_feature-1.jpg
345
910
emily.holland
https://360matchpro.com/wp-content/uploads/2021/05/360-matchpro-logo-e1621968689624.png
emily.holland
2023-10-31 10:42:13
2023-10-31 10:43:53
CSR Reporting Software: Complete Guide + How to Get Started