Small Businesses With Big Matching Gifts: Examples + Tips

When you think of top matching gift companies, your mind might be drawn to enterprise-level corporations such as Disney, Coca-Cola, Microsoft, etc. And for a good reason⁠—research shows that more than 65% of Fortune 500 companies offer matching gift programs. These corporations are well-known for their success and employ hundreds of thousands of people.
But they're not the only ones that match employee donations by a long shot. In fact, tons of small and mid-size businesses develop and maintain effective employee matching gift initiatives.
So if you run a small business and are looking to launch or improve your corporate matching gift efforts, you've come to the right place! We've compiled a list of impressive matching gift programs at small companies, along with tried-and-true tips for organizing your philanthropy.
In this guide, we'll explore the following topics:
Ready to get inspired by these small businesses and their employee matching gift endeavors? Let's dive in with our first example.
5 Top Examples of Small Business Matching Gift Programs
Each of these five businesses matches employee donations to drive their philanthropy, improve corporate social responsibility (or CSR), and better engage with team members and consumers alike.
Let's take a closer look at each company!

Gener8tor is an innovative venture capital firm that connects startup founders with corporate investors in order to facilitate and encourage the development and establishment of new ideas. Founded in June of 2012, Gener8tor has grown tremendously over the past decade to sustain approximately 90 employees over 46 locations.
This company offers a generous matching gift program for its full- and part-time employees. Eligible employees are able to request a 1:1 gift match on donations of between $25 and $2,500. Most nonprofits qualify to receive Gener8tor matches, including educational institutions, health and human services, arts, cultural, civic, community, and environmental organizations.

First Person Advisors is a benefits and compensation advisory firm that works alongside more than 350 other businesses to provide comprehensive yet cost-effective solutions in terms of employee benefits and compensation packages since 1998. This Indianapolis-based agency employs nearly 60 individuals across multiple offices.
First Person also offers a 1:1 matching donation on gifts between $25 and $2,500 made by full-time and part-time employees, and most 501(c)(3) organizations are eligible to receive a company match.
Patrick Lumber Company is a 100-year-old manufacturer and distributor of high-grade wood products to diverse global markets. This small business in Portland, Oregon operates with between 30 and 40 employees who each work to provide a positive experience for customers, partners, and suppliers.
Full-time and part-time employees are eligible to request company matching gifts from Patrick Lumber Co. Gifts of between $25 and $1,000 qualify for a 1:1 donation match to nearly all registered nonprofit organizations.

Also referred to as SEI, Systems Evolution, Inc. is an employee-owned company and a highly ranked technology management consulting firm. The business currently employs approximately 75 employees across 10 U.S.-based branches to provide clients with personalized, consistent consulting services.
Systems Evolution, Inc. enables its team members to play a hands-on role in its corporate giving strategy through matching gifts. Employees (both full and part-time) may request a donation match for most charitable gifts greater than $25 and less than $2,500, which are then matched on a 1:1 match rate.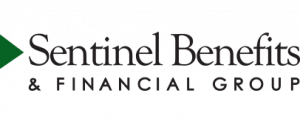 Sentinel Benefits & Financial Group (sometimes known as Sentinel Benefits or Sentinel Group) is an employee benefits firm with a focus on unique and impactful health and wealth strategies. Their 130 employees currently serve more than 3,500 business clients throughout the U.S. to provide the best retirement plans, health insurance, and other financial benefits plans.
This company provides philanthropic benefits to its own employees by offering corporate matching gift programs. Full-time and part-time employees may request a 1:1 company match for donations made to qualifying organizations greater than $25 up to a maximum cap of $250.
Why Should a Small Business Match Gifts?
Some small business owners may still be on the fence about whether to match employee donations. After all, don't you have enough to manage already just to turn a profit and grow your company?
Sure, but you don't want to overlook the power of philanthropy and how it can even help you reach your goals.
Not convinced? Here are some key reasons why every small business should match their employees' gifts:
Matching donations helps increase employee engagement⁠—and, by extension, productivity, satisfaction, and retention.
Matching donations drives corporate giving and CSR, therefore improving a company's reputation among consumers.
Matching donations enables companies to support a wide range of nonprofit causes that their employees are invested in.
The benefits of matching gifts⁠ (and other corporate giving initiatives) typically provide participating companies with a substantial return on their investment in terms of the above advantages in no time.
And it doesn't have to be difficult⁠—or another huge task on your plate⁠—to offer a matching gift program.
Matching Gifts at Your Small Business: 5 Best Practices
Two of the most significant reasons companies don't match employee gifts are that they don't know how to do so or where to begin.
Don't let those roadblocks stop you from reaching your CSR, engagement, and overall goals! Get started matching gifts in the simplest and most effective ways possible by following these tried-and-true corporate giving tips:
1. Partner with a corporate giving platform.
Companies that hesitate to explore corporate matching gifts because they're not looking for yet another program to manage (or are simply looking to outsource their efforts to the experts), should consider working with a corporate giving or CSR management platform.
These corporate philanthropy professionals equip businesses of all shapes and sizes with the tools they need to organize, launch, and facilitate their gift-matching initiatives with ease. Not to mention, corporate giving software is becoming increasingly accessible for small and mid-sized businesses, too.
You can even configure your company's eligibility criteria within the software which then screens and approves employees' gift match requests for you!
2. Empower employees to give to a wide range of causes.
In order to provide the most positive and engaging employee giving experience, you'll want to ensure each employee has the agency to determine where their charitable gifts (and associated gift matches) go.
If an employee sees that their favorite charity is eligible to receive a company match, they'll be more inclined to participate. If giving recipients are narrowed down to one or two kinds of organizations your employees don't care about, they might end up passing on the opportunity.
However, as a company, you still want to ensure that your dollars are going toward legitimate nonprofit organizations. We recommend requesting information about the causes employees give to when accepting match requests in order to verify the organization's legitimacy. Alternatively, if you utilize a CSR platform, they often have millions of nonprofits pre-screened and approved for giving.
3. Consider easing into it with a custom matching gift program.
Alternatively, if your company remains wary of matching gifts and is not in a place to commit to a widely accessible giving opportunity, one way to start slowly is by establishing a custom (or one-off) program. Rather than matching gifts to any nonprofit, your company leadership will select a particular cause to support.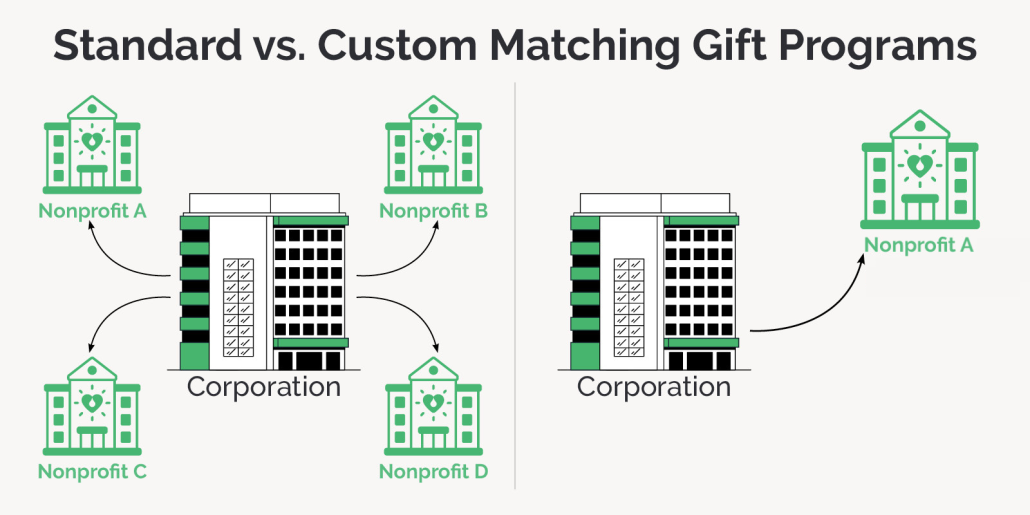 For example, let's say your business has an existing relationship with a local nonprofit. You may even know that several staff members already donate to and volunteer with the organization. To establish a custom matching gift program, your company would reach out to the nonprofit and propose a partnership. From there, you'll determine program guidelines and eligibility criteria and encourage employees to give generously for the duration of the campaign. At the end of the matching program time frame, you'll provide the organization with a check according to the total giving by your staff!
*While 360MatchPro offers custom matching gift program management functionality, this feature is designed specifically for fundraisers looking to manage custom matching gift initiatives—360MatchPro does not work directly with corporations. If you're a company interested in creating a matching gift program, contact us, and we'll share information about our corporate vendor partners.
4. Set generous and open program guidelines to boost participation.
Studies on matching gift participation report that higher matching gift donation maximums yield higher employee engagement with the programs. In fact,
Caps set at $1,000 see a 12% employee engagement rate.
Caps that are between $1,001 and $10,000 see an 18% engagement rate.
Caps beyond $10,000 see a spike in employee engagement of up to 40%.
The idea is simple: when employees see the potential for their charitable donations (and company matches) to make a significant difference on causes that they care about, they're drastically more likely to take part. The higher the donation cap, the larger the match impact.
But the same is true for minimum donations, too. If a company lists its starting match at an unattainable level, many employees won't be able to give in a way that meets the required criteria. So our recommendations are to set low minimums and high (or as high as you can reasonably budget for) maximums to ensure more employees are eager and able to give.
Here's a hint: this is the kind of information you should provide in your company's workplace giving guidelines. The more detailed and accessible your matching gift qualification criteria, the more likely employees are to determine their eligibility and take the next steps to request a match (which should also be outlined in your provided guidelines).
5. Inform and remind employees that you match gifts.
The same corporate giving research mentioned above states that despite 26+ million individuals working for companies with matching gift programs, more than 78% of them have no idea about their employers' giving programs.
You certainly don't want your employees to fall into this group. After all:
If your employees are unaware of your company's matching gift programs, you can't expect them to participate.
And if your employees don't participate, you likely won't see significant results from your newly developed giving initiatives.
To overcome this issue before it arises, we suggest taking a proactive approach to educating your workforce about matching gift opportunities. Send multiple team-wide messages with additional information on these programs. Detail your gift-matching availability within your office policy handbook. Inform new team members about matching gifts during onboarding. Remind employees about your matching gift programs multiple times throughout the year.
The bottom line is: don't let your corporate matching gift programs get swept under the rug. The more employees are exposed to matching gifts, the more likely they will participate.
---
Reading about these small businesses matching gifts has hopefully inspired your team to become further involved with employee giving. Successful and noteworthy matching gift programs are attainable for businesses of all shapes and sizes⁠—including your own!
The sooner you get started amping up your efforts, the sooner you'll begin reaping the benefits of matching gifts on your business leadership, individual team members, nonprofit causes, consumer relations, and the company as a whole.
Additional Small Business + Matching Gift Resources

https://360matchpro.com/wp-content/uploads/2022/03/Selflessly_360MP_Small-Businesses-With-Big-Matching-Gifts-Examples-Tips_Feature.png
275
740
360MatchPro
https://360matchpro.com/wp-content/uploads/2021/05/360-matchpro-logo-e1621968689624.png
360MatchPro
2022-03-07 15:20:18
2023-10-09 10:27:29
Small Businesses With Big Matching Gifts: Examples + Tips