Developing a Matching Gift Program: A How-To Guide
Tens of thousands of businesses host gift-matching programs that empower employees to support their favorite causes⁠—and get their donations matched by the corporation. If your company is not yet among the charitable-minded businesses doing so, you might be looking to get involved. And that's where this complete guide to developing a matching gift program comes in!
We'll walk you through the process of launching your own matching donation initiative here. All in all, there are eleven recommended steps, separated into three overarching categories. These include:
Ready to get matching? Let's dive in with our first key phase.
Establishing Matching Gift Guidelines
One of the earliest steps you'll need to take as you begin developing a matching gift program for your company is to establish your eligibility criteria. This typically involves a number of factors that must be met in order for an employee to qualify for a donation match.
The first few steps we'll explore will involve producing these guidelines.
1. Identify minimum and maximum donation amounts.
Most companies that establish matching gift programs also enact annual thresholds for their employees who participate. After all, you likely don't have an unlimited budget for your new matching program. That said, you'll need to determine amounts that your company is willing and able to match per employee.
Consider these matching gift statistics to get a feel for what other corporations are offering:
93% of companies have a minimum match requirement of less than or equal to $50, with the average minimum falling at $34.
80% of companies' maximums are set between $500 and $10,000 annually per employee, and the average maximum match amount is $3,728.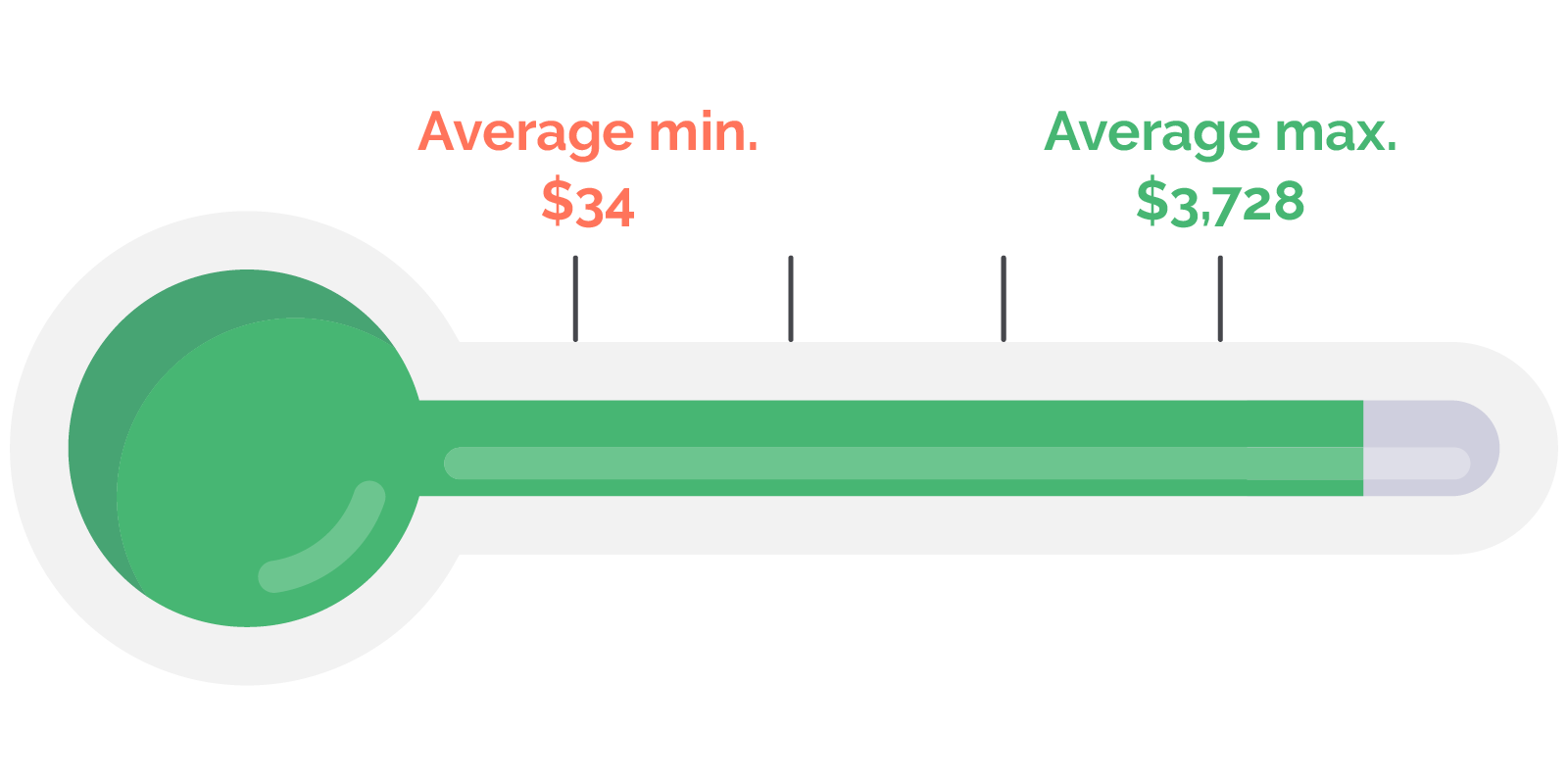 Setting minimum amounts ensures that employers are matching donations to organizations their employees really care about. At the same time, maximum limits guarantee that there's enough of the program budget to go around. And anyone who wants to get involved can!
Keep in mind that research indicates higher matching gift caps tend to yield elevated employee engagement levels. For example, maximums set at $1,000 see a 12% employee engagement rate. Meanwhile, limits between $1,001 and $10,000 see 18% engagement, and caps beyond $10,000 see a spike in employee engagement up to 40%.
2. Decide on a matching gift ratio.
A matching gift ratio is the rate at which a company agrees to match its employees' charitable donations. It essentially determines how much the business will contribute to its team members' favorite causes.
When it comes to corporate match ratios, an analysis of top matching gift companies reveals the following:
91% of participating companies match employee donations at a 1:1 ratio (i.e., a $100 initial donation results in a matching $100 corporate contribution for a total value of $200).
4% match at a lower rate (such as .5:1 or .75:1), meaning an initial $100 donation results in a $50 or $75 corporate match.
5% match at a higher rate (such as 2:1 or 3:1). In this case, a $100 donation may produce a $200 or $300 corporate gift match, tripling or even quadrupling its initial impact.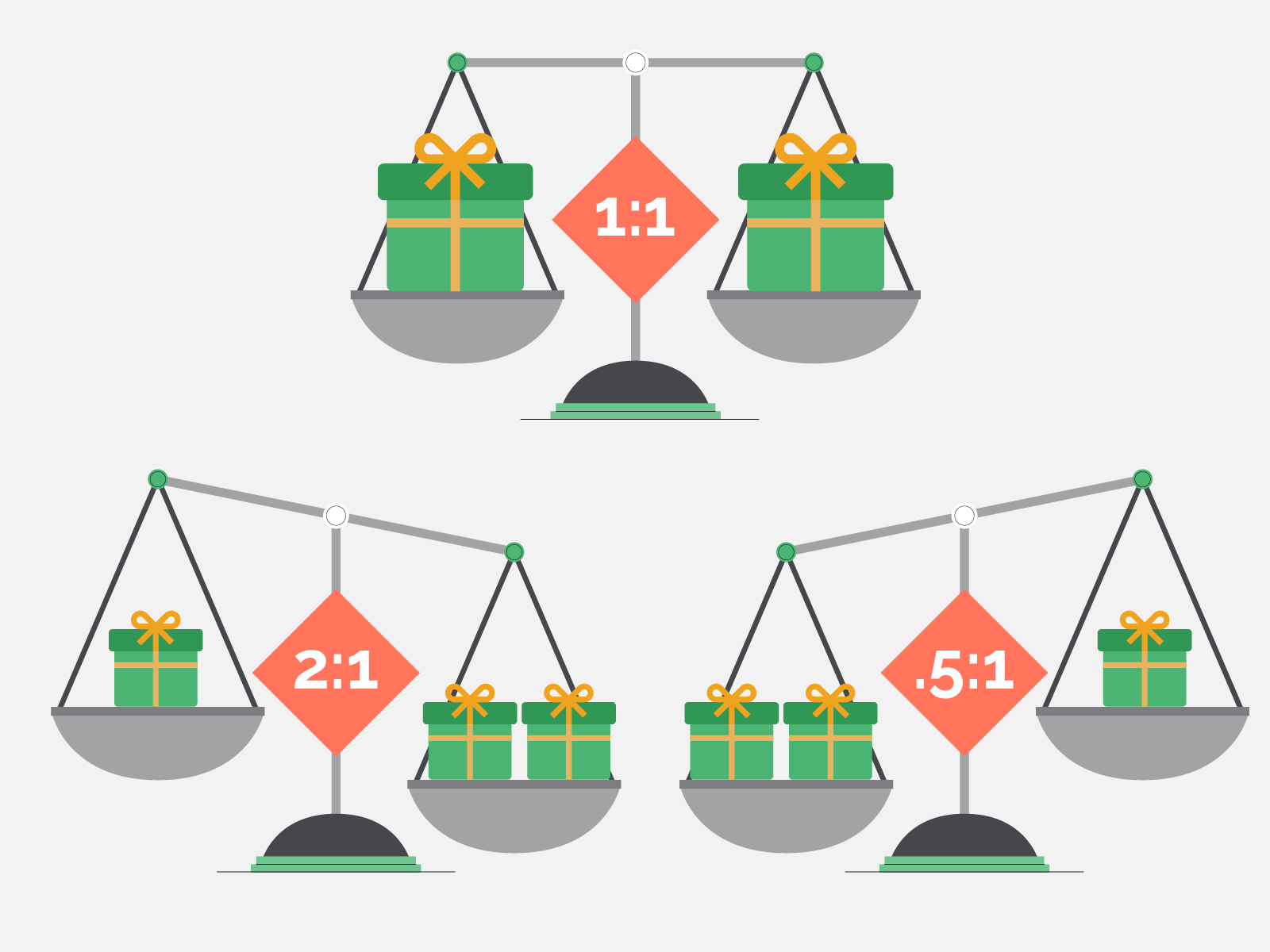 Again, higher match rates produce elevated participation levels among corporate employees, so consider this point as you develop your program. One option may be to set a basic matching gift ratio that is then increased at certain times throughout the year⁠—such as on Giving Tuesday, during affinity months, and more.
3. Determine qualifying nonprofits and employees.
Companies generally establish specific criteria regarding the kinds of nonprofits they'll contribute to⁠—and the employees whose donations they'll match.
Regarding eligible nonprofits, guidelines typically include some combination of the following:
All 501(c)(3) organizations
Most 501(c)(3) nonprofits, excluding political or religious causes
Religiously affiliated organizations that serve secular purposes for the greater community

Ex: soup kitchens, homeless shelters, food banks, schools

Educational institutions

Ex: K-12 schools, higher education institutions

Arts and cultural organizations

Ex: museums, performing arts centers, historical societies

Environmental groups

Ex: animal protection services, conservation programs

Health and human service organizations

Ex: disease research and treatment, public safety groups

Civic and community organizations

Ex: local clean-ups, recreational programs, youth organizations
However, some companies may opt to venture into matching gifts gradually with a custom matching gift program. In that case, the business leadership would select a particular nonprofit to support, and encourage its team members to get involved. Employees make their personal donations, typically within a limited time frame, and the company ultimately matches the total contributed at a pre-determined rate.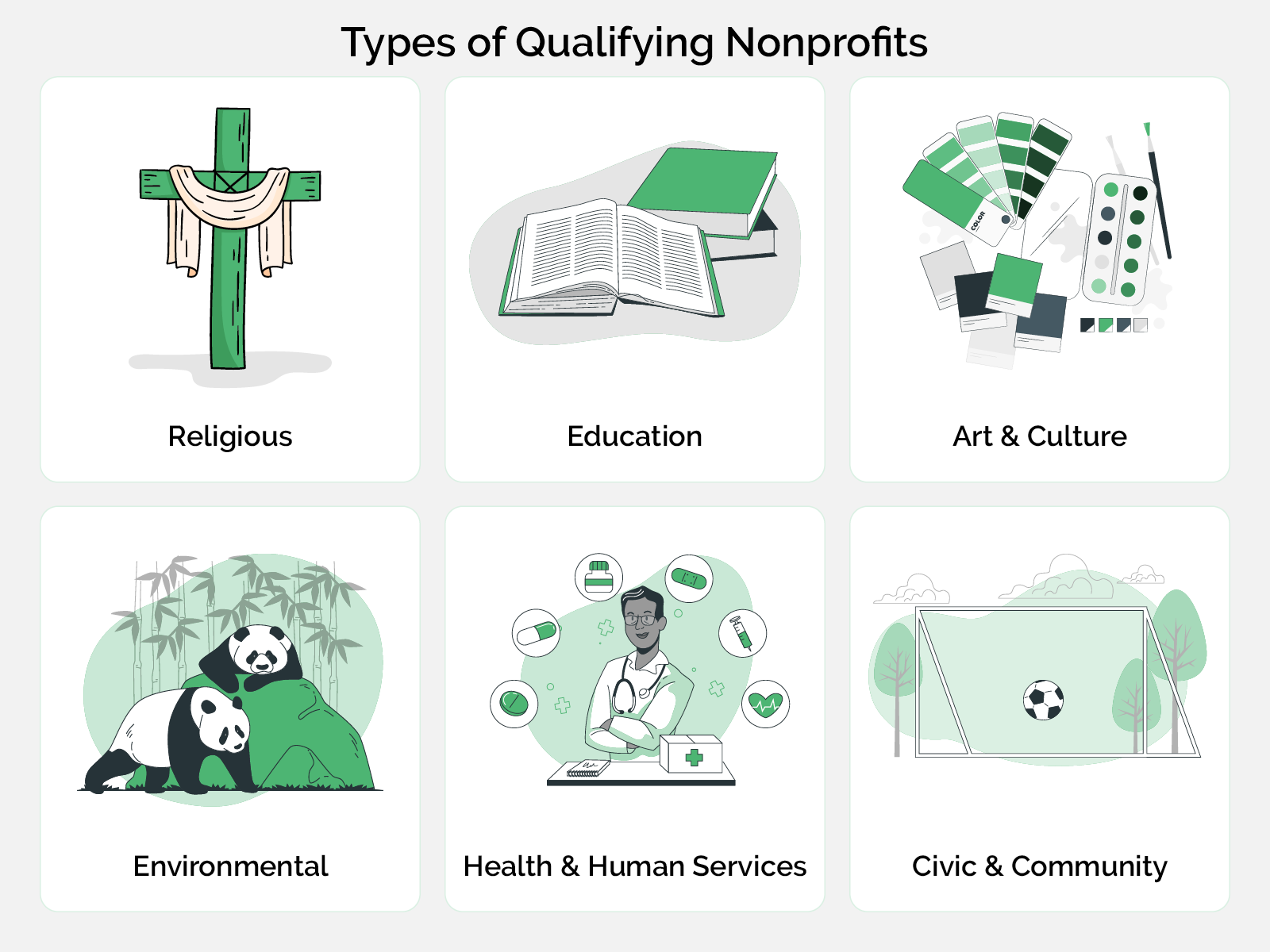 Meanwhile, eligible team members are generally categorized by the following employment types:
Current full-time
Current part-time
Retirees
Board members
Executives
Employee spouses
You might even decide that different nonprofit mission types and employees may qualify for different matching gift levels. For example, some companies set elevated match maximums for education institutions and lower thresholds for other 501(c)(3) organizations. Alternatively, businesses may match executive or board member donations at a higher ratio (such as 2:1 or 3:1), while other staff qualify for a standard 1:1 match.
4. Set a match request deadline.
A match deadline is the date by which employees must submit matching gift requests to remain eligible for the program.
There are a few common deadline structures when it comes to corporate matching gifts. These include:
A set number of days, weeks, or months following an initial donation being made;

Ex: 30, 60, or 180 days post-donation

The end of the calendar year in which the initial donation was made;
The end of the calendar year in which the donation was made, plus a grace period (often of a few months).

Ex: January 31st, February 28th, or March 31st of the following year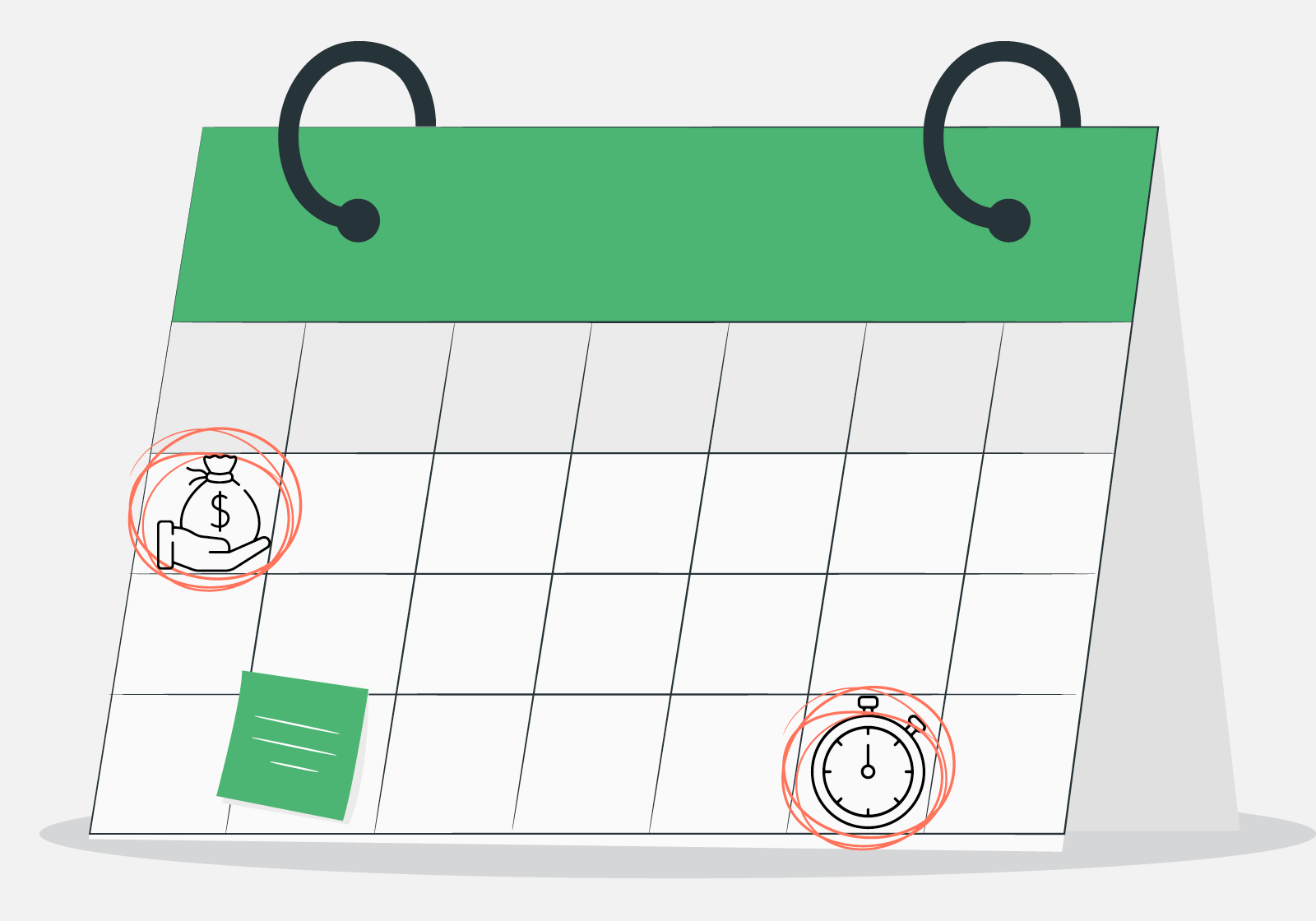 Companies usually set additional stipulations that team members must be gainfully employed by the business at both the time of the donation and the time of the request.
Remember that the more flexible the guidelines you set, the more likely employees are to complete the process.
Exploring Corporate Giving Software
Arguably one of the most critical tasks in the whole process of developing a matching gift program is identifying the software you'll use to power the initiative. There are a number of excellent solutions available, so now is the time to weigh your options as you walk through the next few steps.
5. Choose whether to leverage a CSR platform.
The first thing you need to do when answering the software question is determine whether to invest in software in the first place. While it is technically possible to manage a matching gift program without automation, most companies opt to use a CSR platform to help scale and automate the matching gift process through innovative tech solutions.
As you're exploring your options, consider asking yourself (and your team) the following types of questions:
How many team members does the company currently employ? Do you have plans to expand in the near future?
Do you (or a member of your team) have the capacity to research, screen, and approve thousands of nonprofit causes?
Do you (or a member of your team) have the bandwidth to review each match request submitted by an employee at your company?
Are you aiming to provide the simplest possible process for employees to request their matching gifts?
Overall, matching gift software is a huge time saver that can go a long way toward strengthening the long-term value of your program. But if it's not in the budget now (though there are cost-effective solutions for all sorts of businesses), you can always come back to these steps at a later date.
6. Look into top corporate giving technology providers.
If you've decided to invest in corporate giving software, now is the time to begin exploring your options. Luckily, you have a wide range of providers to choose from, so you're sure to find one that best suits your needs.
As you compare and contrast top options, be sure to consider key factors, such as:
Cost (including onboarding and regular fees)
Support offerings
Other giving programs available
Client reviews and case studies
Currently, three of the biggest names in the CSR technology industry include Benevity, CyberGrants, and YourCause. These software providers work with many of the most well-known matching gift companies, as well⁠—including Home Depot, Walt Disney Corporation, Microsoft, Google, Apple, and more.
However, we've also seen a significant influx of breakthrough matching gift software providers designed to aid smaller and mid-sized companies in managing their programs. This has made matching gifts more accessible to businesses of all shapes and sizes.
7. Prioritize auto-submission and other standout functionality.
Another factor that you don't want to overlook when identifying prospective workplace giving technology is innovation. Like any software provider, your matching gift solution must be able to keep up with the changing times. And the matching gift landscape is constantly evolving, too, making innovation a must-have priority. Otherwise, you risk being left behind.
One of the best examples here is standout auto-submission functionality. Developed by Double the Donation in partnership with select future-focused CSR platforms, auto-submission is revolutionizing the matching gift process.
The overall goal? Simplifying submissions through technology partnerships that make matching gifts easier for companies, their employees, and the organizations they each support. And in doing so, it increases staff participation in the programs, consequently driving team-wide engagement, productivity, longevity, brand image, and even profitability.
Here's how it works:
An individual makes a donation to a nonprofit that uses Double the Donation's software. During the donation process, they select their employer from a company search tool.
After identifying that the donor works for a company with auto-submission enabled, they are provided with an easy way to complete their matching donation request directly from the organization's confirmation screen. This typically involves entering their corporate email address and authorizing Double the Donation to submit a match on their behalf.
Double the Donation compiles match request information from the donation process and submits the data to the company's corporate giving platform for streamlined review and approval.
Currently, this exclusive offering is made available by corporate giving providers Millie, POINT, Givinga, Selflessly, and more. So if auto-submission is a priority for your new matching gift program (which it should be in order to drive impact), we recommend looking at these top innovative solutions.
Double the Donation's auto-submission functionality is available for all CSR vendors to build—and we expect more integrations to go live in the coming months. If you have a question about a particular solution or would like your CSR platform to build an integration with Double the Donation, let us know.

8. If you're not ready to use a CSR vendor, consider Double the Donation's standard matching gift form.
Though working with a dedicated corporate giving software vendor is our top recommendation, your company might not be ready to take the leap. In that case, we offer a free Standard Matching Gift Form that companies can accept to streamline the submission process for employees.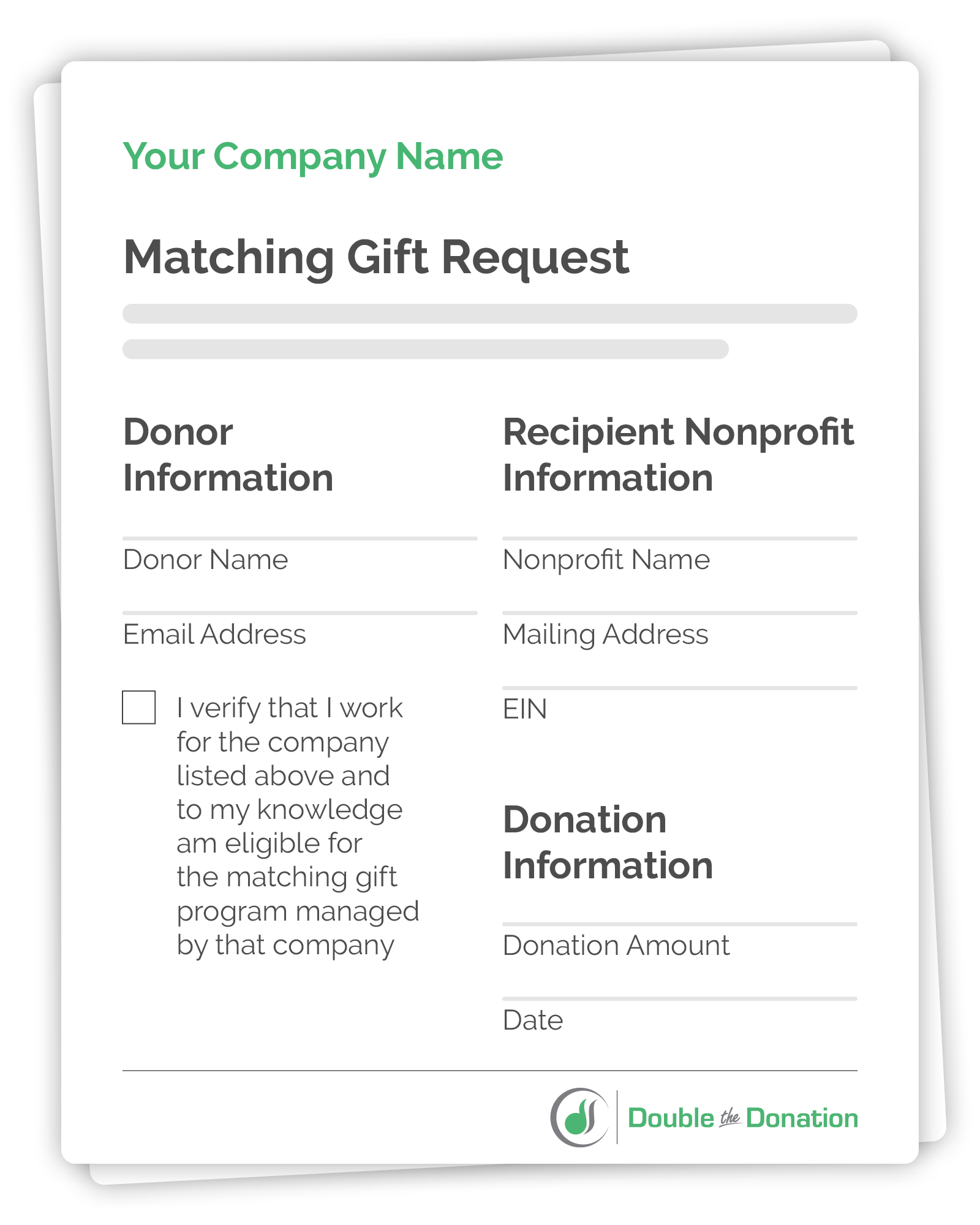 By noting that your company accepts our common form, you enable donors to auto-submit their matching gift requests from their favorite organizations' own websites with ease.
Once an individual verifies their identity and authorizes Double the Donation to complete the match on their behalf, the required information is collected and sent straight to your company's match program coordinator in a pre-filled PDF format.
Promoting Your Matching Gift Program
Now that your newly developed program is live, there are another few key steps you'll need to take to ensure the effort is effective. Primarily, this involves promoting your initiative to your team and encouraging them to get involved.
Here's what we recommend you do to drive program impact and usage.
9. Add your new matching initiative to Double the Donation's database.
Double the Donation hosts the industry's most comprehensive and up-to-date database of corporate giving information. This resource contains program details for tens of thousands of companies that match gifts and aims to streamline the submission process for donors by providing easy access to the information they need.

If you want to make it easy on your employees, make sure you get your company's new program added to the database! You can do so by filling out the brief online form here.
This page will ask for some basic information, such as:
Company name
Available programs (i.e., matching gifts and volunteer grants)
Existing submission materials (as well as interest in developing a streamlined submission process such as our standard match form or working with a CSR vendor)
Matching gift eligibility requirements (minimum and maximum donation thresholds, types of qualifying employees and nonprofits)
Corporate giving coordinator contact information (specific person or department)
Once your new program has been added to the database, your provided forms and guidelines will be made available to employees as they give to their favorite nonprofits. And if you've enabled auto-submission capabilities, individuals can submit their matches directly from their gift confirmation screens!
10. Inform employees about corporate giving opportunities.
There are also a number of things you can do to ensure your employees are aware of matching gift opportunities. And that's essential! Adding your program to Double the Donation's matching gift database is great. At the same time, promoting the initiative internally communicates that you're serious about matching gifts.
Not only that, but employees love matching gift programs. In fact, research shows that individuals are 84% more likely to donate if they know a match is being offered. Plus, 1 in 3 stated they'd typically make a larger donation.
That's why we recommend:
Sending team-wide resources highlighting the impact of matching gifts;
Providing easy access to the company's matching gift guideline documents in your employee handbook or other internal materials;
Highlighting matching gift offerings on your company's website and other publicly visible assets (fun fact: 88% of people want to know about a company's CSR efforts).
Mentioning matching gifts in new team member onboarding processes going forward;
Incorporating reminders of program opportunities in internal communications throughout the year.
Currently, more than 78% of people who qualify for matching gifts have never been made aware of the opportunity. You certainly don't want your employees to fall into that group. After all, matching gift programs are seen as a win-win situation. But if nobody knows about the opportunity, nobody is able to benefit!
11. Incentivize staff participation in workplace giving.
Finally, in order to really drive matching gift program usage among employees, consider making it a point to incentivize participation. This step can look wildly different depending on your company and the key motivating factors behind your team.
The bottom line is that you want your staff to want to partake. Here are a few ideas for encouraging that:
Leverage some friendly competition. Pit team members or departments against one another to see who can give the most to qualifying organizations!
Establish a sense of urgency. Set a specific giving objective and a deadline by which you'd like to achieve it. Then, offer a team-wide incentive for reaching the goal.
Drive home the impact of matching gifts. One of the best parts about matching employee gifts is that you know they care about the organizations they're supporting. Make sure to emphasize the doubled donation value offered to their favorite causes when they participate in matching. After all, that's what it's really all about!
---
Wrapping Up
A well-thought-out matching gift program can have substantial impact on your company and its stakeholders. And if you're going through the process of developing a matching gift program in the first place, you want it to be an impactful one.
Walking through the procedures outlined above will set your team and your new corporate giving initiative up for ongoing success.
Learn more about corporate matching gifts for companies and how your business can best benefit. Check out these other helpful guides!

https://360matchpro.com/wp-content/uploads/2023/01/360MatchPro_Developing-a-Matching-Gift-Program-A-How-To-Guide_Feature.jpg
580
1520
360MatchPro
https://360matchpro.com/wp-content/uploads/2021/05/360-matchpro-logo-e1621968689624.png
360MatchPro
2023-01-16 18:13:00
2023-09-29 12:14:25
Developing a Matching Gift Program: A How-To Guide