A Complete Guide to Fundraising Automation for Nonprofits

Gone are the days of thousands of donor records sitting in a dusty filing cabinet in the backroom of your nonprofit headquarters. Most organizations are even past manually typing out and sending thank-you emails to each individual who gives to their cause.
But what's changed? Fundraising automation!
Organizations everywhere are beginning to automate more and more of their fundraising efforts⁠—including supporter communications, donor acknowledgments, fundraising asks, and more.
However, many nonprofits continue to do too much manual work that could be automated with the right software. That's why it's important to take inventory of your efforts on a regular basis to see which types of tasks can be easily streamlined.
And what exactly does that mean for organizations like yours? In this guide, we'll share everything a nonprofit fundraiser needs to know about automation strategies, including:
Ready to dive in with an overview of fundraising automation, the advantages of these tactics, and various types of automation to leverage? Let's begin with the basics.
1. What Is Fundraising Automation?
Fundraising automation essentially involves delegating certain actions to a fundraising software system. As a result, the technology is able to independently manage tasks on the organization's behalf, saving nonprofit teams time, money, and staff resources.
For example, a donor conducting Task A (such as making a donation) might trigger a series of responses from the nonprofit:
Within five minutes of the donation being made, the donor receives a tax-deductible donation receipt in their inbox.
Within 12 hours of the donation being made, the donor receives a personalized gift acknowledgment email thanking them for their specific contribution.
Within 24 hours of the donation being made, the donor receives a targeted matching gift follow-up email with eligibility criteria specific to their employer.
Within 90 days of the donation being made, the donor receives a customized fundraising appeal for a repeat donation slightly larger than their initial gift.
And the best part is that the nonprofit doesn't have to put out any action in order for the pre-programmed communications to take place once they are configured within the software solution.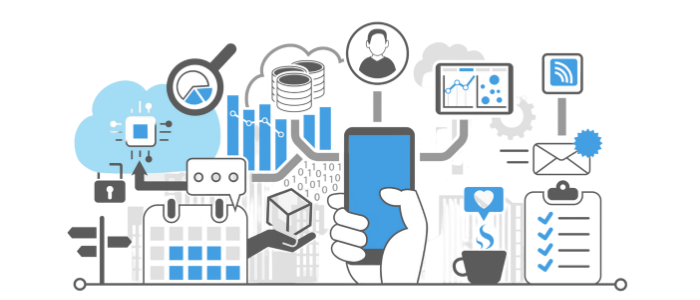 2. Who Benefits From Fundraising Automation?
If you're asking yourself, "who exactly benefits from fundraising automation," the simple answer is everyone. This includes:
Nonprofits: Many nonprofits are already running on limited resources, stretched-too-thin staff members, and overextended volunteers. Fundraising automation is one of the best ways to take some of those menial tasks off your team's plates. Employing the right technology enables individual employees to do more with their time and ultimately see a larger return on their investments.
Donors: If an organization is manually managing donation follow-ups and thank-you communications, it's likely that some individuals will ultimately fall through the cracks. And it never feels good to be the donor that wasn't thanked! Fundraising automation, on the other hand, removes multiple opportunities for human error, ensuring each donor is equally prioritized as a key player in the nonprofit's mission⁠—all in a timely manner.
Mission beneficiaries: When nonprofits are able to delegate previously time-consuming tasks to new technology solutions, team members will have more time and energy to devote to mission-focused tasks. And ultimately, that brings key advantages to the beneficiaries of your cause. Not to mention, many organizations raise even more money through strategically automated efforts, which will direct additional dollars toward your constituents' needs.
And when done well, no one suffers when fundraising automation is enabled, either.
Though you might worry your donor relationships may take a dive, they certainly don't have to. In fact, well-crafted automation efforts can lead to just as personalized communications with supporters⁠—and sometimes even more so!
3. Most Commonly Used Types of Fundraising Automation
More than likely, you have some level of experience with fundraising automation. You're probably even familiar with some of the most basic types of automated efforts—and the tools that power them.
For millions of organizations, this includes some form of donation tool and nonprofit CRM. Here's what you should know about these basic resources:
Donation Tools
Online donation tools are one of the most commonly used examples of fundraising automation. With this technology on hand, nonprofits can quickly and easily process donations within their own website, peer-to-peer platforms, text giving, email, and more. The automation of giving is essential because the easier it is for donors to give, the more likely they are to complete the process and submit their gifts!
Many online donation tools even enable organizations to accept and set up automatically recurring gifts. In these cases, individuals schedule regularly repeating donations that are then automatically transferred to the organization according to the agreed-upon timeline.
This way, donors are able to continually support the causes they care about without having to go through the processing of making their gift each month (or quarter, year, etc.). And on the nonprofit end, fundraisers don't have to worry as much about sending out donation appeals to these individuals to retain their consistent support.
Similar ideas can also be applied to securing repeat⁠—but not recurring⁠—donations. Countless donation platforms are beginning to offer "one-click" or "one-tap" giving options to donors who have previously made a donation to the institution. These supporters' essential donation information is securely stored and then repurposed when the individual is ready to make a follow-up gift. Contact and payment information may be automatically populated in the form, allowing donors to give in mere seconds.
Nonprofit CRMs
Your CRM (also referred to as constituent relationship management or donor management system) is essentially an automated fundraising database that collects valuable information about your donors and stores that data for future usage.
As a donor completes an online donation form, for example, they often provide key details such as their name, contact information, employment status, donation amount, and more.
A nonprofit's CRM is typically connected to its donation tools in order to pull the information it needs into a neat, organized manner. This tool should also integrate with helpful communication resources (such as email or text messages) to help populate automated yet personalized messaging to donors.
This tool then fills in the blanks, effectively turning this:
Dear [Donor' preferred name], thank you for your generous donation of [donation amount] to our [fundraiser participated in] campaign!
Into this:
Dear [Janet], thank you for your generous donation of [$300] to our [school supply drive] campaign!
A donor management system should also assist organizations in segmenting their donor lists by like characteristics for further targeted communications. This allows nonprofits to send different (and more relevant) messages each to their small, mid, and major donors⁠—all without manually sorting contacts.
4. Advanced Fundraising Automation to Scale Up Your Efforts
Unfortunately, many organizations fail to realize their fundraising automation potential. And this is often due to a lack of understanding about the wide array of options available to an organization looking to elevate its efforts. If that sounds like your team, it just might be time to scale up your automated fundraising!
That said, here are five additional types of automation that your organization may not already have in use:
Matching Gift Software
Corporate matching gifts are one of the most powerful yet continually underutilized sources of nonprofit funding. In fact, approximately $4 to $7 billion in available match revenue is left on the table each year.
Two of the most common roadblocks to matching gift optimization include a lack of awareness of these programs a lack of understanding of the submission process among match-eligible donors. Luckily, these are two obstacles that top matching gift software providers aim to overcome with matching gift fundraising automation.
Here's how it typically works:
A donor interacts with an organization's online donation form to submit a gift.
The donor is prompted to enter their employer's name to check for matching gift eligibility.
The donor enters their employer's name, which is then scanned against a comprehensive matching gift database of company information.
The donor submits their gift and is redirected to the nonprofit's confirmation or thank-you page, where they are provided with pre-populated guidelines on their employer's matching gift program and submission forms.
The donor is encouraged to follow the next steps outlined by the embedded matching gift widget, where they submit their request using their employer's online matching gift portal.
The matching gift software triggers post-transaction follow-up emails reminding donors of their matching gift eligibility if they hadn't indicated previously submitting their match.
The matching gift software tracks the donor through the process and forecasts potential match revenue.

Matching gift automation enables organizations to inform donors about matching gift opportunities, provide company-specific information on program guidelines, follow up with donors to encourage submitted matches, and more⁠—all without lifting a finger.
As a result, nonprofits utilizing automated matching gift practices can raise more money for their missions by maximizing corporate match funding. And their donors love it, too, because they're able to double their support for a cause they care about in the easiest way possible!
Data Appends
The more a nonprofit knows about its donors, the better its communications, relationships, and overall fundraising will be. That might be contact information, wealth data, employing company and position, and more.
So what if an organization doesn't have what they need to know about its supporters? More than likely, the information exists somewhere. While you might be able to enlist fundraisers to scour the internet for key insights on donors and prospects, automating the process is (as usual) quicker, simpler, and more effective than the alternative.
And that's where data appends come in!
Data appending scans existing donor information (whatever you already have) against a combination of publicly available and privately held resources to locate the missing pieces of data you seek.
Let's take matching gifts, for example. Your aforementioned matching gift automation software can't scan donor information against its compilation of employment data if you don't know where your donors work to begin with. While you can (and should) request the information from donors themselves, collecting that data through employer appending services can be a fantastic plan B for those whose employment data you still lack.
And all you have to do to get started is plug in the data you do have and wait for the results⁠—no more manual research!
CSR Platforms
We covered nonprofit matching gift software, which aids organizations in streamlining the processes involved with informing donors about matching gift programs and directing them to their employers' matching gift submission forms. But what happens next?
Thousands of companies utilize various CSR management platforms to facilitate their end of the matching gift programs. In these scenarios, your organization's matching gift software (such as 360MatchPro) directs donors to a company's online match request portal (such as Benevity, YourCause, CyberGrants, Millie, POINT, Selflessly, etc.). The donor provides essential donation information to fulfill the request⁠, and they submit their match.
Unfortunately, a potential roadblock comes into play when companies require verification of the initial donation as a condition of matching gift eligibility. However, nonprofits can streamline this process as well by pre-registering with top CSR platforms. When these software providers already have a nonprofit listed as a verified cause, it enables them to easily automate the verification of employee gifts, getting more matches approved in a timely manner.
Matching Gift Auto-Submission
Taking matching gift and workplace giving tools even further is powerful auto-submission technology. This newly developed functionality empowers donors to submit their matching gift requests directly on the nonprofit websites through which they make their donations in just a few clicks. The seamless partnership between companies, nonprofits, donors, and employees is made possible through corporate giving platforms that have established an innovative integration with Double the Donation!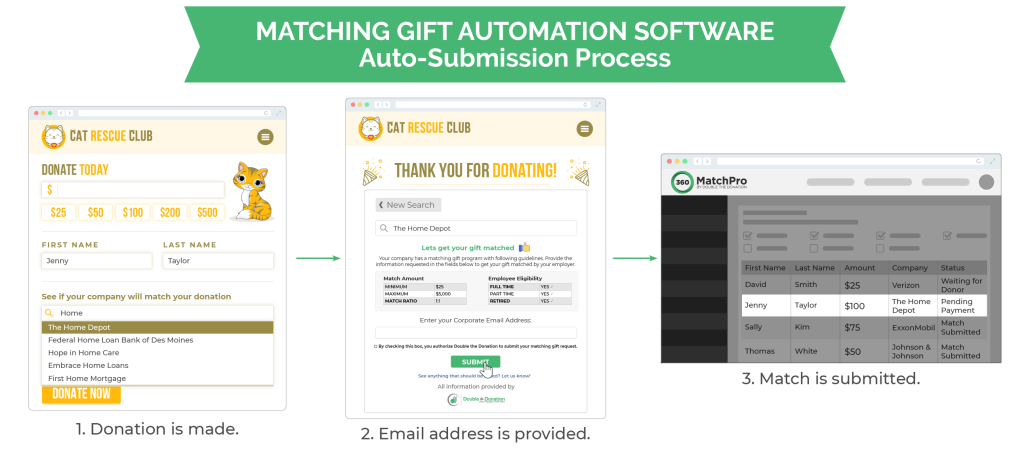 Now, individuals employed by companies that use these corporate giving vendors are able to complete their matching gift requests just by entering their corporate email addresses (and perhaps one additional form of verification) on their gift confirmation pages. No longer do they have to provide donation details, nonprofit contact information, and more. Instead, auto-submission is quick and easy and will result in many more matches being driven to completion for eligible organizations.
Artificial Intelligence
Artificial intelligence is another technological trend that is quickly picking up steam in both the for-profit and not-for-profit sectors. Artificial intelligence, or AI, is generally seen as an advancement in machinery that enables technology to conduct tasks typically reserved for human minds.
The idea of AI has become particularly beneficial to nonprofit fundraising efforts with the ability to automate donor engagements while maintaining a personal flair.
One of the most popular examples of this is customizable suggested donation asks within the online donation process. Many platforms are beginning to leverage artificial intelligence to analyze everything the organization knows about an individual (such as their previous donations, engagement history, wealth level, and more) in order to curate the "perfect" donation size to include in online giving forms.
After all, donation appeals are certainly not one-size-fits-all, but manually calculating the best size gift to request for each individual would likely take more time than you have. With smart technology leading the way, organizations can automate their asks and maximize funding received!
---
Leveraging fundraising automation is one of the best ways to streamline your organization's efforts and retain more time and resources for mission-focused tasks⁠—all without allowing your donor relationships to suffer.
Just remember, effective automation begins by equipping your nonprofit team with the right tools. Make sure you have best-in-class donation tools and CRMs; but don't stop there. Ensure you're ready to make the most of your fundraising with matching gifts, data appends, CSR platforms, artificial intelligence, and more.
And for even more added benefit, consider how your various software solutions can work together through technical integrations to form a comprehensive and well-oiled fundraising machine. Good luck!
Dive deeper into top-of-the-line fundraising software, tips, and tricks with our other educational resources:


https://360matchpro.com/wp-content/uploads/2022/03/360MatchPro_A-Complete-Guide-to-Fundraising-Automation-for-Nonprofits_Feature-1.png
275
755
360MatchPro
https://360matchpro.com/wp-content/uploads/2021/05/360-matchpro-logo-e1621968689624.png
360MatchPro
2022-03-31 21:24:02
2022-12-20 19:04:25
A Complete Guide to Fundraising Automation for Nonprofits