Matching Gift Letters: The Nonprofit's Guide to Raising More


If you work for a nonprofit organization, you likely understand the importance of communicating with your supporters. But maximizing your communication efforts can be a challenge—especially when it comes to matching gifts.
Corporate matching gifts are an often overlooked source of fundraising revenue, but they can have a huge impact on the amount of money you bring in. Essentially, companies match the donations their employees make to eligible nonprofits, which means you can double your donation for the cost of soliciting one!
But how can you effectively promote matching gifts?
By choosing impactful verbiage and crafting effective matching gift letters, your organization will be able to boost your revenue that comes from this fundraising channel. Even better? You'll build meaningful relationships with your supporters and demonstrate your appreciation in a genuine way.
In this article, we'll discuss the specifics of how to write a matching gift letter, and offer some sample matching gift letters that you can build on and customize!
Read with us from the top or jump to the section that interests you most:

1. How to Write a Matching Gift Letter
When it comes to writing matching gift letters, there are a few best practices to keep in mind. Of course, you want your organization to make a positive impression through its marketing materials, but where do you start?
Follow some of these tips to write your best matching gift letter:
Get to the Point
Your message should be straightforward, brief, and quick to the point. Supporters aren't likely to comb through pages upon pages of information all at once. If you can highlight your specific message, bold important pieces of information, and explain the importance of matching gifts for your nonprofit, you'll be in a great position to grab your donors' attention.
Be Compelling
While your message should get to the point sooner rather than later, your letter should also be compelling and persuasive. Incorporate a brief anecdote or story that shows the impact your organization has on its constituents. 
Give the recipient a reason to share in supporting your cause. For example, you can provide concrete data. Explain how much your organization raised from matching gifts last year. What was the impact? Did you save an extra 100 dogs? The more you convey about your mission in a succinct manner, the more likely you'll evoke a response.
Feature Calls-to-Action
It's one thing to describe what your donors should do to aid in your mission. It's another to ask them to do it. Featuring a clear call-to-action is key to getting your supporters involved. Use action verbs to encourage your audience to actually take the next steps. Otherwise, it won't be clear what you're asking them to do.
Within your matching gift letter, include specific "Click Here" phrases (if you're sending an email) that encourage your reader to click to read more. This will also create a sense of urgency. In printed outreach, you can use similar language, but be even more specific about where your readers can find more information.
Without providing clear directions and information, your reader won't know what next steps to take. Be sure to use verbiage that specifically outlines what your reader should do. Otherwise, they may not take any action at all.
Incorporating these best practices into your matching gift letters will yield a higher response rate and keep your supporters engaged with your mission. Not sure where to start in drafting your letters? Read on!


2. Examples of Matching Gift Letters
Writing effective matching gift letters can help you get closer to your fundraising goals. But these letters come in many forms and can be sent through a variety of channels. That's why we've outlined some of the most common types of matching gift letters below. Use these as a jumping point for your own appeals!
Matching Gift Letter #1: Email Confirmations
After a donor has contributed to your organization, what's the first thing you should do? Thank them. Email confirmations and thank-you messages are a quick and easy way to show your appreciation and continue cultivating your relationships with your supporters.
Though this type of communication is typically automated, you can still take steps to customize it and make sure the message is personalized to each donor.
Here's an example of an automated email template with customizable fields you can use to personalize your confirmation message: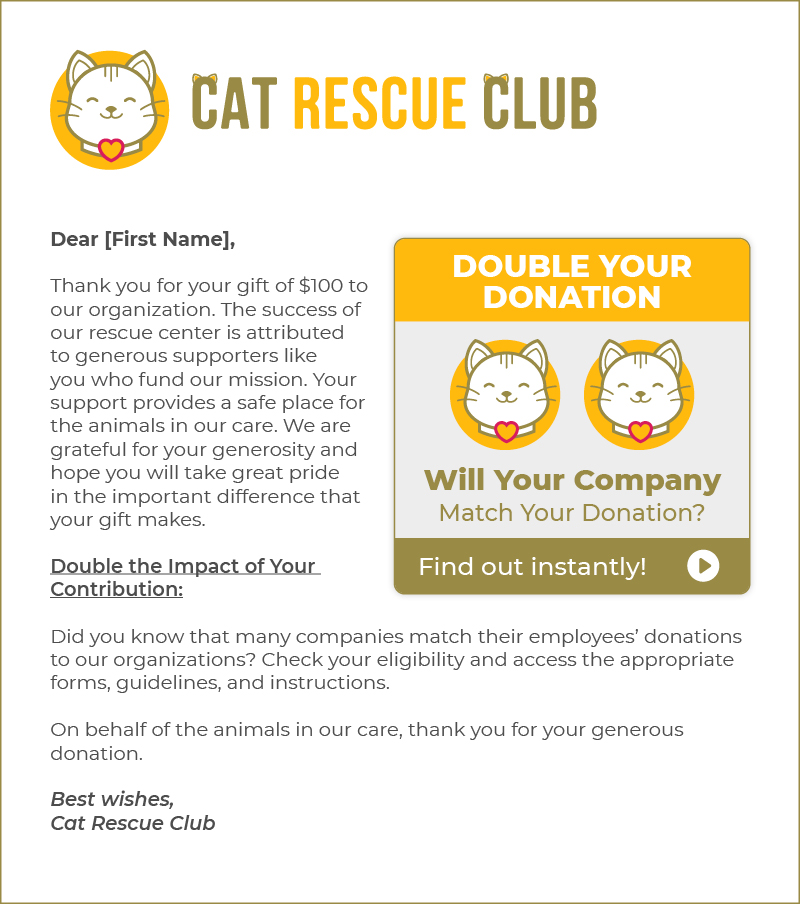 As you can see from the sample above, it's important to focus on the thank you, as this can help you retain donors. The main purpose of a confirmation email is to thank donors for their contributions. This means your matching gift appeal should be clear, but not front-and-center.
That said, reminding your donors that matching gifts are an option will encourage them to make their donation go twice as far. Your message can be as simple as asking, "Are you eligible for a matching gift? Ask your employer today!"
If your organization is looking to move beyond templates that encourage donors to look up their eligibility, there's an even more efficient way to raise awareness around matching gifts.
By leveraging a matching gifts automation platform, your confirmation emails will become even more personalized to the donors who receive them. 360MatchPro by Double the Donation offers your team the ability to customize your confirmation emails based on matching gift eligibility. Even more than that, the entire process will still be automated.
EXAMPLE #1: Match-Eligible Donor
If a donor is identified as match eligible while they're making the donation, 360MatchPro's platform will trigger an email like this: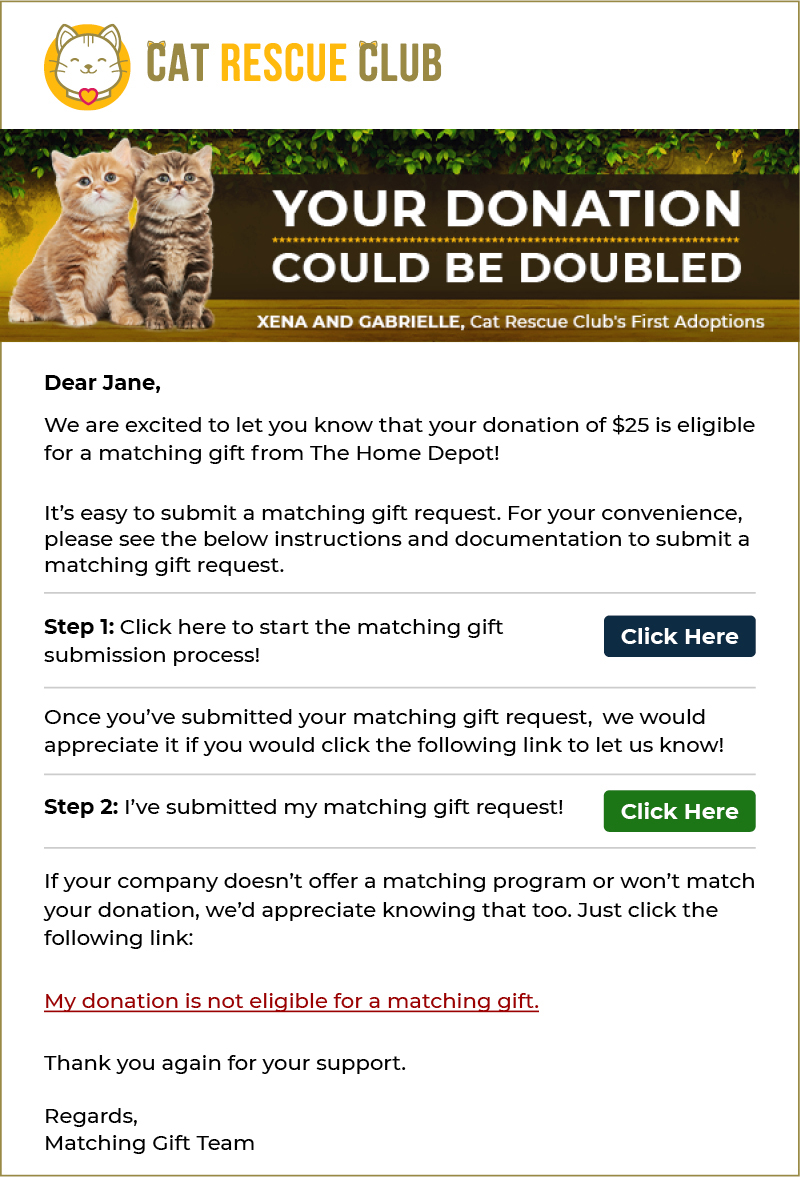 This email acknowledges the donor's contribution while also making it clear that their donation is eligible for a matching gift. Notice the buttons that serve as clear calls-to-action and the specific instructions provided.
EXAMPLE #2: Unknown Eligibility
If a donor is not automatically identified as match eligible while they're making the donation, 360MatchPro's platform will trigger an email like this:
After thanking the donor for their contribution, this matching gift confirmation offers important information about how matching gifts impact the organization. The email then directs donors to the nonprofit's matching gift page, where they can find more information about the process and search for their employer's program.
Looking to learn more about 360MatchPro by Double the Donation? Jump ahead to the next section!
Matching Gift Letter #2: Newsletters
One of the biggest barriers that nonprofits face around matching gifts is a lack of awareness. Donors aren't familiar with the matching gift process and/or are unaware their employers even offer such a program.
That's why it's important for nonprofits to provide their supporters with resources that educate them about matching gifts and how they work. Luckily, one of the channels you can leverage is probably something you're already using.
More than likely, your organization sends out newsletters on a regular basis to keep your donors updated on everything happening with your nonprofit. As you plan your upcoming newsletter content, consider devoting part of the newsletter to information about matching gifts.
You can even devote certain newsletters entirely to sharing information about this opportunity. More than 18 million individuals work for companies with matching gift programs. Raising awareness through your newsletter is a great way to boost your matching gift revenue.
Here's an example of an effective newsletter:
As you craft your newsletter, remember that donors will be less distracted by other updates and fundraising information if your newsletter focuses entirely on matching gifts. Rather than having several important announcements compete with one another, donors will focus on the main action the newsletter encourages them to take.
That's not to say you can't include other information in your newsletter. Just make sure your newsletter is designed to prominently feature each announcement in its own section.
Consider sending matching gift newsletters at times during the year when most of your donations come in (such as year-end), to maximize impact.
Matching Gift Letter #3: Printed Thank You Letters
While email makes it easy to quickly send out messages, a printed thank you letter (aka, direct mail) offers another personalized touch to your matching gift outreach. This is especially important for donors who prefer direct mail over electronic messages.
While you may not have time to write out a letter to every single donor, you can still sign your name at the bottom to show that you took time out of your day to show appreciation.
There may also be a worry about expenses—like postage costs. For that reason, you might not send a printed letter to everyone. Instead, identify your top prospects so you can send letters to the appropriate recipients.
Matching Gift Letter #4: Postcards and Inserts
Postcards and printed inserts can also deliver valuable information to donors. Sending a matching gift postcard or a matching gift insert as part of your direct mail materials will draw even more attention to this source of fundraising.
Here are some tips you can use when sending postcards and inserts:
Make them smaller. To reduce printing costs, make the inserts smaller in size than a full page. Or, you can use a postcard.
Combine inserts.

Print your matching gift request on the back of another insert so you're not sending too many loose papers in one mailing.

Prioritize recipients.

To reduce postage costs, consider sending inserts and postcards only to recipients at a higher giving level.
Here's an example an effective insert: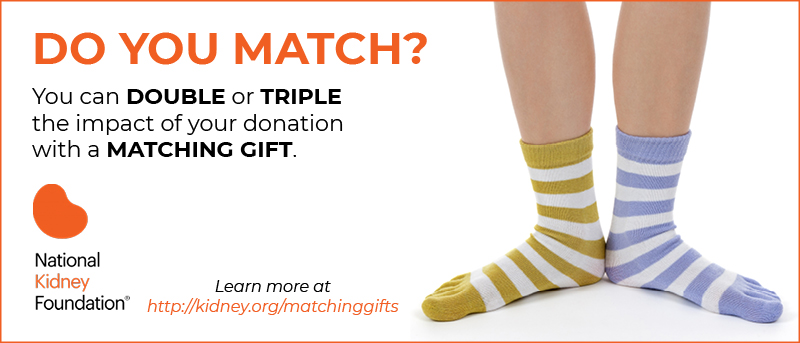 The text on this insert is brief and to the point, provides necessary information, and calls the recipient to action with a specific URL they can visit. Adding an insert like this also increases your chances of the recipient donating, as 84% of donors say they're more likely to donate if a matching gift is offered.
Here's an example of an effective postcard:
While still brief, this postcard offers information about matching gifts, specific instructions about how to learn more, and an appropriate webpage, phone number, and email address the recipient can use to take action. 
View more examples of inserts and postcards!
Matching Gift Letter #5: Year-End Appeals
Year-end giving is a great time to solicit matching gifts. In general, people are already in a giving mood due to the holiday season. If you send out matching gift letters that encourage them to submit a match request to their employer, you'll bring in even more revenue!
A year-end appeal can even be automated by a tool like 360MatchPro by Double the Donation. This particular platform offers a year-end email stream that can be used to contact donors about gifts they've already made that year.
Here's an example of a year-end appeal sent from 360MatchPro's platform: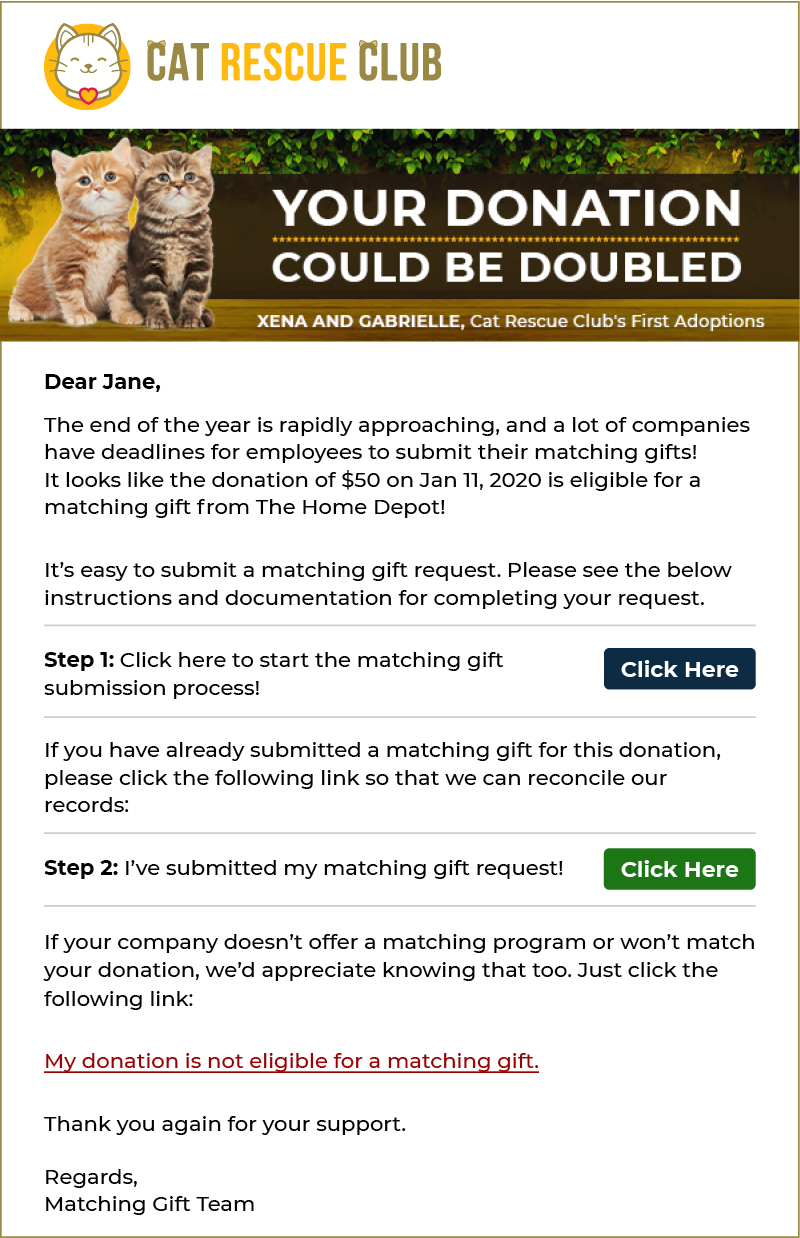 This email is personalized to the donor, references their donation amount and date, and even offers information about their matching gift eligibility with their specific employer. It also features prominent buttons that encourage the donor to begin the matching gift process. When you provide concrete details about the donor's gift and actionable next steps they can take, you'll boost your chances of receiving a successful match.
Matching Gift Letter #6: Recognition After Completed Match
While all of the matching gift letters described above are invaluable additions to your marketing outreach, it's important not to drop off once the match request has been submitted. In order to demonstrate your appreciation, it's also essential to recognize your donors once the match has been completed.
Send a message, whether it's through email or direct mail, to acknowledge your donor's contribution and the match they received on behalf of your organization. This will not only show your genuine appreciation, but also make the donor feel great about their actions and encourage them to have future donations matched.
Here's an example of a recognition letter:
Though short and simple, this letter informs the donor that the organization received a corporate match, which will make them feel appreciated and understand that their contributions are vital to your organization's success. Be sure to highlight why matching gifts are so important to your cause, so you can encourage them to have future donations matched, as well.


3. How to Raise More with Matching Gift Letters
If you're looking to boost your matching gift outreach and revenue, there are even more effective approaches you can take. We've already mentioned automation platforms like 360MatchPro by Double the Donation in the sample matching gift letters above, and here we'll go into more detail about how this software can help.
By investing in matching gift software, you'll give your donors access to a comprehensive matching gift database that lists thousands of companies and subsidiaries with matching gift programs. This means if your donor works for a company with a matching gift program, they will likely find their employer within the database.
360MatchPro by Double the Donation
360MatchPro by Double the Donation automates your matching gift outreach for you and is the perfect fit for any size organization.
When donors give on your website, 360MatchPro automatically scans the information they provide in the donation form (such as email domain or employer details) and runs this against Double the Donation's database. If a donor is determined to be match eligible, the system will trigger an email explaining the next steps to take (like in the examples above!). If the donor has unknown eligibility, the platform will trigger an email inviting them to visit the organization's matching gift page so they can learn more and determine their eligibility for themselves.
How can you use matching gift letters with the 360MatchPro by Double the Donation? 360MatchPro is the ideal automation platform for sending out matching gift letters. Customize specific matching gift letters however you'd like, and then send them through the platform. This way, you'll get your message front and center, encourage donors to request a gift match at the same time, and keep up with the progress of the match.
360MatchPro offers detailed data tracking so you can view your performance and adjust as needed. Automatically identify opportunities for matching gifts so your team can focus on top opportunities and drive more of these matches to completion.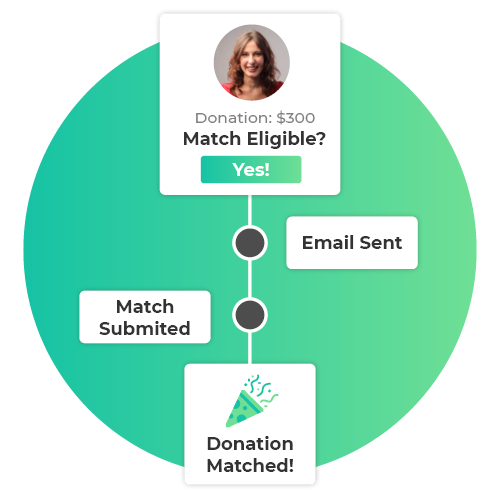 Learn more about 360MatchPro by Double the Donation!
Work With a Direct Mail Platform
Beyond your matching gift software, working with a direct mail platform is a great way to spread the word about available corporate giving opportunities and encourage donors to learn more. This type of powerful fundraising partner can help you send printed newsletters, thank-you notes, postcards, inserts, and more!
How can you use matching gift letters with a direct mail fundraising platform like GivingMail? Once you have your matching gift letter drafted, simply upload it to an innovative web-to-print direct mail platform to print, stuff, and distribute to donors on your behalf. Just remember to incorporate a clear call to action in your mailing, such as an easy-to-type URL or scannable QR code leading recipients directly to your online matching gifts page to learn more.
Additional Matching Gift Resources
Looking for even more matching gift information? Check out these resources below:

https://360matchpro.com/wp-content/uploads/2020/10/Matching-Gift-Letters-Feature.jpg
345
905
Adam Weinger
https://360matchpro.com/wp-content/uploads/2021/05/360-matchpro-logo-e1621968689624.png
Adam Weinger
2020-11-02 11:05:38
2021-10-05 20:52:45
Matching Gift Letters: The Nonprofit's Guide to Raising More