Google Grants Eligibility: How to Check Yours & Get Started

Looking for ways to save room in your nonprofit's marketing budget? Did you know that Google can help you save $10,000 on marketing every month?
As part of their corporate philanthropy program, Google offers a valuable opportunity for nonprofits called the Google Ad Grant. Through this program, you can receive free monthly advertising credits to get your organization's work in front of a wider audience—at no cost.
To receive the grant, however, you first have to meet the Google Grants eligibility requirements. We'll cover what those are and answer the following questions in this guide:
Once you confirm you're eligible, you can start the application process and be on your way to leveraging this high-impact marketing opportunity for your nonprofit. Let's dive in!
What is the Google Ad Grant?
Google Grants provide qualifying organizations with $10,000 worth of Google Ad credits on a monthly basis. With these credits, you can bid on relevant search terms, and Google will place ads for your website at the top of the results for those terms.
For example, here's what the ads look like when someone searches "donate to refugees" on Google: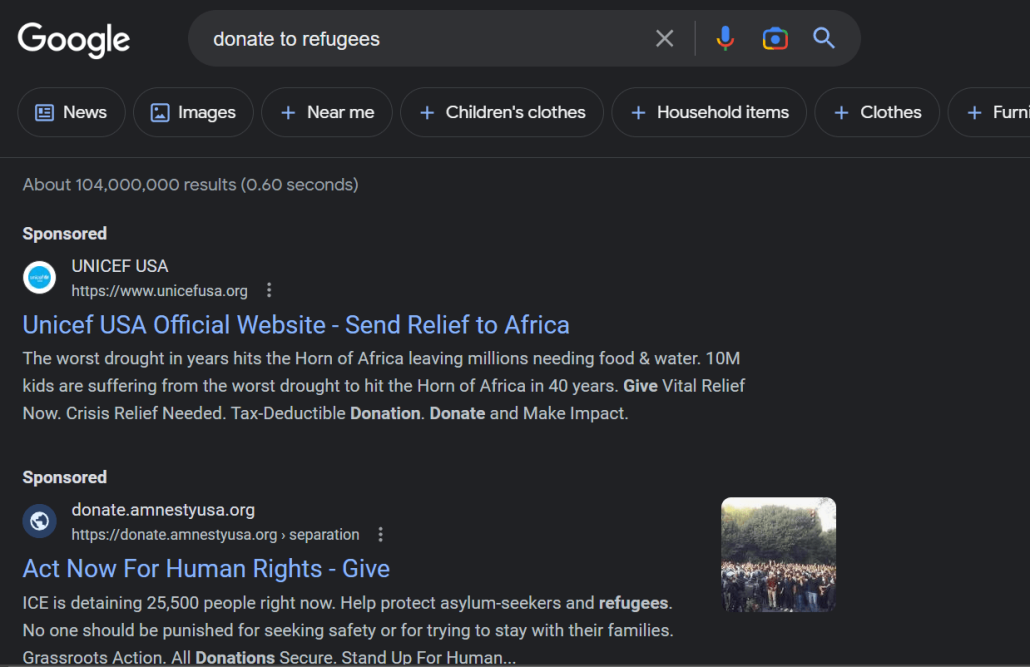 With the Google Ad Grant, your ads will appear as "Sponsored" results for users who search phrases related to your cause. You can allocate your grant towards hundreds of different keywords that your audience is already searching. For instance, if your organization supports refugees like the example above, you might also bid on "donate to refugees near me," "support local refugees," and "how do I help refugees."
Then, you'll create a variety of ads that drive interested traffic to your donation page, campaign pages, event signups, and other important pages on your website. Track clicks and conversions using Google's data analytics tools, and see how many new supporters you can source from this free opportunity!

How do nonprofits benefit from Google Grants?
Because the program is free, any success you see from your ads will have a high return on investment for your nonprofit. With the right advertising and account management strategies, you can see improvements in your website traffic and lead new prospective supporters to your cause.
When you incorporate the Google Ad Grant into your nonprofit's marketing strategy, you can receive these key benefits:
The Google Ad Grant's impact on your nonprofit largely depends on the work you put into it. If you only create a few ads and forget about them, you won't see a dramatic increase in new donors. But if you continuously use data and best practices to improve your Google Grants account, you can tap into these benefits and more.

Which nonprofits are already eligible for Google Grants?
Google has a set of eligibility requirements that your nonprofit must meet to receive the grant. These restrictions ensure that their funding will be used effectively by nonprofits that are well-positioned to see substantial results. Not every organization is eligible, so make sure to check that your nonprofit can meet all the requirements before diving any deeper into the process.
Here's a snapshot of the organizations that already have Google Grants eligibility and those that do not meet the Google Ad Grant requirements: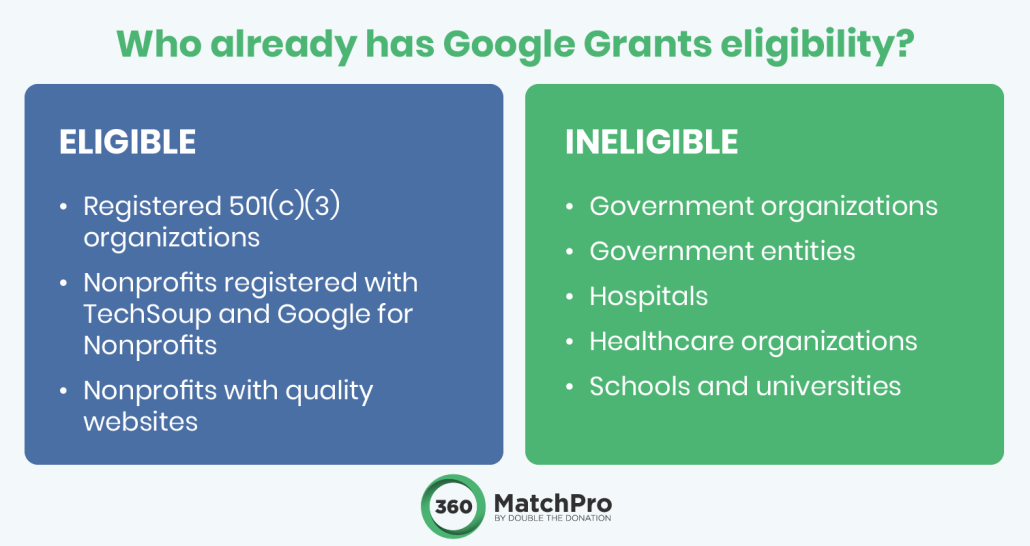 If your organization doesn't check every box right now, don't worry. We'll cover how to fill any gaps in the next section so you can obtain eligibility before you apply. On top of the requirements listed, you'll also need to agree to all of Google's policies and account management rules.

How do you meet the Google Ad Grants requirements?
For 501(c)(3) organizations that aren't government, education, or healthcare-related, meeting the rest of the requirements to obtain Google Grants eligibility is relatively straightforward. All you have to do is ensure your website is up to Google's standards, then get your nonprofit status verified by TechSoup. Once you complete those steps, you'll be ready to start the Google Grant application.
Improve your website
Before you start improving your nonprofit's website, make sure that you own the domain. This means that you've purchased your website's name and that your URL doesn't end with something like ".wordpress.com" or ".wix.org."
Already own your domain name? You're ready to make website improvements that align with the Google Ad Grant requirements. Go through this checklist to ensure your website follows Google's standards: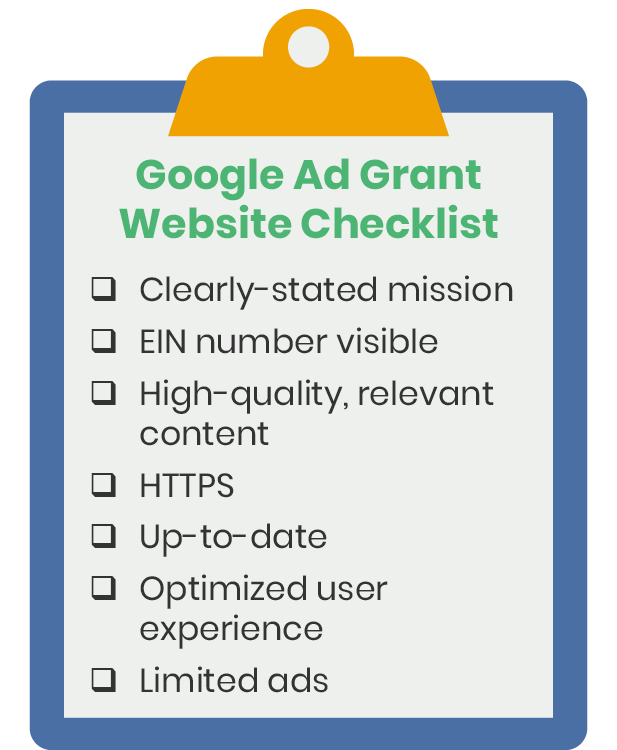 Making these improvements is an important step toward approval. Google needs to verify that your nonprofit is a valid, trustworthy organization with a strong enough website to ensure that the program's assistance will make a meaningful difference. Plus, these improvements will help your nonprofit increase online engagement and build positive relationships with supporters in the long run.
Register your nonprofit with TechSoup
Once you have a website that adheres to Google Grants eligibility criteria, the only thing you're missing is TechSoup verification.
TechSoup is an organization that works with technology companies like Google to provide support to nonprofits. One of the ways they do so is by verifying that nonprofits are legitimate and providing that information to Google. Before you can start the Google Ad Grant application process, you first have to receive validation from TechSoup.
Register your nonprofit on TechSoup's website and provide basic information about your purpose and the work you do. After checking that all the information is correct, they'll send you a string of numbers and letters known as a TechSoup validation token, which you'll need to apply for the Google Ad Grant. It can take multiple weeks for them to verify your organization, so start early.

What does the Google Grant application process look like?
The application process can take time, but if you've already confirmed you meet the eligibility criteria, you should have a high chance of getting approved. Here's a quick rundown of what the process looks like: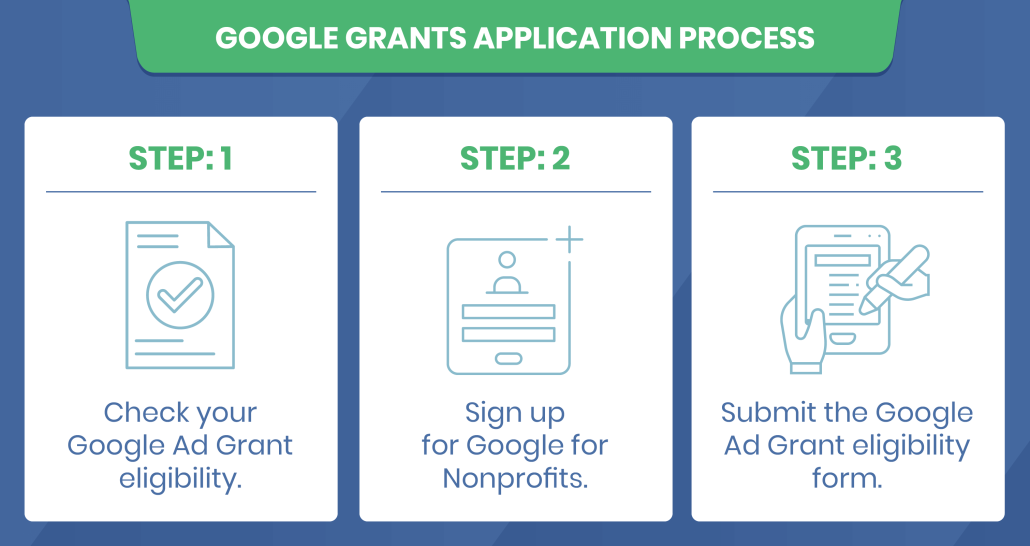 Check your Google Ad Grant eligibility to make sure you're eligible for the program. Doing so will ensure the rest of the application process runs smoothly.
Register for Google for Nonprofits to continue the Google Ad Grant application process. You can verify your nonprofit with a TechSoup validation token or have Google complete the verification process for you. Approval for an account usually takes around 2-14 business days.
Submit the Google Grants eligibility form located in your Google for Nonprofits account. A few days later, you should receive an invitation to activate your Google Ad Grant account if you've been approved.
Then, all that's left to do is set up your account and start your first campaign! Be sure to follow all of Google's policies as you organize your account, bid on keywords, and create your ads to maintain compliance.

What if my nonprofit loses its Google Grants eligibility?
It is possible to lose your Google Grants eligibility after you've already been approved. This can happen if you don't meet all of the program requirements, which include:
Take a look at Google's complete list of policies to ensure you don't miss anything. Luckily, if you do end up losing your Google Grants eligibility for any reason, you can get your account reactivated with the help of a Google Grants Agency.
Are there resources to help obtain Google Grants eligibility?
Yes! Plenty of nonprofits need help gaining Google Grants eligibility. Maybe your website needs a lot of work or you just don't have enough time to devote to the application process. No problem! Let's explore three different resources that can help.
Google Ad Grants Agencies
Did you know there are professional consulting agencies that specialize exclusively in Google Ad Grants? Google Grants management agencies are a great choice for nonprofits looking for support throughout their entire journey with the Google Ad Grant.
These nonprofit advertising experts can assist you with:
When you work with a Google Ad Grants agency, you'll receive all the help you need to obtain Google Grants eligibility, stay eligible, and get the most out of your grant.
Google's Information Pages
Google provides a robust collection of information and help pages on the official Ad Grant website. If you have any additional questions about how to apply for Google Grants, how to comply with the rules, or how to use your account, look here. Specifically, these pages can serve as helpful starting points:
Along with Google's many support pages, they have an Ad Grant help community where users can ask specific questions and discuss best practices.
Google Analytics
While installing Google Analytics for your website isn't a requirement of the Google Grant application, you will need to use it once you have a Google Ad Grant account. Why not start early?
Google Analytics can also help you optimize your website to meet eligibility requirements. It allows you to track metrics like CTR and bounce rates, which tell you how many users are clicking on pages and how many are leaving your website without taking any action. Improve pages with especially high bounce rates and pay attention to which of your pages are high-traffic. These could be good options to advertise once you have the grant.
Wrapping up
Gaining Google Grants eligibility can greatly improve your nonprofit's digital marketing results. If your nonprofit isn't already eligible to apply for the Google Ad Grant, our tips can help you get on your way so you can start creating ads as soon as possible.
Remember that you don't have to go through this process alone! Utilize all of the available resources and support to make obtaining your Google Grants eligibility easy. These additional resources can provide you with a jumping-off point:

https://360matchpro.com/wp-content/uploads/2023/05/Google-Grants-Eligibility_Feature.png
642
1690
360MatchPro
https://360matchpro.com/wp-content/uploads/2021/05/360-matchpro-logo-e1621968689624.png
360MatchPro
2023-05-01 10:45:13
2023-10-19 08:40:36
Google Grants Eligibility: How to Check Yours & Get Started