Hiring a Grants Consultant? 3 Characteristics to Look For
Grant funding is a critically important source of revenue for many nonprofits. Grant funding from private and family foundations, federal and state government agencies, and corporate philanthropy programs allows nonprofits to better pursue their missions and expand their offerings to constituents.
But finding the right grant opportunities, building relationships with funders, and writing winning grant proposals is hard work that requires plenty of dedicated time and resources. This is why many organizations choose to partner with professional grants consultants.
If your nonprofit wants to secure more grant funding and build a strategic grant seeking program, the help of an expert can be tremendously valuable.
Many organizations have worked with other types of fundraising consultants, but the more specialized services from a grants expert may be new territory. Where do you start your search? How do you know what to look for in a partner?
This guide will cover the essentials you'll need to begin an informed search for a grants consultant. First, let's explore why nonprofits might want the support of a grant seeking expert.

Why Nonprofits Hire Grants Consultants
Consistent grant seeking and relationship building with funders requires significant resources—your team's time, attention, and know-how. Busy nonprofit leaders often don't have the capacity to manage every aspect of grant seeking in an organized, strategic, and sustainable way.
In other words, you may occasionally pursue and win grants, but without resources dedicated specifically to grant seeking, the returns may be sporadic and the opportunity cost may be high.
This is the same reason that so many nonprofits struggle with securing corporate matching gifts, conducting prospect research, and other tasks. Although they'll lead to more and diverse revenue over time, these activities can easily fall to the bottom of your to-do list if your team is stretched thin with the day-to-day necessities of running programs and campaigns.
Grants consultants help you get over capacity hurdles by providing services that take the hard work of grant seeking off your plate.
They allow you to outsource the most time-consuming aspects of grant seeking, namely proposal writing, so that your team can stay focused on immediate priorities. They can be hired for specific projects or retained as long-term support for your grant efforts. Working closely with the right consultant will also teach your team valuable lessons so that you can more effectively pursue grants on your own.
But grants consultants can provide more than just writing services to help you win more funding. Understanding the range of options available and what exactly you need from a grants partner will be essential as you begin your search.

Key Grants Consultant Characteristics to Look For
So you're ready to start searching for a grants consultant to help you find and win more funding for your mission. How do you know which candidates to prioritize? We recommend these three key characteristics: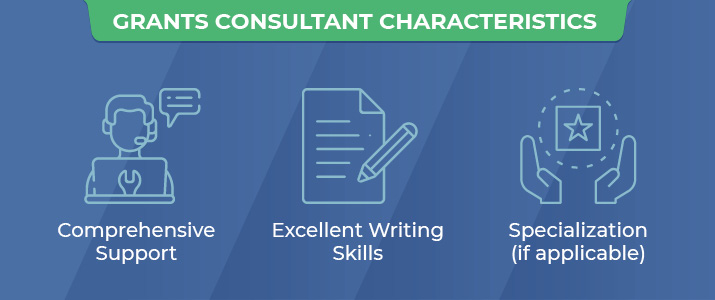 Let's take a closer look at each of these characteristics and why they matter.
Characteristic 1: Comprehensive Support
If you're seeking a grants consultant, you almost certainly want writing services to help simplify the process of putting together proposals. But there's more you can look for in a potential partner.
A consultant who offers more comprehensive support will be in a better position to find the right grant opportunities for your nonprofit and help you begin developing relationships with funders.
The entire grant seeking process has a lot of moving parts. For the best results, you'll need a consultant who can do more than simply jump in to write the proposal and then hand it over to your team. They should effectively serve as a project manager to keep the whole process running smoothly, from grant identification and funder research to collecting and compiling information from across your organization for the proposal.
As you research potential consultants, look for information on the extent of their support. If you decide to reach out, ask if the consultant can or will:
Help you develop a funder relationship strategy
Provide project timelines with clear expectations and deadlines
Gather information from your team for grant proposals
Take ownership of final proposal submission or provide instruction if you'll need to
And although grants consultants won't be involved in the later process of managing your grant, their early organization and clear documentation can help you start off on the right foot.
Characteristic 2: Excellent Writing Skills
Even though you should look for a grants consultant who offers broad support, their grant writing skills and the quality of their proposals should still be top of mind. After all, grant proposals are what will ultimately win the funding. They should be clear, filled with specific details, and tell a compelling story about your mission, community, and ideas.
Ask for samples of your candidates' best work and evaluate them in a consistent way. Try creating a simple rubric for your team to use to score writing samples. Here's an example:
| | | | | | |
| --- | --- | --- | --- | --- | --- |
| | 1 | 2 | 3 | 4 | 5 |
| Is the writing clear and easy to follow? | | | | | |
| Does the writing present the nonprofit as credible? | | | | | |
| Does the writing present the proposed solution as compelling? | | | | | |
| Does the sample seem to adapt to the funder's mission and priorities? | | | | | |
If known, you might also score samples by the additional criteria of whether or not they successfully won funding.
Your qualitative first impressions of a sample are valuable, but a scoring exercise like this will give your evaluations an added level of precision and make it easier to get input from more of your team members. Average each sample's scores and compare the numbers for different candidates to get a quick view of their writing skills.
Characteristic 3: Specialization (if applicable)
Depending on your nonprofit's funding goals and the types of grant opportunities you want to pursue, you may want to look for consultants with extra specializations. Consider exactly what you hope to accomplish. If you do want more specialized services, try asking questions like:
Does the candidate focus on specific issues or topics? For example, research grants are best pursued by specialists familiar with technical writing. In other cases, a generalist comfortable with a broad range of nonprofit topics might be a good choice for adaptable long-term support.
Does the candidate have experience with federal grants? Seeking these opportunities can look quite different from more typical grant seeking from foundations.
Does the candidate have experience with other types of funding sources that you're interested in? Donor-advised funds are a great example of an opportunity that will require familiarity and relationship-building. Other types of support for specific needs are also best pursued by specialized consultants. For example, Google Ad Grants for marketing are best handled by a professional Google Ad Grants agency.
Take time early to review your nonprofit's broader financial goals and the types of funding opportunities that peer organizations have pursued. This will make it easier to narrow your candidate search and ask more specific questions of candidates.
Beyond Specific Characteristics: Look at the Whole Picture
When researching potential grants consultants, many nonprofits get fixated on "win rates," or how many of a candidate's proposals have successfully won funding for their clients. While certainly good information to know, be aware that this metric doesn't paint the whole picture.
A consultant's win rate can be inflated if they're especially selective with the projects they take on. Plus, plenty of other factors beyond the proposal itself can influence a funder's decision. For instance, the organization's reputation in the community and existing relationship to the funder can both play deciding roles in whether or not a proposal is selected.
As you begin researching consultants, be sure to weigh several different factors in tandem:
The characteristics listed above
Your nonprofit's goals and the funding avenues you want to explore
The consultant's client testimonials
The consultant's win rate
This will give you a more holistic picture of each candidate's skills, range of services, past successes, and how their support will fit into your nonprofit's goals. This approach can help ensure that you find the perfect partner for your unique needs, whether for a specific project or for long-term grant seeking support and guidance.


https://360matchpro.com/wp-content/uploads/2022/01/hiring-grants-consultant.jpg
345
900
Adam Weinger
https://360matchpro.com/wp-content/uploads/2021/05/360-matchpro-logo-e1621968689624.png
Adam Weinger
2022-01-05 08:56:00
2023-03-06 13:25:37
Hiring a Grants Consultant? 3 Characteristics to Look For