Nonprofits need to raise funds from individual donors, grants, companies, and more to continue fulfilling their purposes. At the same time, many businesses need to invest in the social good of their communities to maintain their reputations and ensure their long-term success. These priorities pave the way for powerful partnerships built upon corporate philanthropy.
Corporate Philanthropy Definition
Corporate philanthropy refers to a company's voluntary activities or investments toward promoting the overall welfare and interests of society. Typically, this involves supporting nonprofit causes through donations, in-kind gifts, or volunteering.
At the same time, it's important to note that corporate philanthropy is not the same as corporate social responsibility (CSR). CSR describes a company's awareness of its role in its community and the world at large, leading it to prioritize sustainability, ethical business practices, employee well-being, and social impact.
According to Porter Novelli's study, 73% of Americans indicate that, in order to win their support, companies must demonstrate how they are positively impacting communities and the environment. Corporate philanthropy programs are one way for businesses to put their emphasis on social responsibility into concrete action.

Benefits of Corporate Philanthropy
There are many benefits that corporate philanthropy can provide for both companies and nonprofit organizations: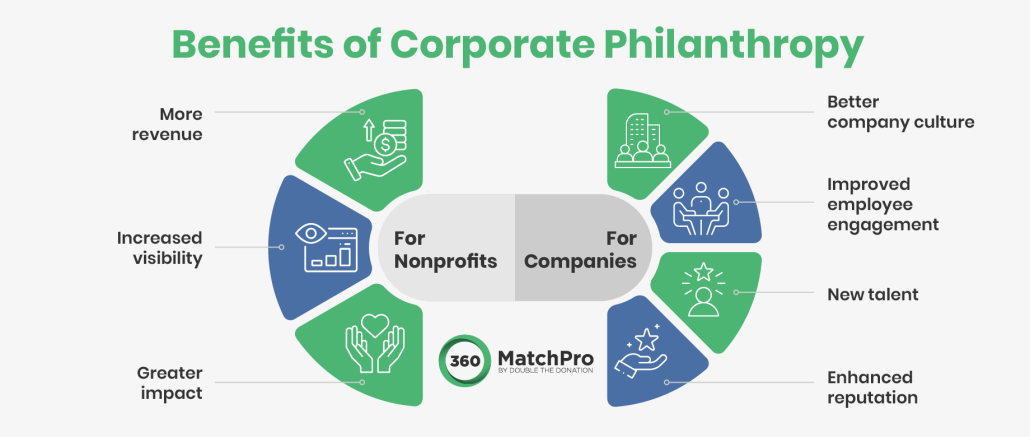 How Companies Benefit from Corporate Philanthropy
By developing strong corporate philanthropy programs, businesses can:
Create a 

better company culture

. Encouraging employees to contribute to the causes they care about can increase their sense of fulfillment and satisfaction in their roles. They'll feel like they're not only working toward the company's success but toward the well-being of the larger community as well.
Improve employee engagement. Gallup has found that 85% of employees are not engaged at their companies. By offering opportunities for employees to make a difference by participating in corporate philanthropy programs, businesses can cultivate productive teams that are enthusiastic to work there. After all, many employees take pride in the fact that they work for companies that prioritize social responsibility, according to Double the Donation's employee engagement guide.
Attract new talent. Paul Polman's survey reveals that 66% of U.K. employees and 76% of U.S. employees want to work for a company that is trying to have a positive impact on the world. Therefore, companies that have thoughtful corporate philanthropy initiatives in place can increase their chances of recruiting top talent.
Improve customer relationships. According to an Ivalua Study, 69% of survey respondents reported that their businesses have increased their sales as a result of their CSR initiatives. In other words, consumers actively seek out companies that leave a positive impact on their communities.
Boost their reputation. By supporting charitable causes, companies can demonstrate that they're interested in more than simply making money. This can be an excellent way to stand out from competitors and appeal to more customers.
Ultimately, as a company's philanthropic efforts continue to enhance its public image, it can build stronger relationships with social-minded job seekers, employees, and consumers alike.
How Nonprofits Benefit from Corporate Philanthropy
As more businesses begin to focus on corporate philanthropy, nonprofits can receive of host of benefits, including:
More revenue. Corporate philanthropy initiatives, such as matching gifts and volunteer grants, issue critical funding to nonprofits. These opportunities allow nonprofits to diversify their revenue sources and secure the support they need to fulfill their missions.
Increased visibility. By partnering with companies, nonprofits can enhance their visibility and spread awareness of their causes. This can lead to more donors, volunteers, and advocates who may not have previously known about the organization.
Greater impact. Philanthropy-minded companies can set nonprofits up to create a greater impact in the lives of those they serve by providing crucial funds and services to support their work.

For instance, they can sponsor fundraising events, provide in-kind donations, offer corporate volunteering support, and provide pro-bono services.
Nonprofits need significant funds, technology, manpower, and time to generate their impact. Corporate philanthropy programs can go a long way toward providing some of these essential resources.
Examples of Corporate Philanthropy Programs
While there are many companies out there with corporate philanthropy initiatives, five notable ones stand out based on the extent of their generosity. These companies are worth emulating when it comes to how easy they've made it for employees to participate, as well as how much they're willing to contribute through their programs.
Every year, Google donates $200 million to nonprofits and social enterprises around the world.
For its employees, Google has both a matching gift program, with a maximum match amount of $10,000 per employee, and a volunteer grant program, which contributes $10 for every hour an employee volunteers with a nonprofit.
Another aspect of the company's philanthropy is its Ad Grants program. This grant awards eligible nonprofits $10,000 a month in search ads that will display on Google's search results pages, empowering them to expand their reach and get in front of more potential supporters.
Disney is a well-known media and entertainment company that has made a substantial impact through its philanthropy initiatives—contributing around $233 million to charitable organizations just in the last year.
The company's corporate philanthropy programs include matching gifts and volunteer grants. Disney will match donations at a 1:1 ratio of up to $25,000 for each full- or part-time employee every year. Through the Disney VoluntEARS Grant program, the company will award grants of up to $2,000 to nonprofits depending on how many hours an employee volunteers there.
Wells Fargo is an American multinational financial services company that has donated hundreds of millions of dollars to housing assistance, sustainability, small business growth, and financial health.
Wells Fargo's corporate philanthropy initiatives include a matching gifts program and two types of volunteer grant programs—one for employees who volunteer a certain number of hours with a nonprofit and one for those who voluntarily serve on the governing board of a 501(c)(3) organization.
In fiscal year 2023, Walmart donated more than $1.7 billion in cash and in-kind donations to programs that align with the company's philanthropic values.
Walmart pursues corporate philanthropy initiatives in four core areas: creating opportunity, advancing sustainability, strengthening community, and advancing racial equity.
Walmart also offers an executive-level matching gift program in which they'll match donations up to $25,000. In addition, the company offers volunteer grants of $250 whenever an employee volunteers for at least 25 hours with a nonprofit.
Apple partners with a variety of charitable organizations to pursue development projects, including organizations that help fight to end AIDS, promote racial justice, provide food to those in need, and more. Apple even pledged a whopping $200 million to support racial equity initiatives and show continued commitment to the cause.
Plus, Apple matches employee donations up to $10,000. The company's employee giving program has raised $880 million since its founding almost 12 years ago.
Corporate Philanthropy Statistics
While corporate philanthropy programs, such as matching gifts and volunteer grants, bring significant value to nonprofits, recent corporate giving statistics indicate that many organizations are missing out. When donors give, they're clearly invested in playing a role in the nonprofit's impact. However, they may not be aware of how to augment their support.
By leveraging corporate philanthropy software, such as a matching gift automation tool, nonprofits can automatically identify whether donors are eligible for matching gifts and follow up to ensure that they submit a request with their employer.
65
%
of Fortune 500 companies offer matching gift programs.
18
million +
individuals work for companies with matching gift programs.
$
4
-
7
billion
in matching gift funds goes unclaimed per year.
84
%
of survey participants say they're more likely to donate if a match is offered.
1
in
3
donors indicate they'd give a larger gift if matching is applied to their donation.
Only
1
.
31
%
of individual contributions are matched at the average nonprofit organization.
8 Types of Corporate Philanthropy Programs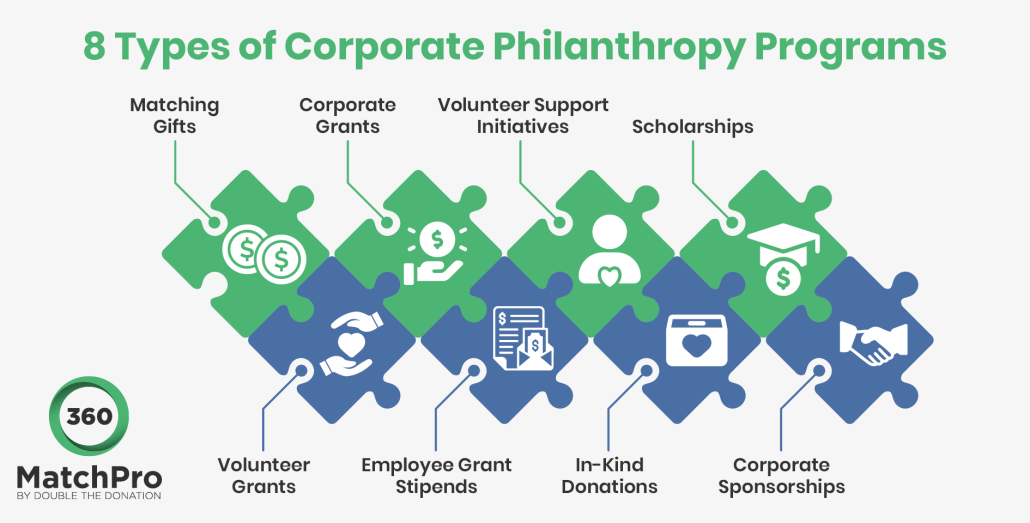 1. Matching Gifts
A matching gift program is a corporate philanthropy initiative in which companies financially match the donations their employees make to nonprofit organizations. While most companies match gifts at a 1:1 ratio, some will match at an even higher ratio, such as 2:1 or even 3:1.
To secure a matching gift, employees generally follow this process:
The employee makes a donation to a nonprofit.
The employee checks their eligibility for a company donation match using a matching gift search tool.
If eligible, the search tool will populate the necessary information and forms the employee can use to submit a match request.
The employee submits a request, and the company verifies the donation with the nonprofit.
The company provides a donation match.
For larger nonprofits that generate a substantial amount of matching gift revenue each year, investing in a matching gift automation platform can help secure even more of these funds while minimizing the effort needed to do so. With a tool that automates outreach based on eligibility, organizations can identify more match-eligible donors and drive matches through to completion.
2. Volunteer Grants
Volunteer grants are another type of corporate philanthropy in which companies issue monetary grants to nonprofits depending on how much time their employees volunteer there. While companies often require employees to meet a certain threshold of hours before issuing a grant, others will award grants for any number of hours.
To secure a volunteer grant, employees generally follow this process:
The employee volunteers with a nonprofit.
The employee checks their eligibility for a volunteer grant by using a company name search tool.
If eligible, the search tool will populate the necessary information and forms the employee can use to submit a request for a volunteer grant.
The employee submits their volunteer grant request via a company portal or volunteering platform, and their employer verifies the hours with the nonprofit.
The company provides a monetary grant to the nonprofit.
Similar to matching gifts, many volunteers are not aware that their companies offer a volunteer grant program, which can result in nonprofits missing out on a huge opportunity for additional revenue. This is another instance where investing in an automation platform like 360MatchPro by Double the Donation can help large nonprofits secure more volunteer grants without adding extra pressure on their teams.
3. Corporate Grants
Through corporate grants, companies can invest in their communities by extending direct financial support to nonprofits. These grants can be unrestricted, allowing nonprofits to use the funding wherever they see fit, or restricted to a specific type of program or project.
To create corporate grant opportunities, companies must first determine the grant's objectives and focus areas. These should ideally align with their overall mission and values. Then, they'll need to develop a budget, set eligibility criteria, and establish an application process.
To access one of these grants, nonprofits must first apply by submitting a grant proposal that outlines their case for support and other basic details about their work. Then, the company will decide which organizations will receive the funding, based on factors such as mission alignment and proposed impact. Some grants, like the Google Ad Grant, however, contribute funding to an unlimited number of nonprofits, as long as they meet the eligibility criteria.
4. Employee Grant Stipends
This type of corporate philanthropy involves awarding grants to employees, allowing them to decide which organizations receive funding from the company.
Typically, grant stipends do not require any financial investment from employees, meaning they are not deducted from salaries. Instead, this type of program can be an appealing aspect of an employee benefits package, allowing businesses to attract and engage more socially conscious workers.
5. Volunteer Support Initiatives
Some companies launch volunteer support initiatives to encourage their employees to contribute their time and skills in a more organized, deliberate manner. They may partner with nonprofits to set up volunteer events or offer paid volunteer time off (VTO) to incentivize employees to give back to their community.
These initiatives provide specialized, impactful support to nonprofits by empowering employees to contribute the skills and abilities they've developed in their roles. For example, corporate volunteers from a digital marketing agency may host training sessions to teach nonprofit staff members how to leverage search engine optimization (SEO) to reach more supporters.
6. In-Kind Donations
In-kind donations are another type of non-monetary contribution that companies can incorporate into their corporate philanthropy efforts. Rather than issuing funds, businesses can donate goods and services that can make it easier for nonprofits to accomplish their work and generate more impact.
For instance, a company may donate office supplies or technology equipment. Or, depending on the nonprofit's needs, it could enlist employees to provide services, such as accounting or graphic design, at no cost to the organization.
7. Scholarships
Scholarships are popular corporate philanthropy initiatives that allow companies to invest in the education of the next generation of talented employees. These opportunities can be need-based or merit-based, and require individuals to submit an application in order to receive financial support that can mitigate costs such as tuition, books, and other school-related expenses.
8. Corporate Sponsorships
Corporate sponsorships refer to a mutually beneficial partnership between a company and a nonprofit. The company funds an event, project, or program, and in exchange, the nonprofit publicly acknowledges the company for its support on its website, in social media posts, and on other marketing materials. This partnership allows nonprofits to receive the funds they need and businesses to receive a reputation boost within their communities.
How to Get Started With Corporate Philanthropy
Corporate Philanthropy for Companies
With all the benefits and options associated with corporate philanthropy, there's no reason not to start tapping into these programs right away. However, the initiatives you choose and the approach you take will differ depending on your company's mission, resources, and employees.
Follow these steps to set your corporate philanthropy program up for success:
Identify the purpose and goals of your program.
Appoint someone to lead the program's development.
Determine your company's budget for philanthropic activities.
Consider investing in CSR software.
Draft a clear and detailed policy for eligibility and participation.
Create a marketing plan to promote your philanthropy program.
Additionally, be sure to set and track relevant program metrics to evaluate its performance. This allows you to make improvements and refine your corporate philanthropy efforts over time.
Corporate Philanthropy for Nonprofits
As corporate philanthropy becomes a priority for more and more businesses, nonprofits need to develop a strategy to make the most of these opportunities.
Keep these tips in mind to access more corporate support:
Research philanthropic-minded companies with similar missions and values to your nonprofit.
Leverage technology, such as matching gift software, to streamline corporate philanthropy participation.
Include important details about corporate philanthropy opportunities in your marketing materials.
Follow up with corporate partners by sending prompt thank-you's and sharing the impact of their contributions.
Take the time to steward corporate partners by asking them for regular feedback on how you can improve their experience with your nonprofit. Building strong, productive relationships with companies can lead to significant long-term support for your mission.

How to Raise More Through Corporate Philanthropy Software
Using a corporate philanthropy database makes it easy for donors to determine their eligibility, as it contains information on thousands of companies and their philanthropic initiatives.
However, if you're a large organization that generates more than $25,000 annually in matching gift revenue, sometimes simply promoting the use of a database isn't enough. That's why automating the entire process, from promotion to the submission of match requests, can bring in more revenue.
A donor makes a gift to your organization, entering their email address and employer information to determine their matching gift eligibility.
360MatchPro's automated platform uses this information to identify those who are match-eligible.
Depending on the donor's eligibility, 360MatchPro will trigger an email to the donor explaining their next steps. If a donor is eligible, the email will prompt them to submit a match request and provide instructions on how to do so. If they are ineligible or undetermined, they will receive instructions on how to double-check their eligibility.
Your organization can track the match through to completion. Donors can even click a button in the automated emails to indicate they've submitted their match request.
The matching gift process is even easier for donors who work for companies with corporate philanthropy software that integrates with 360MatchPro. With the auto-submission feature, all they need to do is make a gift, provide their email, and Double the Donation will automatically submit a matching gift request on their behalf.
When your team has actionable data to leverage, as well as more time to invest in your mission, you'll be able to raise the funds you need to put on events, promote your cause, and focus on other tasks you may not have otherwise been able to accomplish. Consider adding 360MatchPro as part of your nonprofit's essential toolkit!
Additional Corporate Philanthropy Resources
Matching Gifts: Your Guide to Automation
Looking to find more information about matching gifts and automation?
Check out our expert's guide!
Corporate Giving: How to Raise More for Your Organization
Corporate giving initiatives provide significant benefits for nonprofits and companies.
Learn more about top corporate giving programs and companies in this guide.
Matching Gift Letters: The Nonprofit's Guide to Raising More
Secure more matching gifts for your nonprofit by crafting matching gift letters.
Follow these steps for success.